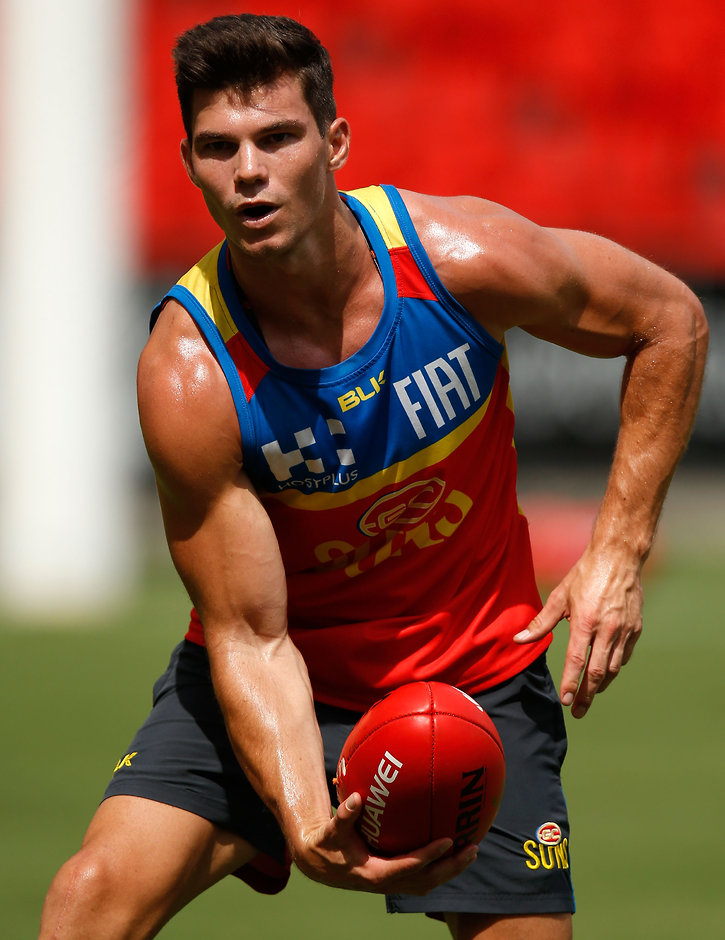 There's no way around it, it was a big injury and a rare injury
Rodney Eade, on Jaeger O'Meara
JAEGER O'Meara's hopes of being available for round one are rising, with the Gold Coast midfield ace now running up to six kilometres a session.
It has been a long recovery for the 21-year-old after he missed the entire 2015 season with a ruptured patella tendon, but coach Rodney Eade is quietly optimistic about his star's prospects.
Things are going even better for O'Meara's midfield mate David Swallow, who is progressing strongly after two operations on his posterior cruciate ligament last year.
He played just six games all season, but Swallow is now expected to line up in next month's NAB Challenge.
O'Meara has the bigger question mark though, after the freak injury – rarely seen in any sport - temporarily halted his career.
"Jaeger's running really well, he's getting five to six kilometres every session," Eade told AFL.com.au.
"We'll build that up to 10 or 12k and then add speed and agility, and then he can join in and do some footy work as well.
"At this stage, he's a bit ahead of schedule of where we thought he'd be."
Which Suns should be in your Fantasy side?
Due to the severity and rarity of the injury, Eade said the Suns would not take any chances.
The club, led by new high performance boss Justin Cordy, is also mindful of not piling on too much work too soon, with soft tissue injuries a high risk after such a long layoff.
"We're not going to take any risks," Eade said.
"If everything goes to plan and we don't have any hiccups, he could be on track for round one. That may be in the NEAFL. He may play round four, we don't know."
"There's no way around it, it was a big injury and a rare injury.
"But the tendon specialist and surgeon and medicos at our club are really pleased. At this stage we're reasonably confident."
Swallow is about two weeks ahead of O'Meara in his rehabilitation and has re-joined the main group for warm ups and skill work.
Young midfielder Jesse Lonergan tweaked his ankle but will be back into full training in the coming week.