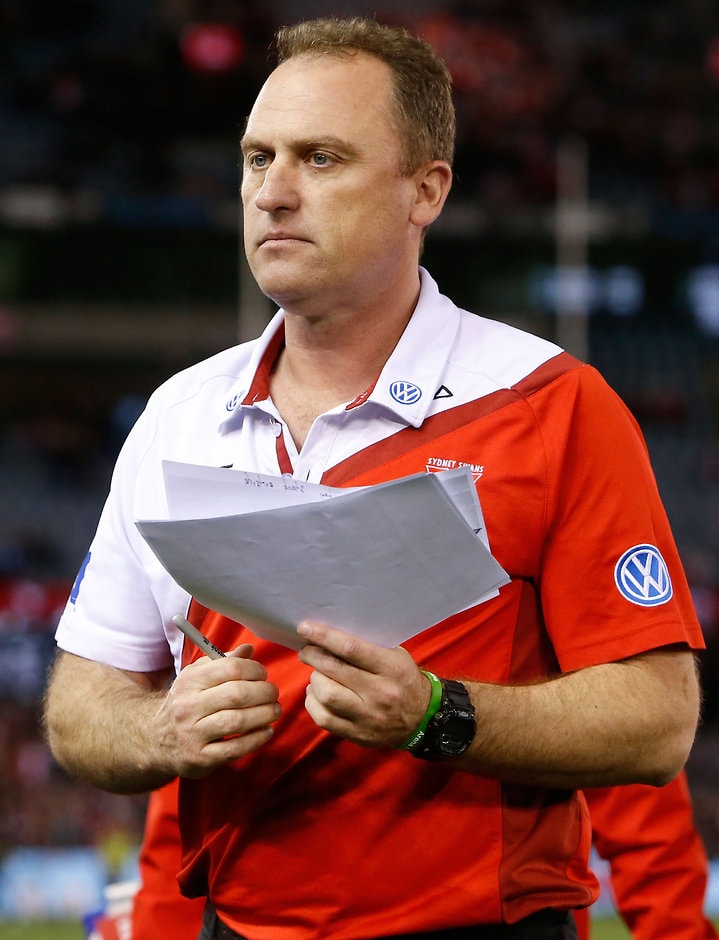 I'm of the belief that you're never quite sure who will grab their chance
John Longmire
EXACTLY 983 senior games of experience disappeared from the Sydney Swans' list after the 2015 season, but don't expect the club to tumble down the ladder this year, says coach John Longmire.
Dual Brownlow medallist Adam Goodes (372 games), Rhyce Shaw (237) and Mike Pyke (110) all retired, while Craig Bird (137) and Lewis Jetta (127) found new homes at Essendon and West Coast respectively via the draft.
Swans lock in 'underrated' backman with new deal
All five played key roles in the Swans' 2012 premiership win and the departures will test the club's leaders in a big way this season, but Longmire has seen it all before.
While some outside the club might see this season as a new era at the Swans – who haven't missed the finals since 2009 – the man in charge sees it differently.
In an exclusive interview with AFL.com.au Longmire said the Swans had plans in place to counter the heavy loss of experience, and he's confident in the ability of the next tier of players coming through.
"The reality is that lists continually evolve, and it's been happening for years," Longmire said.
"We've lost players before like Ryan O'Keefe, Jude Bolton, Lewis Roberts-Thompson, but the exciting thing is that there are opportunities for the younger kids coming through now, blokes who may have played senior footy but also those who haven't.
"That doesn't mean we don't want to be competitive - we still think our best team is very competitive and we still have some really strong players in our group.
"There are spots there, I mean there's four from the end of last year's team, five premiership players left and we're really confident in that next generation coming through to be able to replace those players."
Fringe players like Brandon Jack (27 games), Dean Towers (17), Zak Jones (15), Dan Robinson (4), James Rose (2) and Xavier Richards (2) are those most likely to benefit from the exodus of established names at the Swans.
Jack, Towers and Jones all played quality senior footy for extended periods in the second half of 2015 and showed that they have the ability to be permanent members of the Swans' best 22.
Add star academy draftee Callum Mills to the mix and Longmire believes the future is bright.
"I'm of the belief that you're never quite sure who will grab their chance in an on-field and off-field sense," Longmire said.
"If you look at the early 2000s we lost players like Paul Kelly and Andrew Dunkley, and you look at that and say 'what are we going to do about our list?'
"But the facts are if those players aren't there, others will come through and thrive under that extra responsibility and learn from other good leaders.
"We've seen Luke Parker at a young age jump into our leadership group last year as a prime example."
"I think it's pretty self explanatory - we don't have to sit down with those players and point it out to them; the opportunities are there, it's just a matter of who grabs them and makes the most of them.
"It's one thing having strong training form, it's another thing converting it into playing form and that's the phase that we head into very shortly."