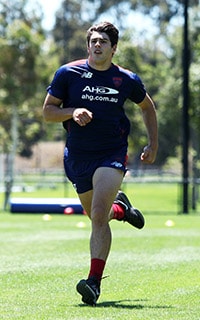 His progression back into training shouldn't take too long
Josh Mahoney on Christian Petracca
MELBOURNE young gun Christian Petracca has had a significant breakthrough in his recovery from a broken toe, running for the first time since the start of January on Monday afternoon.
The 20-year-old suffered a small crack to the little toe on his right foot while playing basketball during the Christmas break.
He was restricted to the rehab group during the club's pre-season camp on the Sunshine Coast late last month but has slowly built his program while working on his conditioning.
Demons football boss Josh Mahoney said the club was hopeful Petracca would still feature in the club's NAB Challenge campaign, starting on February 27 against Port Adelaide in Adelaide.
"We'll progress Christian's running over the next few weeks and he'll join into main training after that phase," Mahoney told AFL.com.au.
"The benefit for Christian is he was able to complete a lot of off-legs training in his rehab for his knee so he's very well conditioned and his progression back into training shouldn't take too long.
"Whether he plays in NAB (Challenge round) one or three or somewhere in between will depend on how he builds up his rehab."
Petracca shed his moonboot last week and was given last week to walk around and carefully test his toe before ramping up his program as of this week.
With coach Paul Roos and the medical staff watching on, Petracca put together a series of strides, at around 60-75 per cent intensity, over 60m to test out the toe.
After the first set of six strides, Petracca gave the medical staff the thumbs up and picked up the intensity slightly in the second set before finishing his session after 25 minutes.
Roos said at the time he hoped the former No.2 draft pick learnt a "harsh lesson" from the injury.
Mahoney said Jack Trengove had progressed solidly in his rehab from a second bout of foot surgery to repair a break in the navicular bone of his left foot.
Trengove remains in the rehab group but was running hard and testing his agility in drills at training on Monday, with a return to full training not too far away.
"Jack's progressed every week with his running and he'll start to join in full training over the next little period, all things going well," Mahoney said.
A big moment for @cpetracca7 and @melbournefc. He completed his first running sesh since breaking his toe in Jan. pic.twitter.com/JguprgBMoI

— Ben Guthrie (@AFL_BenGuthrie) February 1, 2016