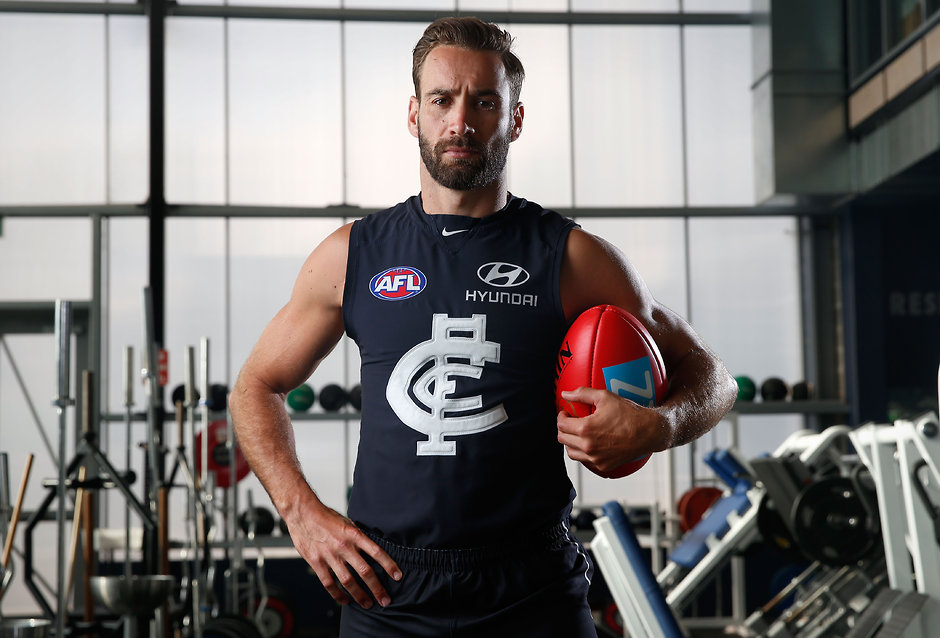 You do have your doubts when things are going pear-shaped
Andrew Walker
ANDREW Walker believes he is finally on top of the knee issues that have plagued him over the past two seasons, a development that paved the way for his return to Carlton's leadership group in 2016.
Walker was elevated into the Blues' leadership group in 2014 but stepped down at the end of that year after a left knee injury ended his season in July.
Over the next seven months, Walker had three separate operations on his knee, ensuring he went into the 2015 season on an extremely limited preparation.
He did well to return by round three last year but continued to have troubles with the knee, taking the field just 12 times for the Blues.
With his 30th birthday approaching in June this year, Walker's career appeared at the crossroads.
But 2003's No.2 draft pick told AFL.com.au that since embarking on a carefully tailored training program at the start of this pre-season, his knee had not been a problem.
"It was good to sit down with 'Bolts' (coach Brendon Bolton), the rehab physio, the physios and the doctors and actually put a full plan in place going forward," Walker said.
"It's not a secret that the knee was an issue last year and obviously the year before because I had to stop playing footy in July 2014 and it really didn't let up from 2014 through to 2015.
"I was 27-28 then and 29 now – I understand I'm not a spring chicken – so you do have your doubts when things are going pear-shaped like that.
"The conversation we all had three months ago was about putting the right program in place that allows me to get as much training as I need to, but also allows me to ultimately play all 22 games plus finals.
"At the minute it's all tracking along really nicely. I'm really confident with where the program's got me sitting."|

Andrew Walker and Patrick Cripps train on the Gold Coast during the pre-season. Picture: AFL Media
As Walker grew more confident in his body this summer, he toyed with putting his hand up to return to Carlton's leadership group.
In the end, his mind was made up for him by the renewed sense of excitement Bolton's arrival had brought to Ikon Park.
"Coming back this pre-season was just a real breath of fresh air and I could sort of sense that all the players were on the same page and really wanted to be part of something special again," Walker said.
"So that's the reason why I really wanted to put myself up for leadership and have a really good year with the boys behind me."
As part of Bolton's first pre-season as coach, Carlton undertook a rigorous leadership program this summer before naming its leadership group on Monday night.
The program was a holistic one, designed to develop leadership across the entire playing list.
Every player who nominated for the leadership group received feedback from, among other sources, the different age groups on the list.
Walker found the process valuable.
Gun Blue missing from NAB Challenge squad
"It gave everyone an opportunity to have their say," he said.
"I think it's really important to get that mix of opinions because I could be viewed a certain way by the younger guys but differently by some of the older guys. You have to make sure it all ties in.
"The feedback with myself seemed to be reasonably even across the playing group.
"I got some great feedback out of it on some of the things I need to work on and obviously some of the things I should continue."
As Carlton prepares to play its opening NAB Challenge game against Hawthorn in Launceston on Thursday night, Walker says his primary focus of being fit for round one might mean he sits out a pre-season game or two.
The 29-year-old finished last season strongly playing as a lead-up forward, kicking 11 goals in the final four rounds.
He is likely to reprise that role again in 2015, but Bolton likes his players to be flexible so Walker's ability to play in defence and in the midfield will probably be called on at times in 2016.
Walker, who is contracted to the end of 2017, admits to thinking his football mortality was fast approaching at times over the past two years.
But the progress he has made this pre-season has changed that mindset.
"When the club has got the right (training) program in place and they're going to back me to see out my career, whether it be in three, four, five or six years' time, it just gives you so much more confidence," he said.
"I'm a lot more hopeful now than I was 24 months ago that I've still got some good football left in me."