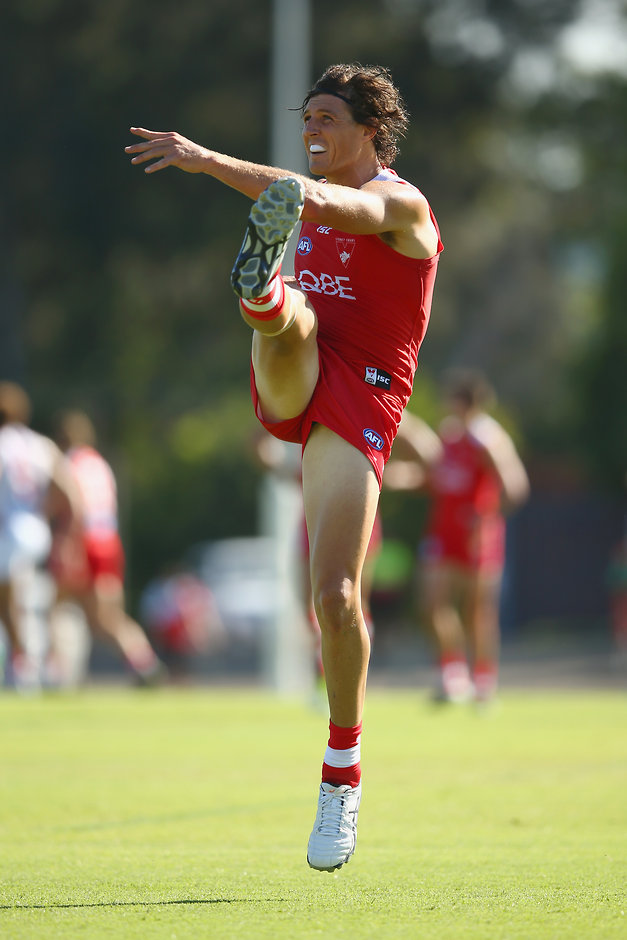 KURT Tippett looks set to finish his career at the Sydney Swans after meeting contract incentives that have extended his tenure at the SCG until the end of 2018.

The lucrative four-year contract Tippett signed when he crossed to the Swans from Adelaide was set to expire at the end of 2016.

But AFL.com.au can reveal that Tippett, 28, has satisfied trigger clauses in that contract which have earned him a new two-year deal.

Tippett will be 31 by the time his new contract expires, when it seems highly unlikely he would seek a fresh start at a third AFL club.

Swans football chief Tom Harley told AFL.com.au on Friday that Tippett's ability to play ruck/forward would make him an extremely valuable player over the next three years.

"It's a great result when you put performance-based incentives in contracts and the player activates them. They get rewarded with the security of a couple of extra years and that's been the case with Kurt," Harley said.

"His year last year was almost a year of two halves, the back half of the year was really solid and he ended up finishing eighth in the club championship, which was a reflection of how strongly he finished the season.

"Particularly now with interchanges dropping from 120 to 90, I think all ruckmen now really need to have at least a couple of strings to their bow.

"We know that Kurt can play forward and we also know that he can play in the ruck, so we think he's a real asset from that end.

"Callum Sinclair can also play forward and obviously in the ruck which he did at West Coast, so we think that with those two boys we've got a really complementary ruck/forward combination for at least the next three years."

Tippett, listed at 202cm and 105kg, played just 26 games in his first two seasons at the Swans, having battled patella tendinitis for much of his career.

However, the Queenslander now appears to be over his knee problems.

He played 22 of a possible 24 games last season, when despite spending half of his time in the ruck he kicked 44 goals, his best season return since 2010.

Given Tippett has since completed an almost full 2016 pre-season, Harley believes the former Crow's best football could still be ahead of him.

"Kurt's played some really good footy already up to this point in his career, but history shows that ruckmen can certainly play good footy past their late 20s and into their early 30s," Harley said.

"So I think it's important with these sort of players that you individually tailor training loads through pre-season that allow you to maximize their output through the season.

"Kurt's an absolute professional in the way he prepares and he's had a really good pre-season to this point.

"With games starting tomorrow for us, this is where you bear the fruits of all your hard work through summer and we're hoping Kurt gets better and better."

Tippett played 104 games and kicked 188 goals at Adelaide from 2008-12 before crossing to the Swans.

In his three seasons at the SCG, he has kicked 113 goals in 48 games.