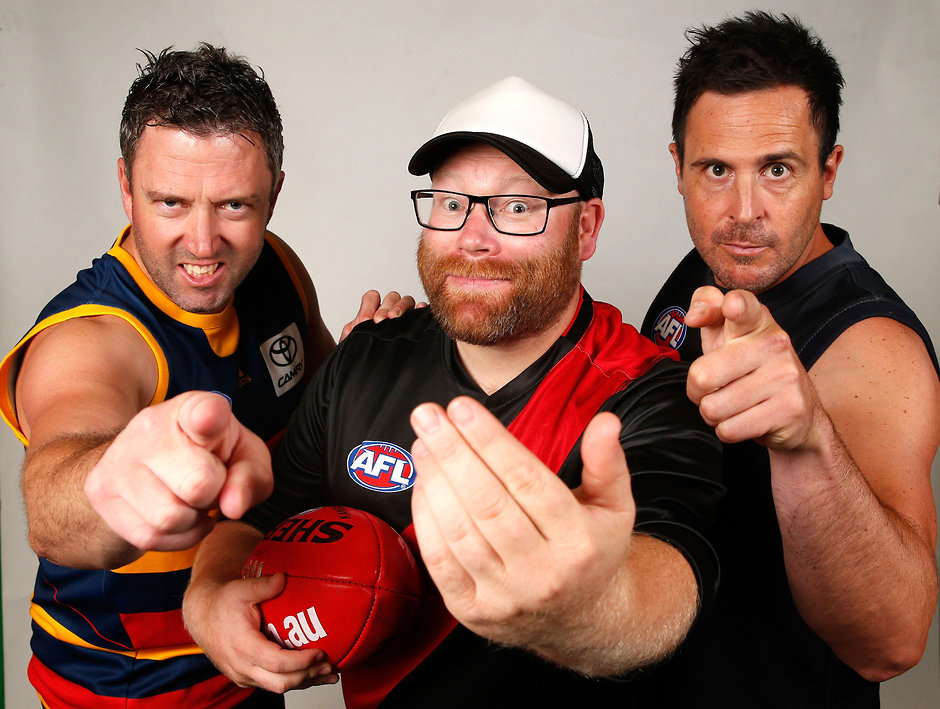 IT WAS a bright and sunny day when AFL.com.au's finest Fantasy minds shut the curtains, banished the light, and got down to the important business of draft day.
15 picks each on the table. Three backs, four midfielders, three forwards and four bench options.
There was a bit of scrambling, plenty of laughter and, as usual, a barely suppressed competitive streak running through the whole event.
In the end, some drafted with the head, some with the heart, but all with complete certainty that their squad is the best pack of Fantasy players assembled this side of Gary Ablett's dodgy shoulder.
Here's how the recruiting gurus saw their draft.
Dion Bennett (AFL social media coordinator)
Team name: Bennett's Bondi Billionaires
Draft picks: 9, 20, 37, 48, 65, 76, 93, 104, 121, 132, 149, 160, 177, 188, 205
Defenders: Josh Gibson (DEF, $472,000), Jamie Macmillan (DEF/MID, $436,000), Jason Johannisen (DEF, $426,000)
Midfielders: Jordan Lewis (MID, $613,000), Dan Hannebery (MID, $613,000), Brad Ebert (MID, $564,000), Liam Shiels (MID, $549,000)
Ruckman: Brodie Grundy (RUC, $504,000)
Forwards: Luke Dahlhaus (FWD/MID, $540,000), Taylor Walker (FWD, $454,000), Brent Harvey (FWD, $451,000)
Emergencies: Stephen Hill (MID, $507,000), Shaun Grigg (MID, $497,000), Jared Polec (MID, $393,000), Alex Fasolo (FWD, $397,000)
Summary: The strategy in this draft was simple – load the midfield. I was probably hasty in taking Jordan Lewis at pick No.9, but he's a prime mover in a powerhouse midfield. Hannebery, Ebert and Shiels are prime ball carriers, so expect big numbers from that trio. Taking a risk that Johannisen will make the leap and trusting Boomer's 37-year-old legs could come back to bite, but my midfield stacks up as well as any, which makes up for a weak back three. Brodie Grundy could elevate himself into a top-five ruckman by season's end, so he was a steal in the fourth round and Dahlhaus could definitely improve on his 12 100-point games from 2015.
Click here to play AFL Fantasy now
Ricky Cahn (AFL Fantasy manager - Telstra)
Team name: FantasyHQ
Draft picks: 1, 28, 29, 56, 57, 84, 85, 112, 113, 140, 141, 168, 169, 196, 197
Defenders: Rory Laird (DEF $489,000), Sam Docherty (DEF, $455,000), Jarrod Harbrow (DEF, $417,000)
Midfielders: Tom Rockliff (MID, $579,000), Dayne Beams (MID, $570,000), Jack Macrae (MID, $579,000), Stephen Coniglio (MID, $499,000)
Ruckman: Callum Sinclair (RUC/FWD, $414,000)
Forward: Toby Greene (FWD/MID, $473,000), Justin Westhoff (FWD, $496,000), Allen Christensen (FWD, $461,000)
Emergencies: Josh Caddy (MID, $495,000), Sam Gray (MID/FWD, $427,000), Matthew Leuenberger (RUC/FWD, $301,000), Garrick Ibbotson (DEF, $399,000)
Summary: Three simple words, WELCOME home Rocky! I could end my wrap here, but there are too many other great names in this squad. Young fantasy guns who get plenty of the ball were the order of the day for me. Names like Beams, Macrae, Laird, Docherty, Greene, Coniglio, and Christensen are all on the up and will all produce plenty of 100-plus scores next to their names throughout the year. My ruck strategy was simple and worked perfectly – lock down a Sinclair type who should average around 80 and then back him up with Leuey late in the piece.
Download The Traders' Fantasy Elite kit
Calvin (The Traders)
Team name:Calvinator
Draft picks: 8, 21, 36, 49, 64, 77, 92, 105, 120, 133, 148, 161, 176, 189, 204
Defenders: Jarrad McVeigh (DEF, $538,000), Jimmy Bartel (DEF/MID, $494,000), Corey Enright(DEF, $505,000)
Midfielders: Scott Pendlebury (MID, $615,000), Tom Mitchell (MID, $593,000), Ollie Wines (MID, $513,000), Mitch Duncan (MID, $422,000)
Ruckman: Matthew Kreuzer (RUC, $460,000)
Forward: Dayne Zorko (FWD/MID, $500,000), Steve Johnson (FWD, $497,000), Jordan De Goey (FWD/MID, $342,000)
Emergencies: Jack Crisp (MID, $506,000), Nick Malceski (DEF, $374,000), Will Minson (RUC, $384,000), Mitch Grigg (FWD/MID, $381,000)
Summary: Scott Pendlebury and Tom Mitchell were my first two picked and from there, things just got better. Although my aging backline might miss a few games throughout the year, the steal of the draft was my pick No. 92. Snapping up Corey Enright who averaged 92 last year was a true stroke of genius. Jordan De Goey was a bit of a slider and I claimed him with my last on field selection. He has had a terrific NAB Challenge series and looks set to average 85+ this year. My bench is well rounded to cover all bases as the season unfolds and overall, it was another successful draft from Team Calvinator.
Jack Steven a steal at pick 14! https://t.co/MkGsYSaWcp

— Ben Sutton (@BenSutton1) March 7, 2016
Tyson Densley (AFL social media manager)
Team name: Fyfe and Death
Draft picks: 2, 27, 30, 55, 58, 83, 86, 111, 114, 139, 142, 167, 170, 195, 198
Defenders: Grant Birchall (DEF, $455,000), Matthew Suckling (DEF, $444,000) Tomas Bugg (DEF, $327,000)
Midfielders: Nat Fyfe (MID, $581,000), Marcus Bontempelli (MID, $511,000), Robbie Gray (MID, $536,000), Kieren Jack (MID, $536,000)
Ruckman: Nathan Vardy (RUC/FWD, $360,000)
Forward: Zach Merrett (FWD/MID, $501,000), Josh J Kennedy (FWD, $470,000), Eddie Betts (FWD, $421,000)
Emergencies: Jamie Elliott (FWD, $433,000), Zac Smith (RUC, $389,000), Jesse Hogan (FWD, $411,000), Jeremy Howe (DEF/FWD, $361,000)
Summary: Stupidly, I tend to draft with the heart rather than the head. I wanted a strong midfield and while others have scored higher than Nat Fyfe in recent years, I just couldn't resist taking him with my first pick. It was then a long time between drinks but I was happy to see Marcus Bontempelli available at the end of round two. I'm hoping my backline of Birchall, Suckling and Bugg can each exceed last year's numbers, otherwise it might leave me exposed. I think Zach Merrett will have a big year and with him as a fifth midfielder, I may need to trade Robbie Gray or Kieren Jack for a backline upgrade. Hoping for 150 goals between Josh Kennedy and Eddie Betts.
Ben Guthrie (AFL.com.au reporter)
Team name: Yeezy
Draft picks: 6, 23, 34, 51. 62, 79, 90, 107, 118, 135, 146, 163, 174, 191, 202
Defenders: Shaun Burgoyne (DEF, $413,000), Alex Rance (DEF, $393,000), Christian Salem (DEF, $360,000)
Midfielders: Patrick Dangerfield (MID, $589,000), Matt Priddis (MID, $570,000), Sam Mitchell (MID, $574,000), Dylan Shiel (MID, $512,000)
Ruckman: Shane Mumford (RUC. $524,000)
Forward: Chad Wingard (FWD, $495,000), Jack Riewoldt (FWD, $429,000), Michael Walters (FWD, $392,000)
Emergencies: Easton Wood (DEF, $405,000), David Zahrakis (MID, $415,000), Isaac Heeney (FWD, $369,000), Jeremy Cameron (FWD, $388,000)
Summary: I went into the draft with the aim of stacking my midfield, first and foremost, and I achieved that. Patrick Dangerfield is a superstar and is only going to get better at Geelong and I've loved his defensive efforts through the NAB Challenge. Matt Priddis and Sam Mitchell's form lines are undeniable, while I was ecstatic to snap up Dylan Shiel with my sixth round pick (not sure how he slipped so low). Jack Riewoldt has looked like a world beater in the pre-season and I've tipped him to have a stellar year, while Melbourne's Christian Salem should take a giant leap forward in 2016. Crown me champion right now.
Dinny Navaratnam (AFL.com.au reporter)
Team name: Dinny's Dominators
Draft picks: 12, 17, 40, 45, 68, 73, 96, 101, 124, 129, 152, 157, 180, 185, 208
Defenders: Heath Shaw (DEF, $532,000), Daniel Rich (DEF/MID, $402,000), Tom McDonald (DEF, $446,000)
Midfielders: Daniel Wells (MID/FWD, $293,000), Tom Liberatore (MID, $443,000), Nick Dal Santo (MID, $466,000), Ryan Griffen (MID, $436,000)
Ruckman: Ivan Maric (RUC, $455,000)
Forwards: Harley Bennell (FWD/MID, $509,000), Jack Billings (FWD, $452,000), Ben McGlynn (FWD, $426,000)
Emergencies: James Aish (DEF/MID, $293,000), Jarryd Roughead (FWD, $488,000), Jonathon Ceglar (RUC, $408,000), Brodie Smith (DEF/MID, $391,000).
Summary: At first glance, my team may look underwhelming, but that is only to the untrained eye. Harley Bennell, Jack Billings, Tom Liberatore, Ryan Griffen and Daniel Rich all have massive upside. James Aish is a steal – his class means he will become a regular, and he is a dual-position player. The pièce de résistance of Dinny's Dominators though, is Jarryd Roughead. He might miss a couple of games (well, half the season) but the star Hawk will be a captaincy lock as soon as he returns. Don't underestimate his teammate Jonathon Ceglar either – at 25, the big man is poised to set the competition alight.
Cameron Noakes (AFL.com.au chief sub-editor)
Team name: The Ineffables
Draft picks: 3, 26, 31, 54, 59, 82, 87, 110, 115, 138, 143, 166, 171, 194, 199
Defenders: Robert Murphy (DEF, $441,000), Jasper Pittard (DEF, $420,000), Dane Rampe (DEF, $405,000)
Midfielders: Steele Sidebottom (MID, $565,000), Lachie Neale (MID, $563,000), Callan Ward (MID, $555,000), Brendon Goddard (MID, $552,000)
Ruckman: Todd Goldstein (RUC, $630,000)
Forward: Kurt Tippett (FWD/RUC, $445,000), Tom Lynch (FWD, $491,000), Shane Edwards (FWD/MID, $418,000)
Emergencies: Ben McEvoy (RUC, $415,000), Heath Grundy (DEF, $384,000), Jack Darling (FWD, $391,000), Cam Guthrie (MID, $468,000)
Summary: Wanted to grab a ruckman with my first pick and couldn't believe the best in the business was sitting there three picks in. With Todd Goldstein secure, I then started my assault on the midfield. The defenders all looked a little scrubby so thought the best approach was to load up on quality mids and worry about the defence last. All mids are elite footballers and I'm certain they will all rack up better numbers this season. Brendon Goddard will lift with the extra responsibility while Callan Ward, Lachie Neale and Steele Sidebottom are at that age where they just keep getting better. They are also durable. Kurt Tippett will spend more time in the ruck this year so expect his numbers to soar too.
Michael Rogers (AFL.com.au sub-editor)
Team name: Red and Blue Bloods
Draft picks: 4, 25, 32, 53, 60, 81, 88, 109, 116, 137, 144, 165, 172, 193, 200
Defenders: Kade Simpson (DEF, $474,000), Travis Varcoe (DEF/FWD, $406,000), Mitch Brown (DEF/FWD, $194,000)
Midfielders: Josh Kennedy (MID, $594,000), David Mundy (MID, $584,000), Bernie Vince (MID, $512,000), Marc Murphy (MID, $544,000)
Ruckman: Aaron Sandilands (RUC, $485,000)
Forwards: Dustin Martin (FWD, $573,000), Shaun Higgins (FWD, $472,000), Luke Breust (FWD, $413,000)
Emergencies: Mitch Wallis (MID, $495,000), Shaun McKernan (RUC, $441,000), Dom Tyson (MID, $449,000), Lachie Whitfield (MID, $461,000)
Summary: Went for the best forward in Fantasy – Dustin Martin – at pick No.4, leaving Gary Ablett, Patrick Dangerfield and Scott Pendlebury on the table. Swan Josh Kennedy was my first midfielder, backed up seven picks later by David Mundy. A ruckman was next at pick No.51 and with Max Gawn and Nic Naitanui going a handful of picks earlier, I had to bet on big Sandi's frame holding up for another season. Loyalty won out a couple of times – Vince before Marc Murphy and Dion Prestia; Tyson on the bench ahead of Nick Dal Santo and David Zaharakis – but overall I'm pretty happy. I'll be even happier if my punt on Mitch Brown having a blinder of a year at the Bombers pays off.
Tim Roman (AFL.com.au sub-editor)
Team name: Tanking Early
Picks: 13, 16, 41, 44, 69, 72, 97, 100, 125, 128, 153, 156, 181, 184, 209
Defenders: Bachar Houli (DEF, $481,000), Elliot Yeo (DEF/MID, $436,000), Shane Biggs (DEF, $392,000)
Midfielders: Adam Treloar (MID, $576,000), Isaac Smith (MID, $534,000), Luke Shuey (MID, $524,000), Hamish Hartlett ($534,000)
Forwards: Leigh Montagna (MID/FWD, $603,000), Tom Bell (FWD, $492,000), Tom Lynch ($440,000)
Ruckman: Mark Blicavs (MID/RUC, $539,000)
Emergencies: Tom Langdon (DEF, $442,000), Michael Rischitelli (MID, $528,000), Tom Nicholls (RUC, $409,000), Jamie Cripps (FWD, $447,000)
Summary: Midfielders? A dime a dozen. Why not grab an elite one who's also a top-notch ruck option? Step forward my No.1 pick Mark Blicavs. A risk, sure - but the big Cat can be moved around to suit my needs if, as I expect, Tom Nicholls has his breakout season for the Suns. I'm claiming the best forward line going with Joey Montagna and Tom Bell to rack up the possessions, and uber-talented Sun Tom Lynch to challenge for the Coleman Medal, if he can keep his competitive streak in check. Dependable Bachar Houli and under-the-radar Bulldog Shane Biggs round out a squad I'm more than comfortable with. But then, who isn't happy after a draft?
Roy (The Traders)
Team name: destROY
Picks: 8, 11, 39, 46, 67, 74, 95, 102, 123, 130, 151, 158, 179, 186, 207
Defenders: Tom Sheridan (DEF, $359,000), Sam Gilbert (DEF/MID, $420,000), Matthew Jaensch (DEF, $449,000)
Midfielders: Dane Swan (MID, $609,000), Luke Hodge (MID, $515,000), Liam Picken (MID, $559,000), Bryce Gibbs (MID, $449,000)
Ruckman: Max Gawn (RUC, $509,000)
Forward: Brett Deledio (FWD, $530,000), Jake Stringer (FWD, $419,000), Aaron Hall (FWD/MID, $422,000)
Emergencies: Scott Thompson (MID, $538,000), Levi Greenwood (MID, $454,000), Brad Crouch (MID, $415,000), Jaeger O'Meara (MID, $415,000).
Summary: It was a long wait until pick No.8, but when it finally arrived, the choice was easy and predictable as I welcomed the original 'Fantasy Pig' Dane Swan into my team. The added bonus with this selection is Swanny will likely gain forward status by round six. That got me thinking about my strategy, so I followed up with future Fantasy Hall of Famer Luke Hodge with pick No.11, another superstar who will likely gain DPP, this time in the backline. Then I loaded my bench with gun midfielders earlier than usual in order to give me high-scoring replacements for those two when I swing them forward and back. Traditionally I need to find a dirty tactic, so I drafted the retired Jaensch, to sit in Hodgey's spot and I will take the lowest scoring bench player score to cover him until then. My ruck and forward line needs no explanation… it is very good.
Highly controversial last pick from destROY #Jaensch #AFLFantasy #AFLMediaEliteDraft

— Adam Roy Davey (@RoyDT) March 7, 2016
Stephen Sacco (GM Sport - Telstra)
Team name: Oh When The Saints?
Draft picks: 7, 22, 35, 50, 63, 78, 91, 106, 119, 134, 147, 162, 175, 190, 203
Defenders: Matt Rosa (DEF/MID $411,000), Jarryn Geary (DEF, $409,000), Sean Dempster (DEF, $400,000)
Midfielders: Gary Ablett (MID, $581,000), David Armitage (MID, $592,000), Joel Selwood (MID, $541,000), Jack Redden (MID, $537,000)
Ruckman: Nic Naitanui (RUC, $489,000)
Forwards: Drew Petrie (FWD, $433,000), Maverick Weller (FWD/MID $415,000), Cyril Rioli (FWD, $432,000)
Emergencies: Rhys Stanley (RUC/FWD, $351,000), Andrew Swallow (MID, $487,000), Marco Paparone (DEF, $413,000), Josh Bruce (FWD, $376,000)
Summary: I'm still sitting here wondering how the little master Gary Ablett got through to pick No. 7 – If that isn't the biggest steal of the draft then I don't know what is! My strategy was simple, lock down a really strong premium midfield, and then find some dual-position players in the forward and backline. Rosa should be a top 5 defender, Weller and Geary are going to be playing pure midfield minutes, and let's not forget they are Saints! I wanted a reliable ruckman, which Nic Nat clearly is, and how about Andrew Swallow at pick No.175! All in all, I'm very confident that Gary's 150s will lead OH WHEN THE SAINTS? to the promised land in 2016.
Nathan Schmook (AFL.com.au reporter)
Team name: No Excuses FC
Draft picks:10, 19, 38, 47, 66, 75, 94, 103, 122, 131, 150, 159, 178, 187, 206
Defenders: Kade Kolodjashnij (DEF, $464,000), Dylan Roberton (DEF, $459,000), Matthew Broadbent (DEF, $438,000)
Midfielders: Andrew Gaff (MID, $579,000), Luke Parker (MID, $533,000), Rory Sloane (MID, $527,000), Trent Cotchin (MID, $506,000)
Ruckman: Matthew Lobbe (RUC, $431,000)
Forward: Nick Riewoldt (FWS, $520,000), Devon Smith (FWD, $476,000), Lewis Taylor (FWD, $414,000)
Emergencies: Patrick Cripps (MID, $477,000), Jeremy McGovern (DEF, $324,000), Anthony Miles (MID, $485,000), Sharrod Wellingham (DEF, $389,000)
Summary: Pick No.10 was an awkward spot to start and faced with the choice of Andrew Gaff or Dane Swan I went for upside and snared the young Eagle, whose uncontested game should make him a Fantasy jet again this year. From there I invested in experience, with Nick Riewoldt training like a 24-year-old and set for a wing role. Luke Parker and Rory Sloane shouldn't have been available at No.38 and No.47, but thanks to all who overlooked. I avoided the ruck rush and scored Matthew Lobbe, who will play 90 per cent ruck without Paddy Ryder (thanks again). The backline will be my weakness, but Eagles Jeremy McGovern and Sharrod Wellingham have opportunities to attack more with Eric Mackenzie back by their side. I suspect the rest of the competition forgot about Patrick Cripps at pick No.150.
Ben Sutton (AFL.com.au sub-editor)
Team name: Wylie's Buzzmen
Draft picks: 14, 15, 42, 43, 70, 71, 98, 99, 126, 127, 154, 155, 182, 183, 210
Defenders: Andrew Mackie (DEF, $470,000), Mark Baguley (DEF, $417,000), Harry Taylor (DEF, $412,000)
Midfielders: Jack Steven (MID, $618,000), Brandon Ellis (MID, $568,000), Travis Boak (MID, $532,000), Jack Ziebell (MID, $500,000)
Ruckman: Sam Jacobs (RUC, $533,000)
Forwards: Michael Barlow (MID/FWD, $515,000), Jack Gunston (FWD, $510,000), Mark LeCras (FWD, $464,000)
Emergencies: Nathan Jones (MID, $475,000), Matt Crouch (MID, $396,000), Jesse Lonergan (DEF/FWD, $346,000), Tom Campbell (FWD/RUC, $301,000)
Summary: I was very surprised the No.1 player from last year was still available at my first pick and quickly pulled the trigger on Jack Steven at No.14. I'm confident Michael Barlow will rack up big numbers in the midfield and was pleased to lock him in as my top forward. I deliberately avoided defenders in the early rounds and didn't want to miss out on a ruck so was delighted big 'Sauce' was still there with my fourth pick at No.43. The rest of my midfield picked itself and I was particularly happy with Travis Boak at pick No.71. Jack Gunston and Mark LeCras complete a solid forward line and while the defence lacks star power, all three should average over 75. Speculative bench picks Matt Crouch and Jesse Lonergan could be a masterstroke, while Tom Campbell is there as back-up for Jacobs.
Pick 5 and Stef Martin slid to me. Bingo! #AFLFantasy pic.twitter.com/AJS2bgwqvi

— Adam 'Warnie' Child (@WarnieDT) March 7, 2016
Warnie (The Traders)
Team name: Warne Dawgs
Draft picks: 5, 24, 33, 52, 61, 80, 89, 108, 117, 136, 145, 164, 173, 192, 201
Defenders: Matthew Boyd (DEF, $578,000), Taylor Duryea (DEF, $436,000), Jack Grimes (DEF, $432,000)
Midfielders: Taylor Adams (MID, $560,000), Dion Prestia (MID, $496,000), Pearce Hanley (MID, $494,000), Jack Viney (MID, $462,000)
Ruckman: Stefan Martin (RUC, $631,000)
Forwards: Steven Motlop (FWD/MID, $496,000), Mitch Robinson (FWD/MID, $504,000), Lance Franklin (FWD, $452,000)
Emergencies: Lachie Hunter (MID, $433,000), Chris Masten (MID, $471,000), Mark Hutchings (FWD/MID, $397,000), James Kelly (MID, $450,000).
Summary: Pick five was going to be an awkward pick, but when I saw that my second ranked player was still available, I was happy to sign up Stefan Martin and award him captaincy. With my next three picks, I took the best available player from the other three lines including the ball-magnet Taylor Adams, old-faithful Matthew Boyd and a likely top six forward in Steven Motlop. Filling the forward-line was the next priority, finding players with upside in Mitch Robinson and Lance Franklin. I'm hoping Dion Prestia can hit form early in the season as he tends to score well with Gary Ablett beside him. Finally, if my pair of Jack's from the Dees (Viney and Grimes) continue their NAB Challenge form, they will help the Warne Dawgs to a sweet premiership.