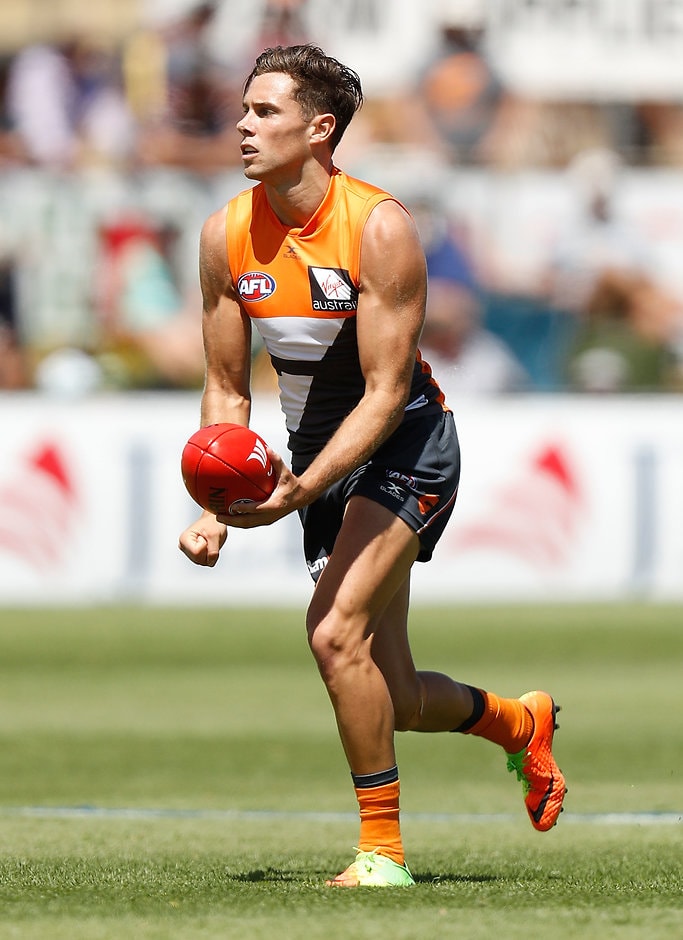 AS FANTASY coaches, our pre-seasons have just ramped up a notch with the commencement of the JLT Community Series. Keeping a close eye on fitness, form, role changes and new colours are just a few of the areas requiring close attention as we trim our extended squads down to 30. One thing that is important to remember as we watch the JLT and analyse statistics is that it is just the pre-season, so we might not be getting a true snap shot of what we can expect in the season proper, so be sure to #StayStrongJLT and don't become to reactionary.
Collingwood vs Essendon
With many of the top line Pies sitting out game one, Tom Phillips (FWD/MID, $391,000) made the most of his increased opportunities, top scoring for the game with 24 touches, nine marks and a goal for 113. Josh Smith (DEF, $461,000) showed last year was no fluke, and is certainly one to keep an eye on as a slider in Draft leagues after taking 11 marks on his way to 93. Someone who certainly caught the eye was Will Hoskin-Elliot (FWD, $230,000), who kicked two goals and scored 70 on debut for his new club and certainly looks in the mix for a round one birth.
#StayStrongJLT: Don't be scared off by Jamie Elliot (FWD, $330,000) only managing 40 points as he was eased back into match play and only played 33 per cent game time. Likewise, Matt Scharenberg (DEF, $234,000), who only played 46 per cent of the game for a score of 25. Hopefully we see their numbers increase over the remainder of the series.
Orazio Fantasia (FWD, $441,000) kicked four goals and looks set to benefit from the Bombers return to full strength and is certainly one to watch in the Draft format after leading his team with 86. Jobe Watson (MID, $477,000) returned and quickly reminded everyone how good he is with 19 touches and 69 points from 62 per cent game time. He is certainly putting his hand up as a mid-priced option. Rookie-priced David Myers (MID, $197,000) eased back into it with eight touches from half a game and remains a player to watch.
#StayStrongJLT: Dyson Heppell (MID, $548,000) was copping plenty of negative press after scoring just 54, but it is important to factor in it was his first game for over 12 months and he only played 55 per cent game time.
Click here to subscribe on iTunes.
Hawthorn vs Geelong
Liam Shiels (MID, $499,000) showed patches of brilliance that suggest he is going to push his average up towards triple figures in the new look Hawk midfield, collecting 21 possessions and kicking a goal on his way to 82. Isaac Smith (FWD/MID, $538,000) was solid, without being outstanding on his way to 74 and remains in the discussion for a starting spot in our forward lines after mixing up his role between the wing and the midfield. As far as youngsters go, Teia Miles (FWD/MID, $150,000) looked very composed with his 17 touches and 58 points and veteran Hawk Luke Hodge revealed to The Traders he is in line for a round one spot. Jarryd Roughead (FWD, $373,000) did enough to hold his spot in many teams, with a great performance in his long awaited return, scoring 60 points from a variety of roles playing predominately forward and midfield.
#StayStrongJLT: If you thought about removing Jaeger O'Meara (MID, $364,000) because he only scored 47… don't! He was very impressive with 12 touches and five tackles from just 47 per cent game time.
Zach Tuohy (DEF, $442,000) jumped up the draft order, looking right at home with his new club scoring a game high 107 from 33 touches. Patrick Dangerfiled (MID, $712,000) cruised around and scored a lazy 94 in second gear, making it very hard to say no, despite his hefty asking price. Tom Stewart (DEF, $172,000) remains a lock in the backline after finding plenty of the ball with 16 touches and eight marks on his way to an impressive 93. Sam Menegola (MID, $505,000) remains an interesting target in all formats after scoring 92 from 24 possessions and looks set to build on last year's output. Aaron Black (FWD, $150,000) kicked four goals and scored 79, more than enough to justify a spot on our benches at this stage given his bargain basement price.
#StayStrongJLT: I got plenty of tweets at half-time from people removing Jackson Thurlow (DEF, $282,000). Put him back in, he looked great after blowing out the cobwebs with 68 from 18 touches.
Click here to sign up for AFL Fantasy
Greater Western Sydney vs West Coast
Josh Kelly (MID, $542,000) has certainly been a player of interest during the Fantasy pre-season and he showed why for the under-manned Giants with 29 possessions, seven marks and nine tackles for 128. Tim Taranto (MID/FWD, $248,000) certainly showed his worth with a well rounded game for 97, while Lachlan Tiziani (FWD, $150,000) played only 66 per cent game time for 74.
#StayStrongJLT: Zac Williams (DEF, $498,000) was barely sighted for his score of 57 from 85 per cent game time, but he looks set for a big year so don't adjust your draft order based on this performance.
Jack Redden (MID, $392,000) is looking to rebound from last year's dip and got off to a good start with 16 possessions and a trademark nine tackles on his way to 85 for the under-manned Eagles.
#StayStrongJLT: Sharrod Wellingham (DEF, $367,000) had a good game with a team-high 114 from 28 touches and nine marks, but don't get too excited.
Liked the look of: 12 eyecatchers from JLT week one
Western Bulldogs vs Melbourne
Luke Dahlhaus (FWD/MID, $557,000) justified his pre-season hype as a player vying for a top-two starting spot in Classic forward lines with an impressive 27 touches, eight tackles and two goals for 115. Robert Murphy (DEF, $486,000) got through his return unscathed and looks under-priced after cruising to 59 points while blowing the cobwebs out. His partner in crime Jason Johannisen (DEF, $563,000) barely got out of second gear for a score of 56 but we can expect plenty more from the dynamic half-back duo in the season proper. Travis Cloke (FWD, $450,000) can jump up the draft order after looking very comfortable with his new team, scoring 57 with eight marks.
#StayStrongJLT: Jackson Macrae (FWD/MID, $596,000) didn't take a mark and only scored 47, but never fear, it was only from 56 per cent game time and he should remain in your team … possibly alongside Dahlhaus.
Jordan Lewis (MID, $623,000) made a good start with the Dees, top scoring with 28 touches and 92 points in a solid outing for his new club. The big story was Max Gawn (RUC, $642,000), who scored 92 from only 59 per cent game time, which was ridiculous considering he shared the ruck duties with Jake Spencer. Keep eye on some possible DPP action for Nathan Jones (MID, $593,000), who spent time playing off half back and scored 89.
#StayStrongJLT: Sam Weiderman (FWD, $150,000) certainly didn't set the world on fire with two goals and just 35 points, but don't rule him out of a bench spot if he forces his way into the best 22.

Luke Dahlhaus had a super impressive start to the season. Picture: AFL Photos

Sydney vs North Melbourne
We all know there is more midfield time available at the Swans and three of the pre-season names touted to fill it, did not disappoint. Callum Mills (DEF, $441,000) was outstanding, collecting 29 possessions and taking eight marks for a game-high 110, while Isaac Heeney (FWD, $442,000) scored 99 from 23 touches and 11 tackles. The other man was Zak Jones (DEF, $333,000) who also made the most of his increased opportunities with 21 touches and a whopping 11 tackles for 98.
#StayStrong JLT: Josh Kennedy (MID, $653,000) finished the season like a steam train, but we all know he is a perennial slow starter. Regardless of his historically slow starts, his 46 on Sunday is nothing to worry about.
Newly crowned skipper Jack Ziebell (MID, $573,000) had a good game with 75 from just 60 per cent game time, while Todd Goldstein's back up Braydon Preuss (RUC, $150,000) showed great promise with 29 hit-outs and 69. Ed Vickers-Willis (DEF, $150,000) impressed with 19 touches and 72, while Mitch Hibberd DEF/MID, $150,000) and Kayne Turner (FWD, $216,000) were disappointing with 34 and 27 respectively. Declan Mountford (MID, $150,000) made the most of his 33 per cent game time with eight touches and seven tackles.
#StayStrongJLT: Shaun Higgins (FWD, $484,000) pumped out 91 from just 69 per cent game time … Standard Higgo.
Brisbane Lions vs Gold Coast
The lean Pig Tom Rockliff (MID, $704,000) didn't miss a beat, scoring 72 from 58 per cent game time, while popular ruckman Stefan Martin (RUC, $538,000) rolled the legs over for two goals and 51 from 46 per cent game time. Unfortunately Jake Barrett (MID, $150,000) only managed 10 possessions and 46 points, and young star Hugh McCluggage (FWD/MID, $246,000) looked great early while getting his first taste of action with 45 from 65 per cent time on ground.
#StayStrongJLT: Archie Smith (RUC, $342,000) looked great in the ruck, but still sits behind Stef in the pecking order.
Aaron Hall (MID, $635,000) was in top form with a massive 33 touches and nine tackles for a game-high 127 and Touk Miller (FWD/MID, $493,000) looks like carrying his late season form into 2017 with 24 touches and 96 making him a viable starter in classic. David Swallow (MID, $355,000) looked great on his return with 15 possessions and 57 from just 53 per cent game time, giving justification to selecting him as a mid-pricer.
#StayStrongJLT: Jarrod Witts (RUC, $328,000) was very disappointing with 32 from 66 per cent game time, but give him another chance as a potential late pickup in Draft.
For more, follow me on Twitter: @RoyDT