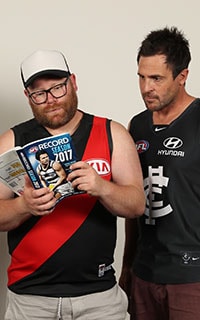 WITH a last moment of calm until round one, this weekend is the perfect time to hold your 2017 AFL Fantasy Draft.
There is plenty of exposed form to work with, courtesy of the completed JLT Community Series, and we're so close to another epic home and away season.
So gather your mates, set up a Fantasy Draft league on your desktop or your phone, and let the picks fly.
Here's everything you need to study up and play the game.
Who's playing and who isn't
Don't become a laughing stock by drafting a player who won't be seen for half the season. Check out our complete injury list for every club, along with the likely round one squad of 22 for every team, as predicted by AFL.com.au writers.
For Fantasy draft commissioners
If you're the one in charge, you'll need our complete guide to setting up your draft, inviting your mates and organising your draft party - right down to the Wi-Fi and the catering.
All the JLT Community Series form
There's nothing like some serious data to help pick your team. So here's every score from every game of this year's JLT series.
The Traders have also done a complete review of all four rounds of the pre-season comp.
Listen and learn
Warnie, Roy and Calvin have done more drafts than Tom Rockliff has scored Fantasy points. They know the break-out contenders. Have a listen to their top-ranking podcast as they walk you through the perfect draft strategy.
Click here to subscribe on iTunes.
Know where your players rank - line by line
Do you fill your boots with midfielders or jump early on the best backmen? Here are The Traders' complete rankings of each line in Fantasy, and exactly what the best use of draft picks is:
- Best of the backs: Fantasy defenders ranked
- The ultimate mids: Fantasy midfielders ranked
- The right ruck call: Fantasy ruckman ranked
- Forward thinking: Fantasy forwards ranked
You can also download the complete 16-page official AFL Fantasy Draft Kit in PDF format to have by your side as the picks start to flow.
See exactly how a draft is done
Finally, if you want to see how the 'experts' do it, check out the results of the 2017 AFL.com.au Fantasy Draft, as The Traders matched wits with the Fantasy gurus at AFL House.