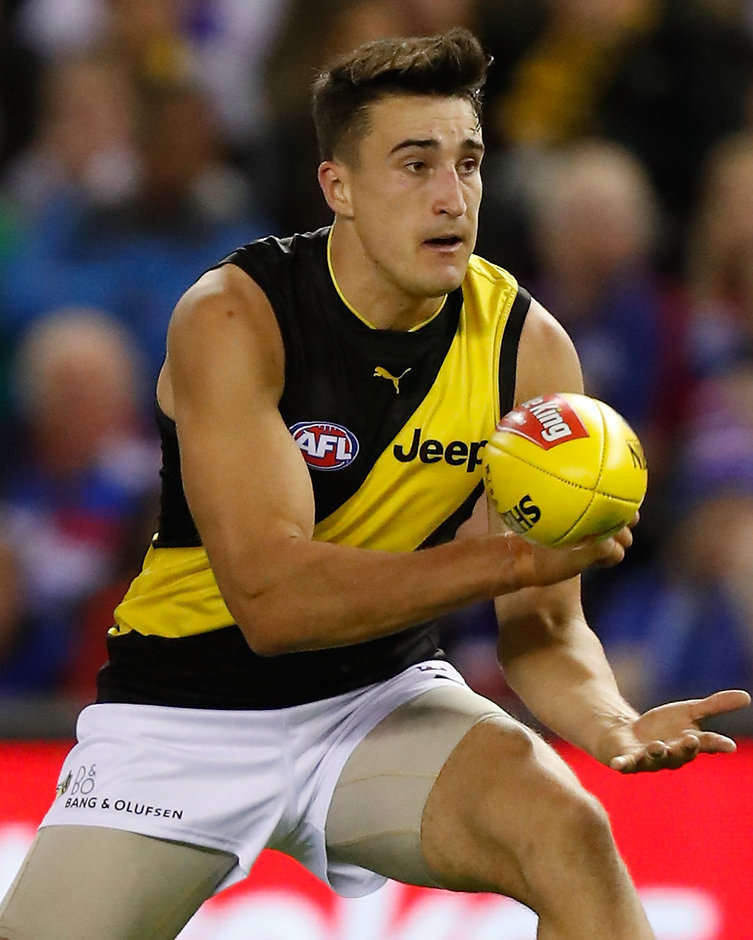 THERE are good players, there are players that have a good couple of weeks, but as we have been discussing on our Podcast, there is a group of three players who are whole new level… One is already a fully-fledged Pig and there are two guys with developed snouts who are nipping at his trotters. Lucky for me, I traded in Zach Merrett this week to complete the set of three little Pigs with Tom Rockliff and Tom Mitchell and they carried me to an overall rank of 100.
Fantasy Pig
I should apologise for being predictable and repeating myself… However, I'm not sorry. As a matter of fact, until Tom Rockliff has 100 per cent ownership, I'm not really doing my job as a Fantasy advisor. The Pig was amazing against the Swans, working his tail off the whole game despite the lack of support around him at times. The stand in captain, was also carrying the C for many Fantasy coaches and he didn't disappoint with 32 touches, seven marks, a workhorse like 11 tackles and two goals for 167.
Honourable mention: Aaron Hall has been frustrating his owners all year, but repaid the faith against the Cats with a thumping score of 156. He was hunting the ball right up until the final siren, eventually collecting 32 possessions with 10 marks, eight tackles and a goal. He is down $74K on the season and he is one to watch after Gold Coast's early bye.
• Nine things we learned from round seven
Click here to subscribe on iTunes.
Rage trades
You would never do it... well you probably would, but make sure you reverse it straight away. Many coaches chased the in form Rory Sloane at top dollar on the back of a phenomenal streak of 130+ games. He was watched very closely by the Roos and never got going as a result, finishing the game with 18 touches and 65. He will bounce back in no time.
Traditionally Josh Kennedy goes BANG after round six, significantly increasing his average from that point until the end of the season. Well the only thing that went bang was Warnie hitting his computer screen after showing some faith in the Swan skipper and trading him in this week. Kennedy was tagged and managed just 20 touches and a goal for 58. Until we see an extended streak of triple figure games, steer clear.
• Around the state leagues: Who starred in your club's twos?

Piglet

Ivan Soldo may sound like the name of a character from Game Of Thrones, but it's not like he is some sort of super-sized human among regular sized men... Well, let's move on. We are yet to find out if Soldo will be any more than a one-week wonder, but it was a wonderful week for any coaches that played him to cover for teammate Toby Nankervis. He had a whopping 42 hit-outs on his way to a very handy 75.
• After the siren: When will the Magpies learn?
The top five
Tom Rockliff: 167
Bradley Hill: 159
Aaron Hall: 156
Jarrad Waite: 150
Jack Viney: 145
Trade targets
Lachie Neale
Luke Shuey
Ivan Soldo
Tom Mitchell
Elliot Yeo
Mailbag
@RoyDT Should I retire from #Aflfantasy due to going with Parker over Titch before the season started? Venting my frustrations haha #Royswrap

— Jad (@jadomai91) May 7, 2017
I am here to listen mate. We have all made bad calls, just stick with it and get Titch ASAP.
Do you think Heath Shaw is worth getting at his current price? @RoyDT #AFLFantasy #RoysWrap

— Ronald Reid (@RonaldR20121994) May 7, 2017
Certainly worth considering for the price. I wouldn't move the earth to make it happen though. He still sits behind a number of defenders on the priority list.
Good to get in Hanners and Heeney this week? #AFLFantasy #RoysWrap

— Jordan Greenwood (@jgreenwood26) May 7, 2017
Both under-priced. I think Heeney is a greater priority for value, especially given the fact he is a forward.
@RoyDT Legends! I played with only 1 bench spot this wk. Better to upgrade under performing onfield rooks or get bench cover? #AFLFantasy #RoysWrap

— Craig (@craigpereira83) May 7, 2017
It's a fine line, especially with the byes approaching, we need active players. Having said that, it's not worth chasing bench players that don't appear to have job security.
@RoyDT @AFLFantasy Which position to address? FWD or DEF? For example, trade Curtly Hampton or Hoskin-Elliott? #RoysWrap

— Jack Jovanovski (@JackJova) May 7, 2017
Hampton goes first.
The views in this article are those of the author and not necessarily those of the AFL or its clubs