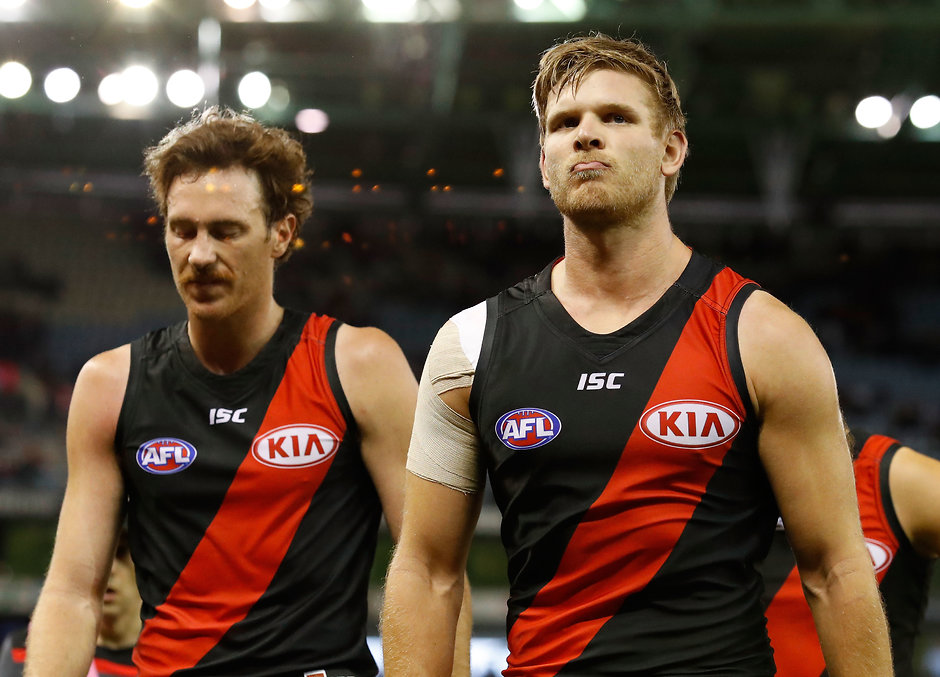 The 12 players most desperate to shake finals failure
ON FRIDAY night, 10 Richmond players will be attempting to win their first final after three failed attempts in consecutive seasons between 2013-2015.
On Saturday, Jobe Watson and Michael Hurley will be attempting to break a run of three elimination final losses with the Bombers in 2009, 2011 and 2014.
Even the ultra-successful Geelong and Sydney teams will be wanting to turn around a recent finals record that has seen them fall short of the ultimate prize since 2012, despite being in serious contention for most of that time.
That's the flipside of the jubilation finals can bring.
Those who repeatedly dare to win and fail risk a big monkey climbing on their back, one that doesn't let go until a win shakes them off.
Former West Coast goalsneak Phil Matera has been in the same position entering a finals series as those Tigers and Bombers.
He played in three losing finals in 1997-98 before playing in his first winning one in the 1999 qualifying final.
He was then part of three consecutive losing elimination finals teams with the Eagles in 2002-2004 before they broke through in the 2005 qualifying final against Swans.
Phil Matera knew the pain of finals heartbreak. Picture: AFL Photos



Matera told AFL.com.au Richmond should be positive about what lies ahead rather than intimidated.
"When you have tasted defeat, you're so hungry for a win," Matera said.
"It is about having that mindset."
The Eagles went on to make back-to-back Grand Finals, eventually winning the 2006 premiership, but unfortunately for Matera he wasn't part of the win.
The 10 Tigers who played in all three losing elimination finals
| Player | Career games |
| --- | --- |
| Jack Riewoldt | 222 |
| Shane Edwards | 204 |
| Trent Cotchin | 195 |
| Shaun Grigg | 189 |
| Dustin Martin | 175 |
| Alex Rance | 172 |
| Bachar Houli | 167 |
| Brandon Ellis | 132 |
| Dylan Grimes | 101 |
| Nick Vlastuin | 93 |
The 10 Tigers have played 1650 games between them.
Seven of the 10 have played more than 150 games with only Vlastuin yet to chalk up 100 games.
That's a good profile going into a finals series with Matera confident previous experience will be a benefit rather than a hindrance for Richmond.
"It's about having the will to win really and putting all that behind you," Matera said.
"You're ready for it. You know what to expect."
For the Bomber pair, the expectation is different with Watson facing life after football if the Bombers can't win, while Hurley's comeback from a year's suspension means he will have the game in perspective.
Watson played in his only winning final with the Bombers in just his seventh game, being part of the team that defeated Melbourne in the 2004 elimination final.
He has played four finals and 212 games in the 13 years since, without winning a final in September.
That seems a tough road but spare a thought for Collingwood champions Len Thompson and Wayne Richardson who lost more than 70 per cent of the finals they played.
Thompson made his debut as an 18-year-old ruckman in the 1965 preliminary final, which the Magpies lost, and by the time he won the 1972 Brownlow he had played 139 games including two heartbreaking Grand Final defeats and lost nine of his 11 finals to that point.
Western Bulldogs hero Brad Johnson didn't fare much better, playing in a losing final in just his eighth game. He never played in a Grand Final and experienced the pain of five preliminary final losses.
Most consecutive finals without a win (individuals)**
7 George Angus, Jock McHale (Collingwood): 1904-1909
6 Peter Riccardi (Geelong) 1995-2004; Len Thompson, Wayne Richardson (Collingwood): 1970-1973 Bob Rush* (Collingwood) 1904-1909
*Played in six losing finals and did not play in a winning one
** Based on available records
Most consecutive finals without a win (teams)
7 Collingwood 1904-1909, Geelong 1901-1925, Sydney Swans 1945-1987
6 Geelong 1995-2004, Footscray 1938-1951, Essendon 1968-1982, Collingwood 1939-1946, Collingwood 1970-1973
One good omen for the Cats and Tigers
Qualifying final opponents Geelong and Richmond have met in finals in eight seasons before this Friday night's qualifying final.
In each year at least one of the teams has made the Grand Final, with Richmond reaching the 1921, '31, '33, '34, '67, '69 and 1980 Grand Finals for five flags and Geelong reaching the 1931, '67 and '95 Grand Finals for one flag.
Tight times
Only St Kilda's 1997 team has lost more games in a season than Adelaide did in 2017 and finished on top of the ladder.
This season the Crows lost six games and drew one but earned top spot, while the Saints lost seven games in 1997 before finishing runners-up to Adelaide in its memorable 1997 premiership.