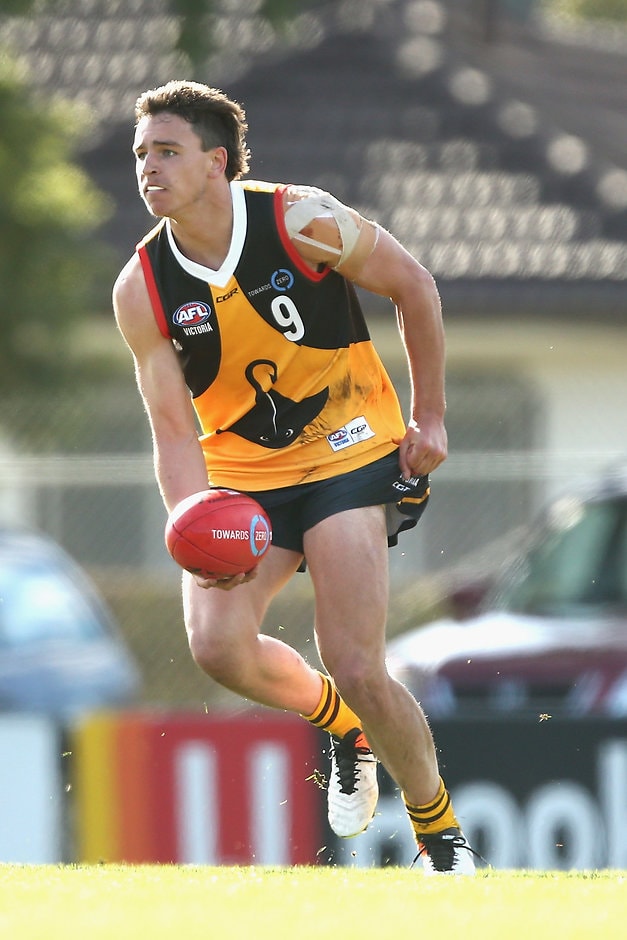 POTENTIAL top pick Luke Davies-Uniacke will have a final chance to press his claims on the No.1 spot on Grand Final morning after squads were named for the NAB AFL All Stars clashes.
The under-18 All Stars game, featuring players eligible for this year's draft, is a curtain-raiser at the MCG on Grand Final morning. AFL.com.au will be broadcasting the game live.
Davies-Uniacke is likely to be the main No.1 chance to play in the game, with injury forcing other contenders Cameron Rayner (hand), Paddy Dow (shoulder) and Adam Cerra (shoulder) out of the contest.
Likely Richmond father-son Patrick Naish and potential top-10 picks Jaidyn Stephenson, Jack Higgins and Nick Coffield are among the other leading prospects set to take the stage.
There will also be an under-17s All Stars game played on Friday, September 29 at Simonds Stadium featuring players for next year's draft pool.
The teams for both matches have been named after recently retired champions Corey Enright and Brent Harvey. NAB AFL Academy assistant coach Brad Johnson will coach the Enright sides, and fellow assistant and WA under-18 coach Peter Sumich will lead the Harvey sides.
U18s All Stars match
Saturday, September 30
AFL Grand Final curtain-raiser
10am, live on AFL.com.au
Team Enright
1 Dylan Moore – Eastern Ranges
2 Lachlan Fogarty – Western Jets
3 Patrick Naish – Northern Knights
4 Matthew Ling – Geelong Falcons
5 Matthew McGannon – Gippsland Power
6 Brayden Ainsworth – Subiaco
7 Andrew Brayshaw – Sandringham Dragons
8 Jack Petruccelle – Northern Knights
9 Gryan Miers – Geelong Falcons
10 Joel Garner – Eastern Ranges
21 Jordan Houlahan – Sturt
22 Hunter Clark – Dandenong Stingrays
23 Nicholas Shipley – St George
24 James Worpel – Geelong Falcons
25 Bailey Henderson – Bendigo Pioneers
26 Nicholas Coffield – Northern Knights
27 Oscar Allen – West Perth
28 Mitchell Podhajski – Calder Cannons
29 Jordon Butts – Murray Bushrangers
30 Noah Balta – Calder Cannons
31 Harrison Petty – Norwood
32 Sam Hayes – Eastern Ranges
33 Sam Taylor – Swan Districts
34 Lloyd Meek – GWV Rebels
35 Ned Reeves – Oakleigh Chargers
Team Harvey
1 Brent Daniels – Bendigo Pioneers
2 Jack Higgins – Oakleigh Chargers
3 Ben Paton – Murray Bushrangers
4 Alex Martini – Glenelg
5 Zac Bailey – Southern District
6 Ryley Stoddart – Eastern Ranges
7 David Handley – Geelong Falcons
8 Ed Richards – Oakleigh Chargers
9 Lochie O'Brien – Bendigo Pioneers
10 Luke Davies-Uniacke – Dandenong Stingrays
21 Matthew Day – Oakleigh Chargers
22 Brandon Starcevich – East Perth
23 Jaidyn Stephenson – Eastern Ranges
24 Jackson Ross – Eastern Ranges
25 Jack Payne – Noosa
26 Nathan Murphy – Sandringham Dragons
27 Aiden Bonar – Dandenong Stingrays
28 Oscar Clavarino – Dandenong Stingrays
29 Jarrod Brander – Bendigo Pioneers
30 Hayden McLean – Sandringham Dragons
31 Charlie Ballard – Sturt
32 Hugh Dixon – Kingsborough Tigers
33 Ben Miller – Subiaco
34 Brayden Crossley – Labrador Tigers
35 Connor Ballenden – Wests Juniors
U17s All Stars match
Friday, September 29
Simonds Stadium
1.30pm
Team Enright
1 Zac Butters – Western Jets
2 Tom Lewis – Sturt
3 Izak Rankine – West Adelaide
4 Will Hamill – Dandenong Stingrays
5 James Peatling – Pennant Hills
6 Isaac Quaynor – Oakleigh Chargers
7 Tom McKenzie – Northern Knights
8 Connor Rozee – North Adelaide
9 Bailey Smith – Sandringham Dragons
10 Luke Valente – Norwood
11 Sam Walsh – Geelong Falcons
21 Michael Mummery – Southern Districts
22 Lachlan Gadomski – Kingborough Tigers
23 Connor Idun – Geelong Falcons
24 Stefan Radovanovic – Western Jets
25 Jackson Hately – Central Districts
26 Riley Bowman – Dandenong Stingrays
27 Bailey Schmidt – Dandenong Stingrays
28 Mark Marriott – Murray Bushrangers
29 Ben King – Sandringham Dragons
30 Max King – Sandringham Dragons
31 Zane Barzen – Murray Bushrangers
32 Matthew Green – Sporties Spitfires
33 Caleb Graham – Cairns Saints
34 Hugo Munn – Sturt
Team Harvey
1 Ed McHenry – Geelong Falcons
2 Mitch Anderton – Lauderdale
3 Sydney Stack – Perth
4 Tom Matthews – Coorparoo
5 Jye Caldwell – Bendigo Pioneers
6 Jarrod Cameron – Swan Districts
7 Bailey Scott – Broadbeach
8 Xavier Duursma – Gippsland Power
9 Xavier O'Neill – Oakleigh Chargers
10 Curtis Taylor – Calder Cannons
11 Mitch Riordan – Dandenong Stingrays
21 Oscar Brownless – Geelong Falcons
22 Matt Walker – Murray Bushrangers
23 Jack Bytel – Calder Cannons
24 Buku Khamis – Western Jets
25 Tarryn Thomas – North Launceston
26 Mason Fletcher – Calder Cannons
27 Jack Lukosius – Woodville West-Torrens
28 Xavier Peacock – Subiaco
29 Ben Kelly – Murray Bushrangers
30 Bailey Williams – Dandenong Stingrays
31 Jacob Atley – Bendigo Pioneers
32 Hudson Garoni – Murray Bushrangers
33 Dillon O'Reilly – East Fremantle