A SMALL change at West Lakes could see the ball spend more time in Charlie Cameron's hands in 2016.

That can only be a great thing for both Adelaide and the club's fans given his significant development into a consistent and exhilarating small forward.

Cameron kicked 29 goals from his 22 games in 2016 and was ranked equal first in his crop of Rising Stars for goal assists (17).

The Crows have flagged his move up the ground for a few seasons, but on the back of a personal best 2km time trial in January and a stronger body, 2016 appears the year the 21-year-old will begin to push out of attack.

Cameron's added 3kg to his frame since last season and is heading towards the 80kg mark.

Not only will the added weight help improve his upper-body strength, but perhaps more importantly it'll boost his leg strength – crucial if he's to increase his coverage on game day.

That's what coach Don Pyke wants and Cameron told AFL.com.au he's relishing the opportunities at training to push his case for a spot on the wing.

"I'm doing my full first pre-season at the moment – I just need to keep building my engine up and hopefully I can get up into the midfield, on the wing, because that's what Pykey wants," Cameron said.

"I have been [playing higher up the ground] in a couple of the drills that we do, sort of match-sim, I have been playing up on the wing.

"I actually enjoy it up there … You find the ball a lot more, plus it's different from being a small forward because you go up but then work back.

"I'm feeling a lot fitter and a lot stronger in my body; last year I was feeling sore after trainings and stuff but now I'm feeling comfortable."

Charlie Cameron drags off Stefan Martin in round 21, 2016. Picture: AFL Media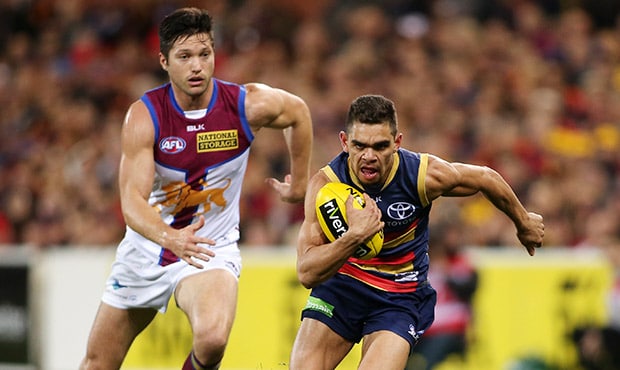 Adding to the likelihood of Cameron seeing midfield minutes in 2016 has been the arrival of former Carlton forward Troy Menzel.

Menzel will almost certainly demand a position in Adelaide's attacking six and has been training alongside Cameron and Eddie Betts as a small forward.

Menzel's height (187cm) means he'll likely play more as a third tall than a primary small, but his skills have certainly caught Cameron's eye.

"It's a bit of a competition with me, Troy and Eddie, but he's a lot taller than us so he's probably a bit more like 'Lynchy' (Tom Lynch) – that sort of third-tall role," he said.

"But he's tracking along well … I think he's a lot better than me, but I don't know about Eddie."