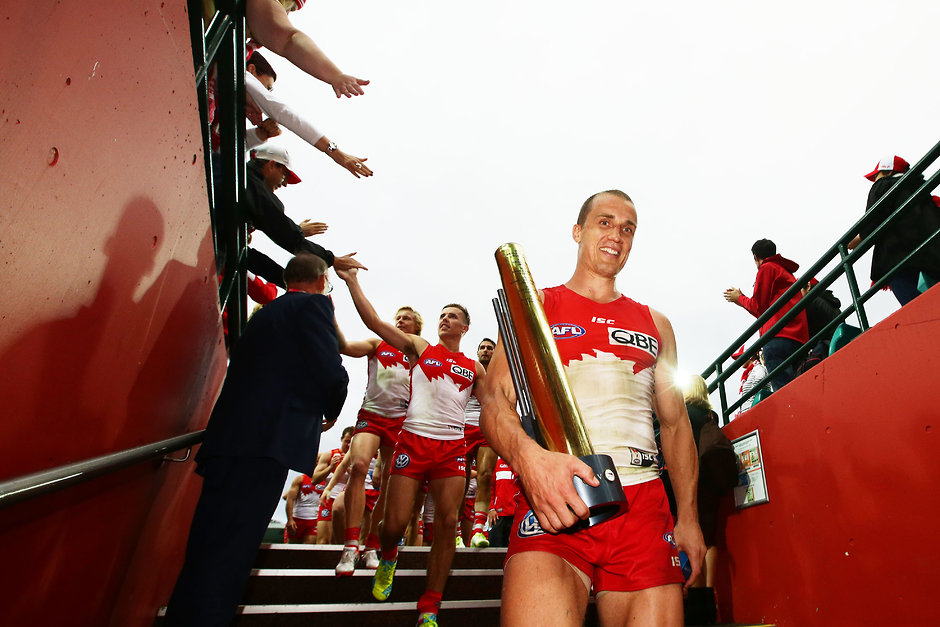 I kept Lance Franklin goalless in 2012 once, and I still derive a lot of satisfaction from that day
Ted Richards
SYDNEY Swans veteran Ted Richards will fight for more senior games, despite telling his teammates on Thursday that the 2016 season will be his last in the AFL.
Richards met with coach John Longmire a month ago and confirmed that he would retire at season's end after 15 years with the Swans and Essendon.
The 33-year-old, who has played 261 senior games, struggled through the pre-season with a calf problem, then had his year interrupted by a broken cheekbone and a separate bout of concussion.
Those injuries, along with the emergence of youngster Aliir Aliir in the second half of the season, have relegated Richards to the NEAFL. Richards last played in the Swans' round 17 loss to Hawthorn at the SCG.
The defender has been named as an emergency for the senior team for the past two matches while his younger brother, Xavier, has been selected in the starting 22.
Richards fronted a packed media conference at the SCG in front of the entire Swans playing list and staff, and said he was confident he could fight his way back into the senior team.
"I'm quite excited about what the next two months hold, I've got a challenge in front of me and I'm up for it," he said.
"If it so happens that I don't (play again) I'm quite content, but I'm not going to concede, and I will try my best to make it hard for 'Horse' (John Longmire) and the match committee not to pick me each week.
"To be fair, I think the team is playing incredible and consistent football, in particular Heath Grundy, who is in All Australian form, and so is Dane Rampe.
"Full credit to Aliir (Aliir) he's playing really good football too, so it's just about pushing my case with form."
Ted Richards celebrates his first win as a Bomber back in 2002. Picture: AFL Photos
The Richards brothers, born a decade apart, have played just once together at senior level, when Xavier came on as a sub in round 14, 2013 against Carlton at the SCG.
Xavier also replaced his older brother in round 17, 2015 when he was suspended, and came into the team in round 18 this season against the Blues when Ted was dropped.
Richards said playing with his brother again before he retired would be a dream come true.
"That is a genuinely big carrot," he said.
"It was one of the highlights of my career that we got to play a game together a few years ago; for that 10 minutes when he came off the bench.
"As insignificant as it might sound, us running out together has been a real highlight of my life, and the carrot is there for us to potentially play some more senior football together."
Richards, who along fellow veteran Heath Grundy, has been the backbone of the Swans defence since he arrived at the club from the Bombers in 2005, rated the 2012 Grand Final win as one of his most cherished memories.
Time for a family photo #ThanksTeddy pic.twitter.com/o9lzXfqVze

— Sydney Swans (@sydneyswans) August 5, 2016
He also cheekily recalled a game from earlier that season when the Swans beat the Hawks in Tasmania, where he got the better of ex-Hawthorn star, now teammate Lance Franklin.
"Without embarrassing him, I kept 'Bud' (Lance Franklin) goalless in 2012 once, and I still derive a lot of satisfaction from that day," Richards laughed.
"I sent him a text last night and offered him the chance to continue my legacy and wear the number 25 next year, and he didn't reply but the opportunity is still there for him.
"There's a quote I read once, 'You're not great unless you've beaten someone better than yourself', and I'm not saying I'm great, but when you come off and you've beaten a forward that is genuinely better than yourself, I got a lot of satisfaction from those games."
Richards has played through a generation of Swans success. Picture: AFL Photos

Longmire praised the career of the 2012 premiership defender.
"Ted (Richards) has been incredible - he's really the epitome of a balanced footballer," Longmire said.
"He has always trained really hard and worked really hard, but he also loves having a laugh and is a great family man.
"I still remember in 2010, he was in and out of the team at different times, so he was thinking about making plans to move overseas to live and thought his football career might have been finished.
"But instead, Ted dedicated himself to becoming the best defender he could possibly be and went to the whole 2010 finals series to study all of the best defenders in the competition."
"The following year, Ted finished fifth in our club champion award.
"In our premiership year, he finished club champion runner-up and was named the All Australian centre half-back … so he was able to drive his own career, set standards for himself and achieve those standards."