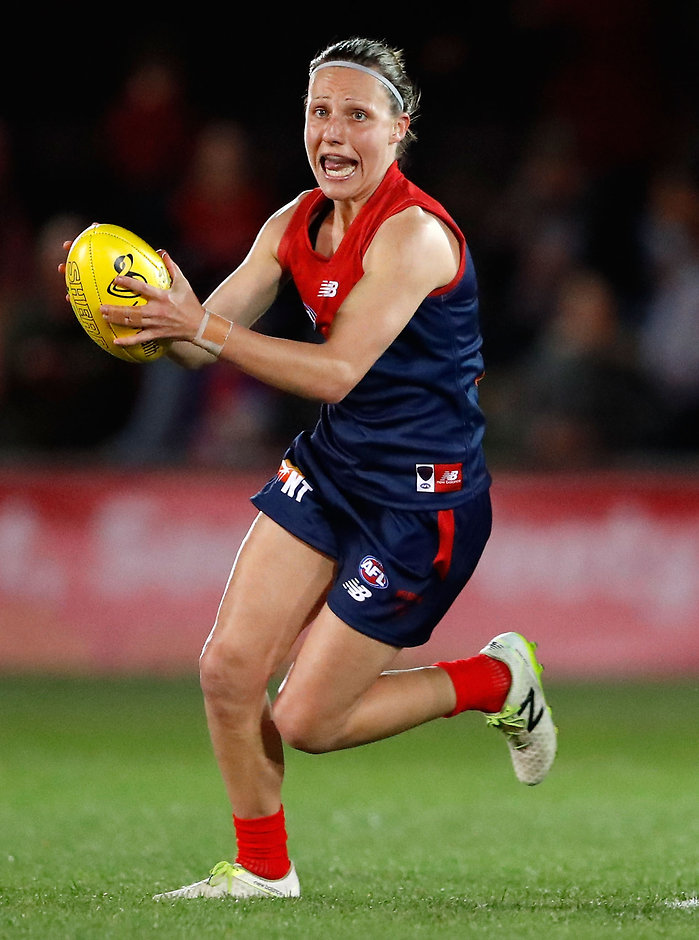 A SUPERB 'job application' two weeks ago has led to Melbourne signing midfielder Karen Paxman.
Paxman demanded recruiting officers' attention with a superb ball-winning display for the Demons against the Western Bulldogs in the recent AFL women's All-Stars game at Whitten Oval. And on Friday, the 28-year-old signed with Melbourne as a priority pick.
Paxman had nominated for the October 12 draft, indicating she wanted to stay in Victoria. She will get her chance when she joins her Darebin Falcons teammates and Melbourne marquee players Daisy Pearce and Melissa Hickey. She'll also get the opportunity to work with one of her old mentors.
The six-time state league premiership player said she was thrilled to accept Melbourne's offer, which also includes an off-field community-focused role. Part of her role will see her become an ambassador for Melbourne City Mission.
A midfielder and rebounding half-back, Paxman found it difficult to judge her input on a night that showcased the elite women from around Australia.
"Sometimes you come off and can't remember half the game because the adrenalin is flying around. You try to get your hands on the ball and make sure it's effective. It's quality not quantity when it comes to touches," she said.
"It was a massive game, probably the biggest any of us have played to date. It meant a lot to everyone. It was a celebration, but we wanted to win and they did too. We're all competitive beasts."
Paxman is a rarity in football. She didn't follow an AFL team growing up in Greenvale in Melbourne's north. She didn't start playing football until 16, having dropped out of competitive netball.
"I grew up not really following sport. My folks weren't sporty and didn't watch much sport, but I was always outside playing with friends in the street. I loved playing sport, but I wasn't engaged watching it," she said.
"My (physical education) teacher in high school played at Lalor Football Club, so we would have a kick at lunchtime and she was always nagging me to come down and play with her team. Eventually I did, and I loved it."
Debbie Lee, now Melbourne's women's football operations manager, has first-hand knowledge of Paxman's abilities as her coach and teammate at St Albans, where they won a premiership in 2012 before the midfielder switched to the Darebin Falcons in the VFL Women's competition.
Paxman is motivated after missing the Falcons' premiership team last year. She temporarily retired to travel, spending a couple of months in South America before the competitive urge lured her back.
"I was losing a little motivation and passion for it, so I thought I would take a break and refresh. It's a sport that takes so much of your energy and time, but at the same time it brings out so much in people. That's the part I missed," she said.
"I came back in time to watch the finals and I got itchy feet to play. I thought that would happen."