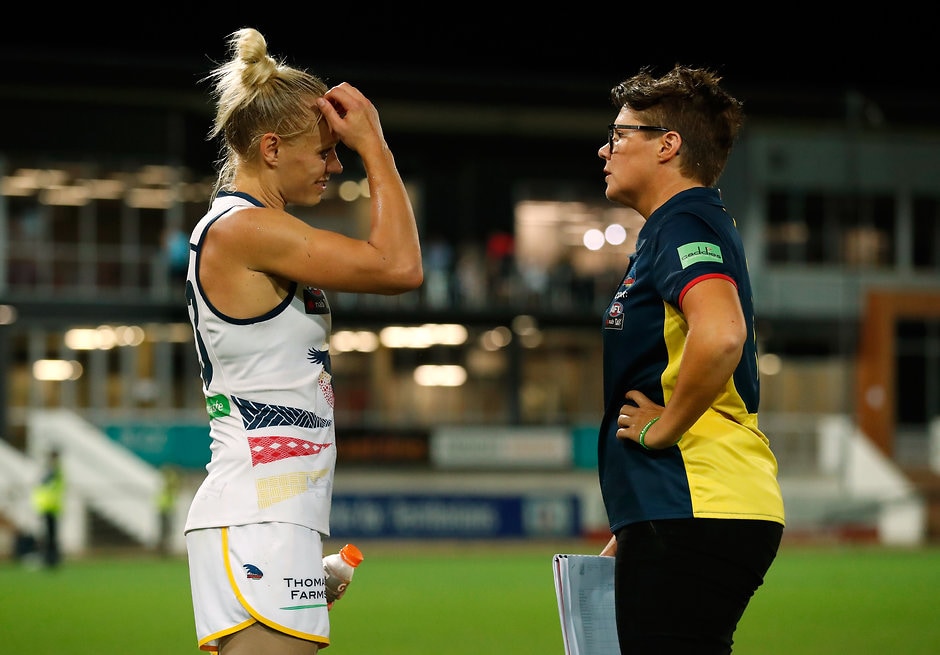 Melbourne v Fremantle
4.35pm (EDT), Saturday, March 18
Casey Fields
Melbourne heads into the final round of the NAB AFL Women's season knowing it needs a win over Fremantle to qualify for the Grand Final.
But coach Mick Stinear said the team was not thinking about the possibility of taking on the Brisbane Lions next week in the season's decider.
"Our group plays the best when they just go out there and play with freedom and flair," Stinear told melbournefc.com.au.
"We won't be thinking about anything else, other than being able to play our best footy (against Fremantle).
"That'll be the best thing for us."
Melbourne made one change, with midfielder/defender Brooke Patterson returning after missing the last two weeks with a hamstring injury. Injury replacement player Elise Strachan was omitted after playing her first game last week.
After the club's first win last week, against Carlton, Fremantle captain Kara Donnellan said it was important to keeping looking forward.
"You can never dwell on the past and think what could have been," Donnellan told fremantlefc.com.au, talking about how Fremantle could have been in the Grand Final picture if some results had gone the other way.
"Our final game against Melbourne is a fantastic opportunity for us to back up our win and set up a good transition into 2018."
The Dockers will be without Donnellan for the important clash after she was withdrawn from the team on Friday with an undisclosed injury.
Defender Brooke Whyte and small forward Demi Okely were also left out, while midfielder Taylah Angel and utility Beatrice Devlyn come into the team.
A replacement for Donnellan is yet to be named.
GWS Giants v Western Bulldogs
7.10pm (EDT), Saturday, March 18
Manuka Oval
The Giants will hit the road for the fifth time in seven weeks, when they meet the Western Bulldogs in Canberra.
Defender Nicola Barr said the Giants needed to improve their performances on the road.
The Giants have lost all of their games away from Blacktown International Sportspark, picking up a win and a draw in their two home games.
"It's tough… It's new for all of us, being in this professional environment and travelling," Barr told gwsgiants.com.au.
"But it's the seventh week now and we should be getting used to that and learning how to prepare for games."
Forward Isabella Rudolph will make her AFLW debut, her first game back from a serious knee injury she suffered last April.
Defender Alex Saundry was also selected to play with small forward Codie Briggs and defender Kristy De Pellegrini omitted.
With the Bulldogs unable to qualify for the Grand Final, coach Paul Groves said the team's aim this week was simply to play good football.
"The objective is four consistent quarters of footy and avoid the lapses," Groves told westernbulldogs.com.au.
"A win is important for what we're trying to achieve and would give us some momentum heading into next year. It would also be a reward for their efforts.
"We still think we're a pretty good side and the record doesn't really indicate the strength we've got."
The Bulldogs made one change with midfielder Lisa Williams selected to replace injured defender Kimberley Ebb.
Collingwood v Adelaide Crows
1.35pm (EDT), Sunday, March 19
Olympic Park Oval
Although Collingwood still has a mathematical chance of qualifying for the Grand Final, coach Wayne Siekman said the team was worrying only about one thing.
"We can only control our game," he told collingwoodfc.com.au.
"We're playing against one of the best teams in the competition and we've got a chance to claim a big scalp.
"We want to beat Adelaide and show that we're on the right track with this list and this club going into 2018."
The Pies will be bolstered by the return of small defender Cecilia McIntosh, after she missed the game against GWS with a hamstring injury.
Defender Penny Cula-Reid was omitted, with ruck Ruby Schleicher and midfielder Georgia Walker named emergencies in the final squad released on Friday.
With a win over the Pies likely enough to secure a Grand Final place, Adelaide coach Bec Goddard said the team was confident.
The Crows won their first four games, but have suffered two narrow defeats since then, to the Brisbane Lions and Melbourne. They still sit second on the ladder and have a superior percentage to the third-placed Demons.
"We have put ourselves in a very good position and, as I said to the girls last week, opportunity dances with those already on the dance floor," Goddard said.
"It will just come down to whether we play our best football."
The Crows added ruck Lauren O'Shea and midfielders Justine Mules and Monique Hollick (who missed last week's loss to attend her own wedding) to the extended squad. Defender Tayla Thorn was omitted.
Carlton v Brisbane Lions
3.35pm (EDT), Sunday, March 19
Ikon Park
Although still a chance to finish in the top two with a win over the undefeated Brisbane Lions and a bit of luck, Carlton coach Damien Keeping said the team was solely focused on finishing with a win.
"We're determined to finish the season strongly," Keeping said.
"As far as a Grand Final berth goes, that's really out of our control so we'll focus on what will hopefully be a win against Brisbane."
Carlton will be without defender Danielle Hardiman, after she sustained a syndesmosis (high ankle sprain) injury in the loss to Fremantle.
The Blues also dropped midfielder Jessica Kennedy, while selecting defender Rebecca Privitelli and forward Hayley Trevean, who will be making her AFLW debut.
After securing a home Grand Final with their win over the Western Bulldogs last week, the Brisbane Lions are pushing for the decider to be held at the Gabba.
The Lions have played all their home games at South Pine Sports Complex, but Lions' CEO Greg Swann said it would be "nonsensical" for the game to be played elsewhere.
"Our women's team have been simply magnificent this season … and they deserve to play the Grand Final at our home on the Gabba," Swann said.
Brisbane made one change for the clash with Carlton, with defender Shannon Campbell coming in for defender Delissa Kimmince..