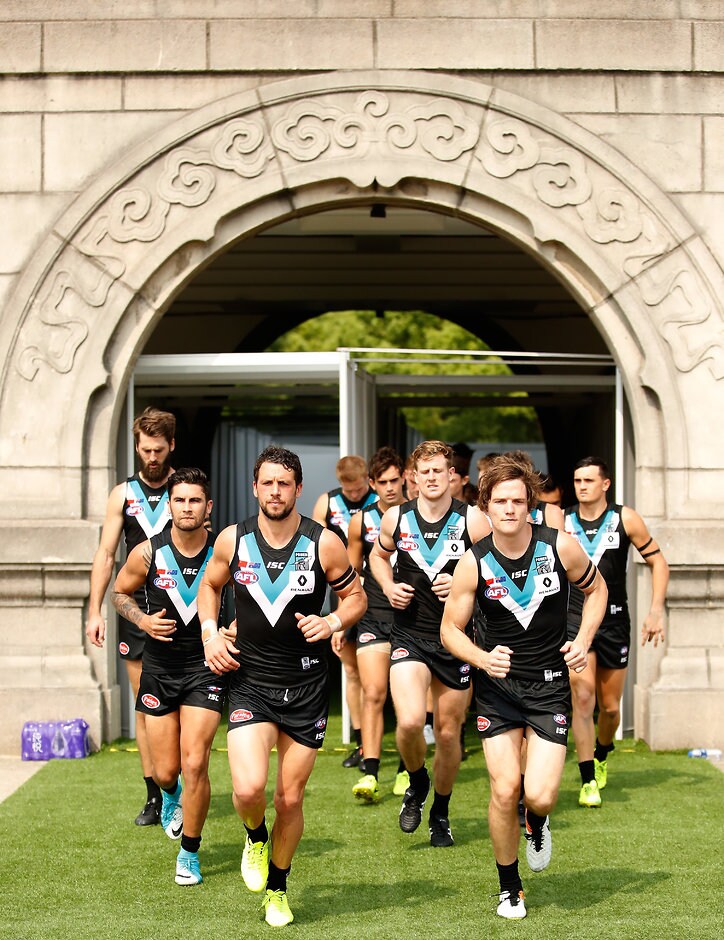 We're playing some really good footy
Assistant coach, Matthew Nicks
PORT Adelaide has conquered China, but the ultimate test will be breaking a decade-long drought in Geelong.
Power skipper Travis Boak, vice-captain Ollie Wines and Chad Wingard were among 11 players who returned to Adelaide on Tuesday morning.
The remainder of the squad have taken a different route, with some staying on in Hong Kong, several visiting the Great Wall of China and others who flew into Melbourne.
Midfielder Brad Ebert flew out of Shanghai immediately after the Power's historic victory against Gold Coast to be back with his wife Rebecca and newborn son Leo.
The players will return to training on Friday.
They will then turn their attention to preparing for a massive round 10 clash with the Cats on Thursday night next week at Simonds Stadium, a venue where they have won at two of their 13 attempts, the most recent in 2007.
"It's a tough road trip no matter what - they're a fantastic football side," Power senior assistant coach Matthew Nicks said.
"The travel's not going to be hard at all, we'll shoot down there and it will feel like it's gone in a flash.
"To win down there is a really tough road trip, there's no hiding from that.
"Most of our players are back in the country, there are a few that are having a look for a couple of days because we've got a 10 or 11 day break.
"We're playing some really good footy, our players are confident and we'll have a nice freshen up."
Other players to return to Adelaide on Tuesday morning included Tom Jonas, Aaron Young, Sam Powell-Pepper, Brendon Ah Chee, Sam Gray, Jack Hombsch, Tom Clurey and Aidyn Johnson.
Players were able to stretch out in premium economy to assist with their recovery from the long-haul flight, after a successful first trip to China ended with a comprehensive 72-point victory over the Suns.
"There wasn't a lot that we would do different," Nicks said.
"We went over reasonably early and that benefited us coming into the game, because it did take a day or two to get settled.
"Talking to the players, they enjoyed having the two (training) sessions and the captain's run where we could take it a little bit easier.
"They got used to the ground where we were playing, so there's not a lot we would change."
An estimated 5000 Power supporters travelled to China for the inaugural game for premiership points outside of Australia or New Zealand.
"Even when we got off the bus two hours before the game, they were lined up, cheering the guys in," Nicks said.
"We were really on edge pre-game and tried to bring ourselves back.
"We couldn't ask for more unless we build the stadium bigger."