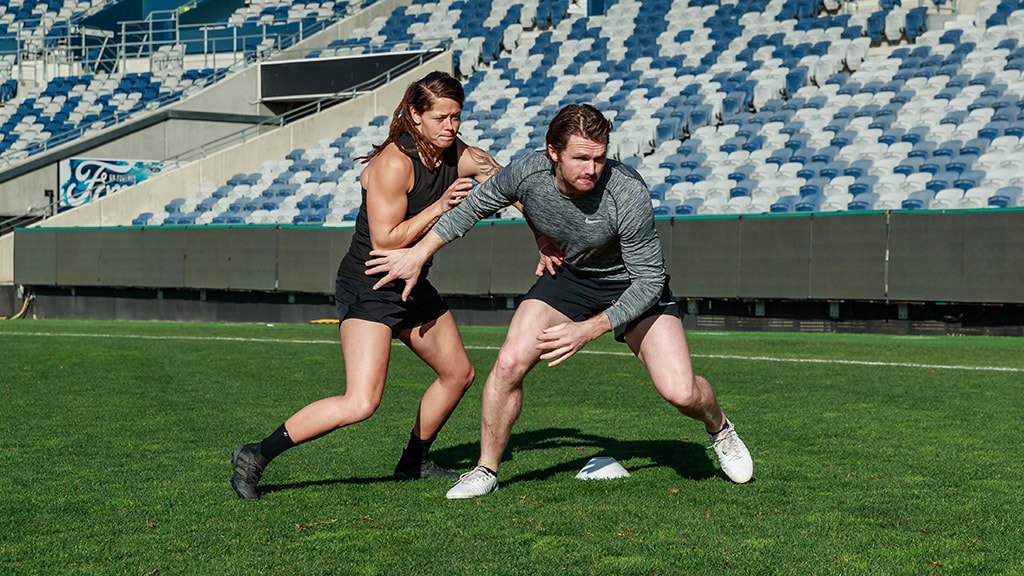 ONE OF Australia's leading sports training apps, Fit for Footy, today announced a new strategic partnership with the AFL.
Under the partnership, the AFL will provide marketing and distribution support for the Fit For Footy app. Fit For Footy will engage grassroots football communities with personalised training content, in addition to collaborating as an activation partner for the upcoming AFLX tournament.
The Fit for Footy app is Australia's leading sports training app for AFL participants, parents and school teachers. Co-founded by Geelong Cats star Patrick Dangerfield, with over 20,000 users, the app is changing the way Australian Football is being adopted across Australia. Fit For Footy connects participants and their football community with the people and content that are available at the elite AFL and AFLW level.
Fit For Footy provides users with footy drills, strength and conditioning programs and hydration and nutrition programs all personalised to your age, gender, level of fitness, level of football and body weight.
Fit For Footy ambassadors include some of the game's biggest names including;
Patrick Dangerfield, Josh Kelly, Erin Phillips, Alex Rance, Emma Kearney, and Dylan Shiel. AFL Legend and recent Order of Australia recipient, Kevin Sheedy, is Fit for Footy's Director of Coaching.
"We are excited to partner with the AFL to help get the great content in our app in front of the participants, parents and wider footy community across Australia. Having played and been involved in growing and developing the game through community initiatives in two of the games heartlands in Victoria and South Australia, I see huge potential in how we can help the game. Our digital offering complements existing AFL programs and gives people outside the AFL and AFLW, the exact programs and systems that we have in place at the elite level. As much as we hope to see one of our users play at the elite level of the game one day, we are also just as excited to help the local footy player to be the best they can be. As a parent I can see how helpful this would be for families across the footy community in providing all the information you need to give your kids the best help you can, all in the palm of your hand."
"This is a significant partnership for both Fit for Footy and the AFL," said Fit For Footy CEO and Co-Founder, Leroy Lobo.
"We're delighted the AFL will help market and distribute the Fit for Footy app across its digital network.
"We are also continuing to explore further digital offerings to be rolled out across 2019 that will engage players of all ages as well as the broader footy community and the 8 million AFL fans across Australia."
"The AFL is pleased to be partnering with Fit for Footy" said Andrew Dillion AFL General Counsel and General Manager of Game Development.
"Our goal is to ensure all AFL participants, parents and school teachers have access to the best game development experience using the latest technology. This app will enable our AFL community to enjoy world-class online footy drills, fitness and nutrition direct from the elite AFL and AFLW level, whilst taking their enjoyment of the game to another level."
"This is the first of a range of initiatives we are looking to roll out through this fantastic tech platform" added Andrew Dillon.
Fit for Footy is a new technology and content company across the sports, health and fitness sectors. The Fit For Footy app launched in August 2018 and became the #1 sports training app in Australia within 24 hours. Fit For Footy was featured by Apple in early January as one of their top sports training apps.
The Fit For Footy App is available for free on App Store, with an Android version to be released soon.
The App currently contains detailed pre-season training programs
• Personalised 12 week Pre-Season Running Programs from the AFL and AFLW.
• Strength programs to help your running and help you get stronger
• 6 meals a day personalised to your age, gender, level of fitness and weight
• Available on the App Store now