ADELAIDE midfielder Patrick Dangerfield says it is completely in the hands of the club as to whether his name is raised as a trade option.
The 24-year-old Victorian will qualify for free agency at the end of 2015, and a trade this off-season would ensure the Crows get appropriate value for their superstar.
But the dynamic on-baller says many comments have been well off the mark.
"It's all speculation. Anything can be written but at the end of the day, what's said and done behind closed doors is a different thing," Dangerfield told AFL.com.au.
"It's up to (list manager) David Noble and the rest of the recruiting staff (whether I'm traded)."
Dangerfield said he understood conjecture about his contract would only intensify the longer he remained unsigned.
"It's only going to get worse," he said.
"I'm contracted for the next 12 months, as are Sloaney (Rory Sloane) and Tex (Taylor Walker) so it'll all work itself out."
Earlier, Adelaide board member and powerbroker Mark Ricciuto said he hadn't ruled out trading Dangerfield.
"At the moment we've got a few things going on. Once we get that right I'm sure Paddy Dangerfield will want to be a long-term player with the Crows," Ricciuto told
AFL.com.au
on Monday.
But asked directly about the possibility of a trade, Ricciuto was clear.
"I didn't say there'd be no chance, and I didn't say we'd trade him. What I said was we have to get everything right so that it's a fair call to ask him to stay long term,' he said.
The former Crows champion reiterated his stance that the club needed to get its own house in order as its first priority.

"We'll get the contract right, we'll pay [Dangerfield] what he needs to be paid, but we've got to get the culture, environment and everything right so that he can win a premiership, because he wants to win one," Ricciuto said.
Rory Sloane and Patrick Dangerfield are both out of contract at the end of next year. Picture: AFL Media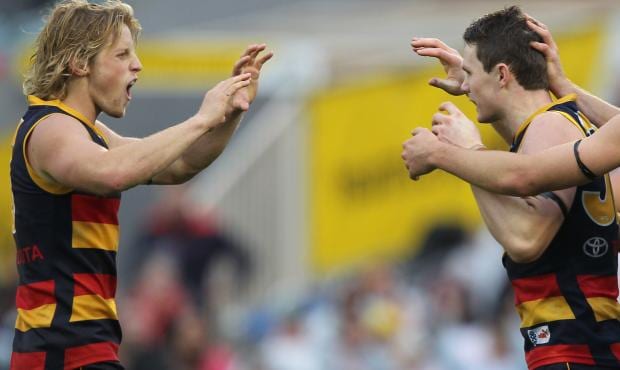 AFL.com.au
understands Dangerfield is not considering a move away from the Crows, despite the persistent speculation.
Dangerfield told the Nine Network last Thursday that speculation about his future - and that of teammates Taylor Walker and Rory Sloane - at the Crows was "ridiculous"
"In terms of discussing my contract ... it's premature. We're in a transitional period with our coach and it's not something that needs to be discussed," he said.
"I love the city, I love the club, I love playing there. And that's all that needs to be said."
Meanwhile, Ricciuto insisted the Crows "didn't pull the trigger too early" on Sanderson, despite admitting the club wasn't 100 per cent sure of Simon Goodwin's status at the time.
Goodwin agreed to terms with Melbourne to become Paul Roos' successor the very next day.
"There's more coaches out there than Simon Goodwin, we don't need an ex-Adelaide guy to coach the Adelaide Football Club.
"There's other guys that have been out there (who) have been looking to be a head coach for a while and some that have done it before.
Ricciuto said the board's focus was on the structure of the entire football department and not just the coach.
"It's about the whole footy department now, it's not about one man. One man can't do the job anymore. It's a number of blokes that have got to lead the footy club," he said.