DURING the six seasons that they spent together at North Melbourne, Leigh Colbert and Glenn Archer lived for their trips away at the end of each season.
They visited a host of countries and attended a plethora of elite sporting events along the way.
And when they hung up their boots (Colbert retired in 2005 and Archer in 2007), they found themselves searching for reasons to keep travelling.
"We had junkets at the end of every footy season and we wanted it to continue," Colbert told AFL.com.au with a chuckle. "So we thought we'd better make a legitimate business out of it."
That business, Kode Entertainment Group, has turned Colbert and Archer into key players in the global sport-watching industry.
They now spend a number of weeks each year escorting sports fans to world famous events like the Monaco Grand Prix, the US Masters golf tournament, races at Royal Ascot and the NFL Superbowl.
"It's crazy," Colbert admitted. "To watch Mark Webber win two Monaco Grands Prix was pretty special, I reckon. He's a fantastic guy.
"To have the opportunity to play golf with Greg Norman was another amazing thing."
Colbert and Archer aim to give their clients behind-the-scenes access by leaning on the many professional sportsmen they know.
"HavingArch's relationship with Ricky Ponting, who is a big North Melbournesupporter, has been a key to our success," Colbert said.
"Without dropping names left, right and centre, a number of other sporting identities have been happy to help. That has enabled us to give our clients access behind the scenes that they wouldn't usually get.
"Instead of just putting people in a corporate box, we try and give them something a bit special – things like meeting some of the biggest names in world sport."
A fully-trained airline pilot and a married father of one, Colbert is a busy man these days.
But the 38-year-old's attention was firmly on the Superbowl when the Seattle Seahawks played the Denver Broncos on February 3.
Colbert had the stay-at-home duties for the big match, hosting a function – replete with cheerleaders – for NFL fans at a pub in the Melbourne suburb of Prahran.
Below: Former North star Leigh Colbert ... and the cheerleaders. Picture: Sean Garnsworthy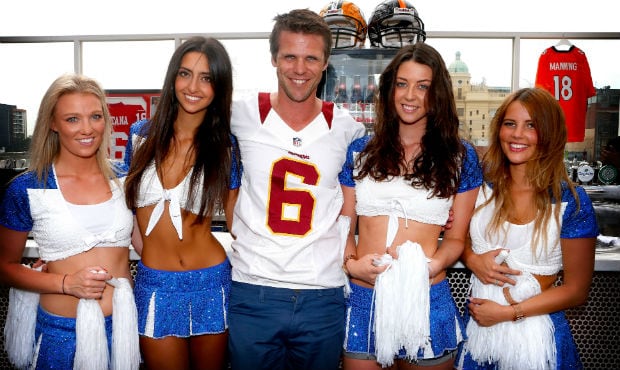 At the same time, Archer and 45 clients watched the game live in New York.
"They've been to the biggest Superbowl party and they've had a ball by all reports," Colbert said.
More Weekend Spotlights
Although he is a fan of just about every sport on the planet, Aussie Rules remains the game closest to Colbert's heart.
Having spent some time working with West Coast and North Melbourne after the end of his playing days, his contact with footy now comes via his boundary-rider role with Fox Footy.
"I still think our game is the greatest game on earth," Colbert, who played 105 games for Geelong and 104 for the Kangaroos during a 13-year AFL career, said.
"And I'm lucky that through Fox I get to watch a lot of footy. To be honest, things are pretty damn good at the moment."
SIX POINTERS
What do you like most about the game?
I'd have to say the footy club culture. When you're involved in a club and a team, you feel like you belong, and that one of the great things about our game.
What don't you like?
Sometimes I wonder about the attitude of the AFL itself. Make of that what you will.
What would you change about the game?
Not much. Seeing the game up close each week, I really admire today's players. The game is getting so fast that it's insane. To cope with that, one thing I would change is the size of the club lists. I'd let each club have 50-plus players. That would help extend the careers of the older blokes – the blokes who are the heart and soul of clubs.
Favourite player and why?
I used to barrack for the Tigers, then I hated the Tigers when I was playing, but now I love watching Alex Rance. He has a red-hot go. And I reckon Dylan Grimes is going to be a reasonable player, too. I hope both of those players do well in the future.
How many operations have you had?
I read somewhere that Dermott Brereton has had more than 20 operations, well I'm not far behind him. I've had 16. That's a bigger number than the amount of possessions I used to get in a game!
How will your former clubs Geelong and North Melbourne go this year?
Geelong will still be around the mark. I think they'll clearly win more games than they lose and they can certainly finish in the top four. North will need some luck with injuries, although most teams are in that boat. But I think the acid will be on North. Everyone is talking them up. But I respect what Brad Scott has done. He has developed a list to give the club a chance to win another flag.
Below: An emotional Leigh Colbert after his final game with the Kangaroos. Picture: AFL Media