SEVEN straight goals from key forward Travis Cloke led Collingwood to a tough 25-point win over a determined Melbourne on their Queen's Birthday clash at the MCG on Monday.

With both teams holding momentum at various times, it was the composure of the Magpies at critical moments that allowed them to hold sway in the end.

Collingwood kicked 17.8 (110) to Melbourne's 13.7 (85) to win by 25 points and Cloke won the Neale Daniher Trophy as best on ground.
Five talking points: Melbourne v Collingwood

Ten of the Magpies' first 13 goals came from Melbourne turnovers, while a huge mistake from Melbourne defender Jack Fitzpatrick – where he tunnelled the ball through his legs to rush a behind only to concede a free kick for a throw and gift Jarryd Blair a goal – only added to the misery.

The Magpies won the tactical battle with Adam Oxley playing a key role as a spare man in defence taking 14 marks (eight were intercept marks) and turning the tide whenever Melbourne had a run on.

Oxley's role was crucial as he forced the Demons to second-guess when attacking and restricted their ability to take marks inside 50. It was surprising the Demons did not try to quell his influence.
'Sometimes they don't listen': Demons attract Roos' ire

The game was set up for the Magpies in the first quarter with Cloke's early dominance over Tom McDonald allowing Collingwood to take a five-goal lead into the first break.

By quarter-time Cloke had kicked four goals, taken six marks and the Magpies looked in control.
Prime Angus named round 10 Rising Star

They were winning contested possession and forcing the Demons to turn it over with only a couple of goals from Jeremy Howe keeping their score respectable.

However the first half of the second quarter was Melbourne's chance to shine.

Inspired by its skipper Nathan Jones, who kicked two goals (one from a fortunate free kick) and young Angus Brayshaw (who was brilliant throughout the second and third quarter) the Demons banged on six goals in just under 11 minutes to take the lead.

In that time Brayshaw broke a tackle to kick an excellent goal but managed to create two for speedster Jeff Garlett.

Daniel Cross was doing an excellent job on Steele Sidebottom, restricting the playmaker to just eight disposals in the first half, with most of those touches coming late in the half.

It was a good response from the Demons who had fallen away when challenged against good opposition more than once in 2015.
Cloke saved misfiring Magpies midfield, says Buckley

The Magpies were on the back foot but they managed to turn the situation around, slowing the game down and eventually scoring a goal to break the unanswered run of goals from the Demons.
Jack Fitzpatrick picks the wrong time to try his hand at tunnel ball #AFLDeesPies http://t.co/dp6XZk3V4a

— AFL (@AFL) June 8, 2015
That goal came from Tim Broomhead, who snapped from the boundary after being the lucky recipient of an out-on-the-full decision when the ball appeared to bounce off McDonald's knee.

Injured coach Nathan Buckley – who managed to go about his business as usual despite having surgery on his hamstring a week earlier – pushed Oxley back into defence as a spare and it proved a game-changing move.

Collingwood went out again to a 19-point lead, but Melbourne hit back to kick four consecutive goals and level the scores.
Once again Oxley went back as a spare and the Magpies steadied to kick the final five goals of the game to win.
"We didn't win the game the way we wanted to … mainly off the back of the fact we were a little bit off at the contest," Buckley said after the game.

"We were able to win with a different structure. It wasn't planned, but it was growth for us and maturity in the group to do that."
It was a mature effort from the Magpies and sets them up for a clash against fifth-placed Greater Western Sydney next week. The Magpies have now won seven games but six of their wins have come against bottom six teams.
Big freeze at the 'G: Stars take the plunge
The Demons' effort was good but their ball use and poise was the difference in the end, according to coach Paul Roos.

"I think the effort level was there tonight which was positive but you can't just gift good sides goals like we did," Roos said.

"It makes it so much harder. You have to work 15-20 per cent harder than them to win the game."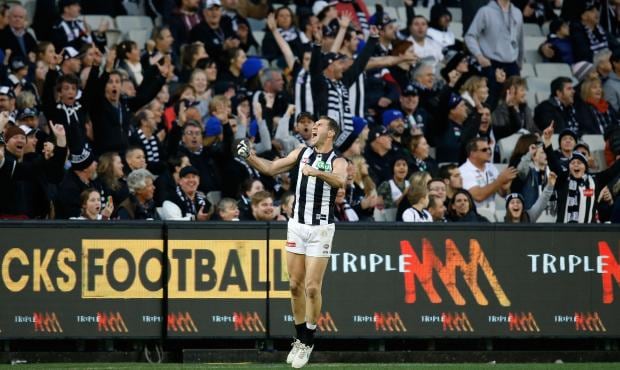 Travis Cloke celebrates one of his seven goals in front of a vocal crowd on Sunday. Picture: AFL Media.
MELBOURNE 3.1 9.1 13.4 13.7 (85)
COLLINGWOOD 7.1 11.3 15.4 17.8 (110)

GOALS
Melbourne: Howe 3, N Jones 2, Garlett 2, Vince 2, Hogan, Brayshaw, Fitzpatrick, Watts,
Collingwood: Cloke 7, Elliott 3, Blair 3, Swan, Seedsman, Broomhead, Fasolo,

BEST
Melbourne: N Jones, Vince, Viney, Brayshaw, Cross, Jetta
Collingwood: Cloke, Oxley, Pendlebury, Grundy, Williams, Langdon

INJURIES
Melbourne: Viney (corked calf), vandenBerg (hamstring)
Collingwood: Nil

SUBSTITUTES
Melbourne: Matt Jones replaced Aaron vandenBerg (hamstring) at half-time
Collingwood: Ben Kennedy replaced Paul Seedsman in the third quarter

Reports: Nil

Umpires: Stevic, Kamolins, Pannell

Official crowd: 66,120 at the MCG