WESTERN Bulldogs recruit Tom Boyd can expect some tough love from teammate Dale Morris to prepare him for his first season in Bulldogs' colours.
Morris told
AFL.com.au
he had learned a few tricks in his 193-game career and, when the time was right, he would unleash the odd surprise at training to see how the young key forward responded.
"They are going to cop it in games, so you do try to rattle them a little bit in training and then you talk to them afterwards," the experienced defender said.
"It's all about education."
The wily defender, who has earned a reputation for punching above his weight, grinned when Boyd was first mentioned.
"He is a big lump of a lad. It is going to be fun in the pre-season doing a bit of one-on-one stuff with him," Morris said.
Caleb Daniel could be a Dogs cult hero: Libba
The 31-year-old is happy to unlock the vault and share his defensive secrets with Boyd, who has played just nine AFL games after being the No.1 pick in the 2013 NAB AFL Draft.
"I will tell him things I don't like being done to me and things I am trying to do to him," Morris said.
He said training was the time to lift the pressure and potentially get under the forwards' skin so there were fewer surprises during games.
"[Training] is a lot more controlled, so it is probably a good place to do it and then you can have a good laugh about it later," Morris said.
Boyd, 19, was recruited in dramatic circumstances in the off-season with
the Bulldogs signing him to a multi-million dollar seven-year deal after their captain Ryan Griffen decided to join Greater Western Sydney.
Last week Boyd was running laps with ruckman Tom Campbell and then took to the exercise bike as he recovers from an off-season appendix operation, while Morris remains in the transition phase of his rehabilitation from post-season ankle surgery.
From opponent to teammate - Dale Morris locks horns with Tom Boyd last season. Picture: AFL Media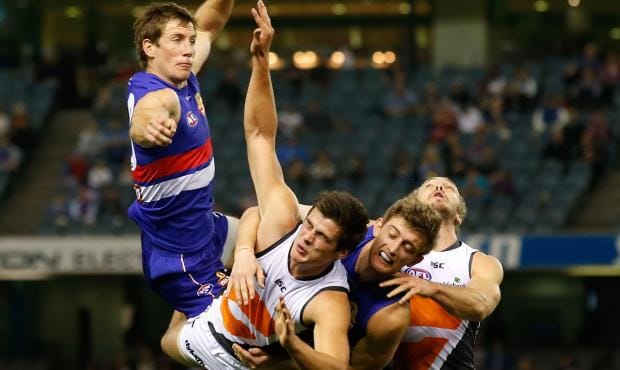 Morris conceded the external expectations on Boyd were going to be high, and admitted he was as excited anyone when he heard he was joining the Bulldogs.
However, he said the exciting forward was merely expected to play his role within the team.
"We don't look at who gets paid what and that doesn't determine anyone's output. Everyone is on the same page and everyone is on the same level," Morris said.
"We are going to be helping him with the external expectations and that is inevitable but he has a great bunch of guys around to help him and he is a good kid."