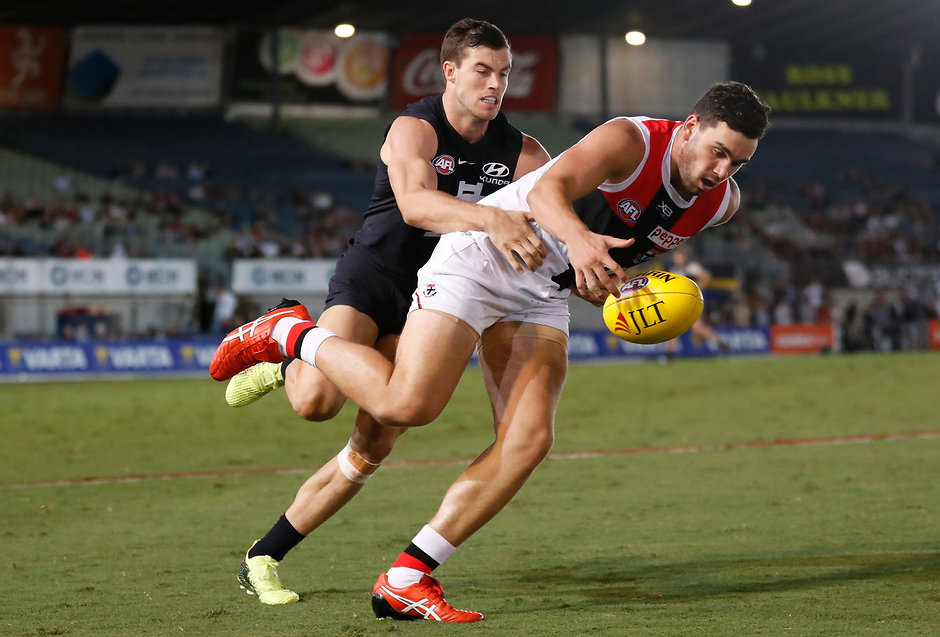 SAINTS fans believe Paddy McCartin can spearhead the club's return to the finals.
McCartin managed just five games last season after his sixth concussion since the Saints took him with the No.1 pick in the 2014 NAB AFL Draft.
Giving their take on their side's prospects in AFL.com.au's pre-season survey, 72 per cent of fans believed St Kilda would finish in the top eight for the first time since 2011.
McCartin staying on the park was a consistent theme in Saints fans' responses, along with an end to the goalkicking woes that plagued the team in 2017.
The Saints stumbled to 11th in an up-and-down season that featured a round 16 demolition of Richmond but also a host of squandered chances.
Along with McCartin, fans hope draftees Nick Coffield and Hunter Clark can continue their pre-season form and make an instant impact in the absence of retired stalwarts Nick Riewoldt and Leigh Montagna.
Here are the survey results, plus a selection of St Kilda fans' responses.
What's the Saints' weakest spot on the park?
Outside run and polish has been the issue so far, and it may take a few months for Clark and Coffield to fill the void.
- Chris O'Hearn, Blacktown NSW
A lack of elite A-Graders is costing us big time. Too many turnovers and poor decision making in every game is stopping us from becoming real contenders.
- Toby Just, Traralgon Vic
We're a bit green in attack still and need our forwards to really improve our conversion rate. We won't make finals otherwise.
- Dan Phillips, Hobart Tas

Our backline lacks depth, furiosity, intensity. There's no desperation for the footy and way too many kicks down the line rather then taking the game on.
- Alex Stirling, Berwick Vic
It'll be a great year if ...
... the second tier players improve. With the likes of Riewoldt and Montagna retiring, this is the year for Dunstan, Billings, McCartin and others to take their game to another level.
- Jeremy Chait, Caulfield North Vic
... we make finals and give it a nudge from there. There's further development of the 1-4 year players, and we land Rory Sloane in next year's off-season.
- Blair Chamberlain, Macleod Vic

... Paddy McCartin plays 20 games and kicks 35+ goals. Brandon White, Ben Long, Hunter Clark and Nick Coffield manage to break into the side and play 10+ games apiece. Dunstan, Steele, Acres, Billings, Membrey and Gresham continue to develop as our potential A-graders.
- Lennie Shore, Adelaide SA
... the Saints play the brand of footy that destroyed Richmond in 2017's Maddies Match on a consistent basis. Do that, and Saints Footy is back on the menu.
- Matt Marsh, Melbourne Vic
What's your dream headline in 2018?
'Freeman dominates in successful debut'
- Luke Vassallo, Darley Vic

'Thanks for the Membreys: Tim's 10 kicks Saints into finals'
- Matthew Oliver, Brisbane Qld

Same as it's been for 52 years: 'Saints win their second flag'
- Mal Grimes, Kangaroo Flat Vic
What's the headline you secretly dread?
'Goalkicking woes worsen for Saints'
- Michael Woltz, Boondall Qld

'Paddy McCartin concussed again, retirement looms'
- Tony Whyte, Romsey Vic
'St Kilda finish ninth on percentage'
- Wayne Wright, Black Rock Vic
Read more fans' season previews
• Adelaide: Bryce is nice, but backline the worry
• Brisbane: 50 goals for Eric and no spoon, please
• Collingwood: From 13th to a premiership?
• Essendon: Are the bolstered Bombers the complete Package?
• Fremantle: Forward line, forward line, forward line
• Geelong: Grand designs for Gaz's return
• Gold Coast: Key Sun is also fans' biggest dread
• GWS: Time for one Giant leap
• Melbourne: Just make the finals. And beat North
• North Melbourne: Hope for improvement, fear the worst
• Port Adelaide: One sure way to avoid elimination final heartbreak