WATCHING ballerinas crush calf-raise exercises was the unlikely impetus for Ben Jacobs to change the way he was combatting his persistent foot troubles.
The North Melbourne midfielder, arguably the game's best tagger, endured a horror 18-month period starting with a botched operation after fracturing the fifth metatarsal in his right foot.
Jacobs had managed a "hot spot" in the same foot since December 2015 before the break occurred during the Roos' round eight victory over Essendon six months later.
What was supposed to be a seven-week injury – a period that would have seen him back in North's line-up for finals – kept him out of AFL football for 679 days and required three further surgeries.
Jacobs' and teammate Sam Wright's introduction to Sue Mayes, the Australian Ballet's principal physiotherapist, and the country's finest ballerinas was a turning point for both of them.
Wright will play his first AFL match in 709 days on Saturday night against the Sydney Swans after his own foot-related issues.
"We had a massive shock when we first started seeing Sue," Jacobs told AFL.com.au at the Roos' Arden St headquarters this week.
"Seeing these petite little girls doing all these calf raises and we can't even do half of what they were doing … that kind of gave us a rude awakening.
"We were like 'We need to work on this' and I think that was the big thing that made us knuckle down and actually hone into this rehab."
The strengthening exercises are part of Jacobs' daily routine these days and aim to keep the foot muscles "activated" rather than him going from "zero to 100" on the ground.
He looks back now and admits he probably should have contemplated his football mortality during his time out, but always thought he was never "too far away".
Importantly, the 26-year-old always felt wanted, too, thanks in large part to coach Brad Scott putting his mind at ease as he came out of contract last year.
Former housemates Luke McDonald, Taylor Garner and Majak Daw, as well as Jacobs' family, were other great supporters.
The photo of a deliriously happy Scott wrapping his arms around Jacobs after his round five shutdown job on the competition's best ball-winner, Hawthorn's Tom Mitchell, has done the rounds at the club.
Jacobs' performance, where he matched Mitchell's 19 disposals and won seven clearances to the Hawk's three, coincided with North's finest victory of the season.
Brad Scott was ecstatic after Jacobs nullified Tom Mitchell in round five. Picture: Getty Images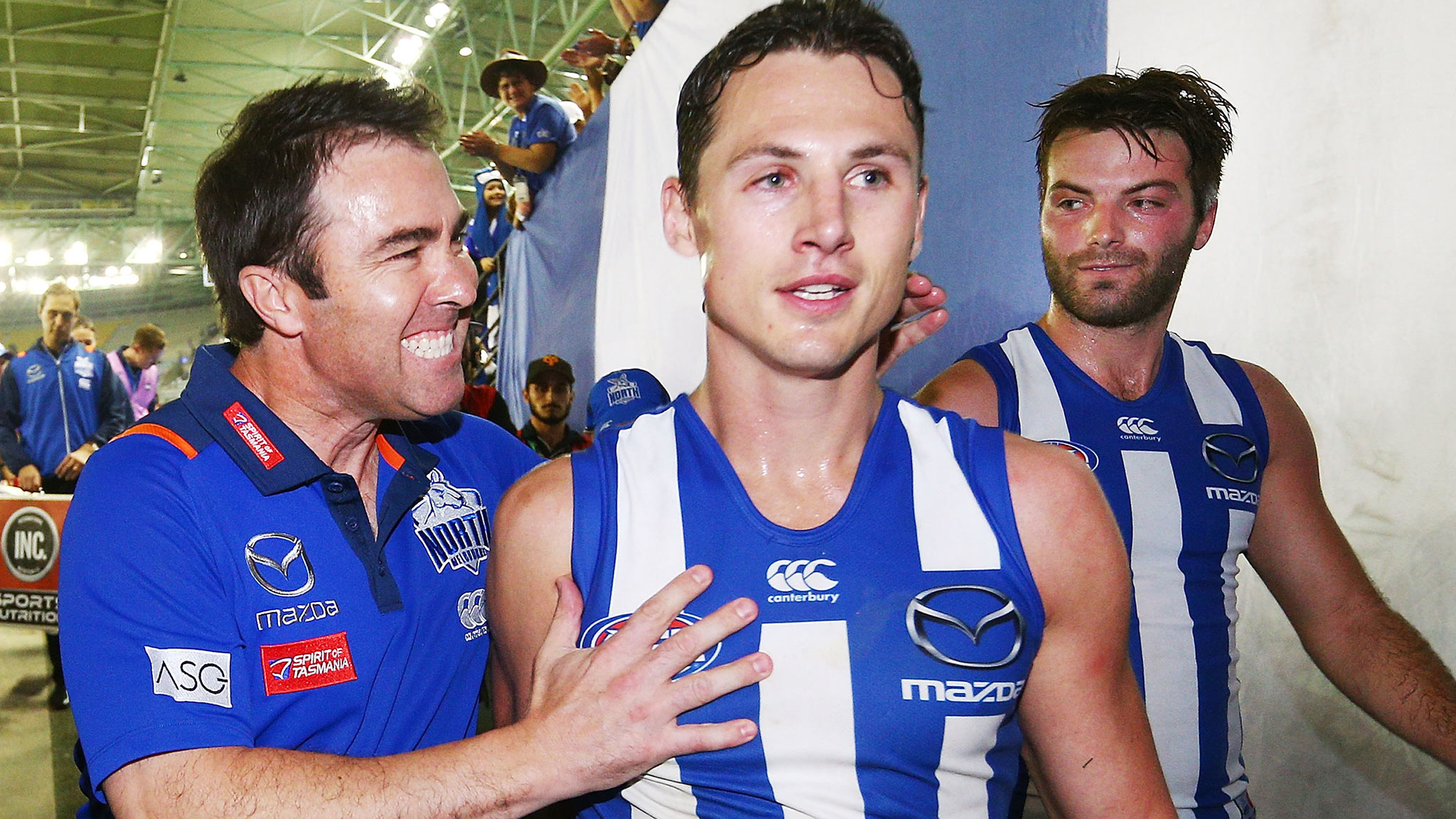 "We missed him enormously over the last two years," Scott told reporters after that game.
"He is a unique player. As a junior, he was a first-round draft pick – he's not just a guy that goes to try and blanket the opposition."
Jacobs was appreciative of Scott's public display of affection and kind words in the post-match media conference, admitting he is "getting plenty of love".
"It was a great win for the club and one of those ones where Hawthorn was flying and we had an opportunity to take them out and we did," he said.
"I feel like we're going places, and it was good to have a win like that against a quality side."
Jacobs is yet to be beaten this season, with his scalps including Gold Coast's Jarryd Lyons, Saint Seb Ross, Melbourne's Clayton Oliver, Blue Patrick Cripps, Mitchell and Port's Robbie Gray.
Champion Data's tagger rating ranks him No.2 at what he does, behind only Carlton's Ed Curnow.
Jacobs' opponents perform 44 per cent below their season average against him this year, so Sydney champion Josh Kennedy, his likely opponent on Saturday night, will need to be on guard.
Jacobs was never a tagger until he crossed to the Kangas from Port Adelaide in 2012, but is now so familiar with locking horns with the elite midfielders that it no longer daunts him.
"I'm definitely not the scragger or dirty type," Jacobs said.
"I just try to compete as best I can, and I think along the journey I've worked out some ways of maneuvering my body and where to set up at different stages of the game.
"I work pretty closely with (coaches) Jarred Moore, Darren Crocker and Brad on who I'm going to and what I have to look out for, and I think that goes a long way to beating them on the weekend."