FORMER basketballer Jay Rantall has set a new record at the NAB AFL Draft Combine in the 2km time trial.
The midfielder, who also shared the top honours in Thursday's Yo-Yo test, once again highlighted his elite endurance with the Combine-closing time trial.
He smashed the all-time record by competing the test in 5:50 minutes, well clear of the previous best of 6:04, which was set by Jacob Kennerley at last year's Combine.
Rantall was formerly a member of the Australian Institute of Sport's under-18 basketball team before focusing on his football with the Greater Western Victoria Rebels this year.
Vic Country midfielder Jay Rantall has set a new Draft Combine record in the 2km time trial, running 5:50 minutes. Second best was Finn Maginness at 5:51. pic.twitter.com/W2Kx8VvBuV

— Callum Twomey (@CalTwomey) October 4, 2019
The AFL staggered the runners in groups based on their Yo-Yo results, with the final race including Rantall and also Finn Maginness, with the pair going head-to-head.
Maginness finished one second behind Rantall to complete a brilliant week of testing in front of recruiters.
Jay Rantall in front of second-placed Finn Maginness.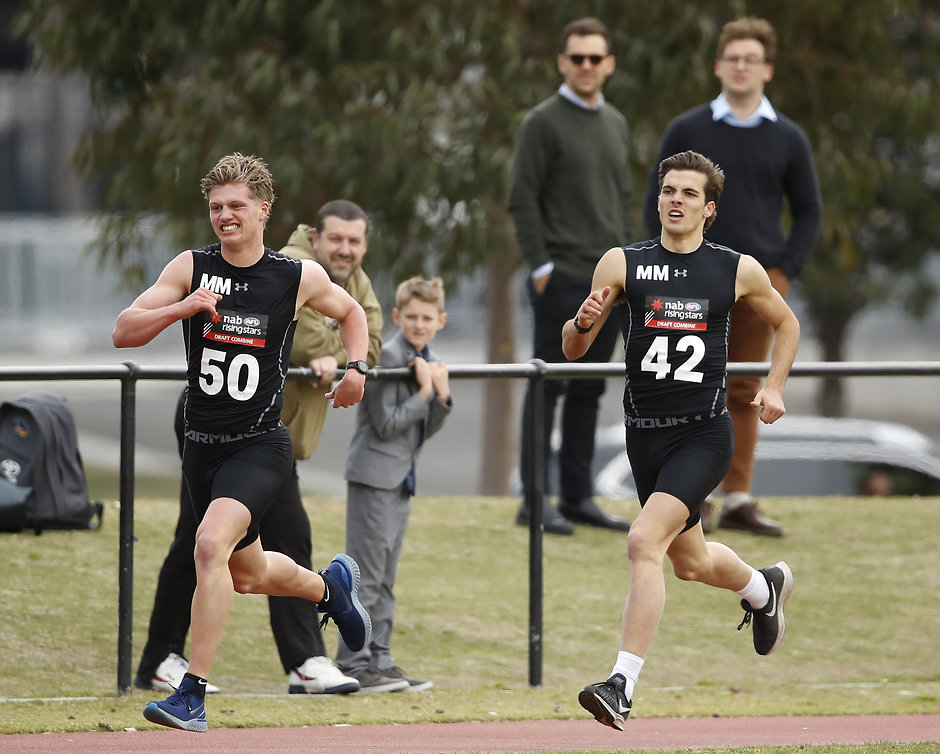 He was one of three players to break the record, with South Australian runner Dylan Stephens also clocking a time of 6:01 minutes.
The midfielder, who has drawn comparisons to West Coast star Andrew Gaff, combined his elite aerobic time with a 20-metre sprint of 2.97 seconds to also boost his stocks at November's draft.
INDICATIVE DRAFT ORDER Your club's latest picks
Stephens is a possible top-10 selection, with the left-footer enjoying a strong end to the year with Norwood.
The time trial was the final test of this year's national Combine and was run at Collingwood's Holden Centre in front of scouts from every club.
DRAFT COMBINE RESULTS Speedy mid boosts stocks with scorching time
2km time trial results (min:sec)
Jay Rantall 5:50 minutes
Finn Maginness 5:51
Dylan Stephens 6:01
Louis Butler 6:09
Hugo Ralphsmith 6:12
Jeremy Sharp 6:12
Connor Budarick 6:15
Jai Jackson 6:15
Will Martyn 6:16
Ned Cahill 6:17
Matt Rowell 6:17
Noah Anderson 6:17
Cooper Stephens 6:17
Cian McBride 6:17
Previous Combine record: Jacob Kennerley (6:04 minutes, 2018)