THE TENSE finish to Thursday's Anzac Day clash between Collingwood and Essendon has been reviewed and given the all clear by the umpires.
Several incidents, including an Andrew McGrath tackle on Will Hoskin-Elliott and a run-down Joe Daniher tackle on Jack Crisp, saw players come to a complete stop, expecting to hear an umpire's whistle and a free kick paid.
The Daniher tackle saw the ball spill free between three Essendon players, who stood still, waiting for a whistle. Collingwood's Tom Phillips pounced and flicked the ball to Jordan De Goey, who fired a shot at goal, but missed.
PIES HOLD ON Full match coverage and stats
Shaun Ryan, who umpired the match, spoke on SEN radio on Saturday.
"There was definitely some errors, but the five in the last quarter were not errors," Ryan said.
"Upon review, they were the correct calls."
The decisions Ryan discussed were:
- Hoskin-Elliott was not holding the ball, managed to just get a fist to the ball and handballed. Free kick not paid.
- Daniher tackle on Crisp. The first tackle didn't stick, the second tackle took him to ground, had prior opportunity and handballed. Free kick not paid.
- Scott Pendlebury high contact. Put his head down to pick up the ball and two Essendon players made front-on high contact. Pendlebury didn't run into stationary players, so it wasn't play on. Free kick paid.
- Anthony McDonald-Tipungwuti high contact. Shrugged his arm, raising the tackle to around his neck. Free kick not paid.
- Jaidyn Stephenson and Callum Brown. Jaidyn Stephenson didn't have prior opportunity when tackled, made an attempt to dispose of the ball and got a kick away, Callum Brown was then pushed in the back. Free kick paid.
Ryan said he believed the noise of the crowd contributed to the players stopping.
"Two of the clear examples was when the players stopped and there was no whistle," he said.
"That's happened in my games two or three times over the years, but really, that's just the result of the noise level, the players just can't hear whether or not there's been a whistle. Because of the scream of the crowd, the assume there's been a whistle, they stop, look at us, we're calling 'play on'.

"It's not ideal, but we just need to adjudicate according to the rules, and the players, there's going to be circumstances where they can't hear the whistle because of crowd noise."
BARRETT Many forms of booing but Essendon's was 'pathetic'
It comes as Hawthorn coach Alastair Clarkson called for AFL umpires to eventually become full-time, suggesting it would go some way to addressing the "grey areas" of football.
"I think it's a part of the game that everything else has gone professional, and it's an area of the game where I think we're probably lagging behind [other sports]," Clarkson said.
"I feel like there's a role for full-time umpires. We'd have to phase that in over a period of time. I think the AFL has trialled it with some guys going full-time in the umpiring division over the last two or three years.
"Whether it gets to the stage where all umpires are full-time, I'm not too sure, but I'd like to see it pushed that way.
"People argue whether or not there's justification for doing it, given the amount of hours in the week and 'what would they do?', but there's plenty to do. [That includes] coming out to clubs, researching vision and trying to stay ahead of what's going on in the game, rather than being reactive to it all the time."
"Shame on anyone that booed a champion."#AFLDonsPies pic.twitter.com/3RiVXlaxDY

— AFL.com.au (@AFLcomau) April 25, 2019
Clarkson said while there was a fine line between under- and over-umpiring and added the holding the ball rule was a particularly difficult interpretation.
"It's a complex game, it's the most complex game in the world. When there's significant rule changes, like there has been over the summer, it takes a long time for coaches, players and the wider football public to adjust to those interpretations.
"It's demanding enough to be able to umpire even before these adjustments have been made, there's still a significant grey area around the player with the ball.
"Prior to last week's round of games, there was 4000 tackles laid in four rounds of footy and there were 300 infringements for holding the ball. That's about seven per cent of tackles, so that suggests to me that 93 per cent of players in tackling situations have disposed of the ball correctly."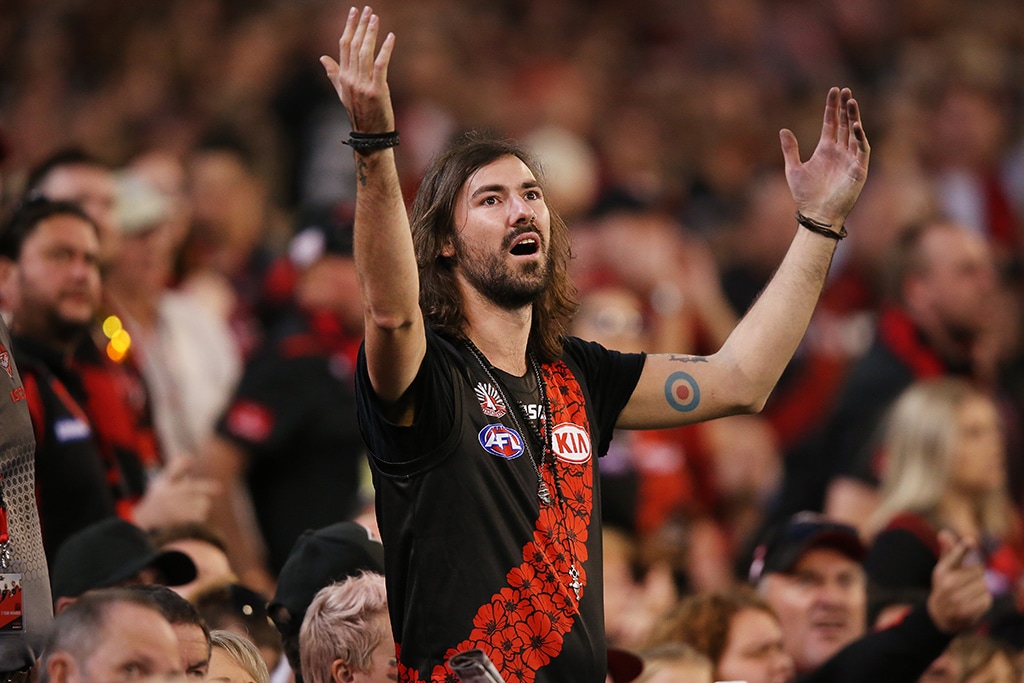 The veteran coach said addressing the issue may actually improve the movement of the game.
"That's the greyest area of our game and we saw that again on Anzac Day, and unfortunately, it just sends the crowd nuts," Clarkson said.
"We can fix up stoppages, ball movements and speed of play. That ratio of seven per cent doesn't need to become the other way around, where 93 per cent of tackles are penalised.
"But if that's 20 or 25 per cent, I reckon that'd be a fair indication that tackling could be rewarded a little bit more, and the game would flow a little bit more as a result of that."
Find Trends on Apple Podcasts, Google Podcasts and Spotify