JUNE 15 doesn't sound that long ago.
But for both Adelaide and Carlton, it will seem like an eternity.
After that weekend's round of games, the Crows sat relatively comfortably inside the top four and the Blues were a game clear in dead last on the AFL Ladder.
>> FULL INDICATIVE DRAFT ORDER BELOW
Their future pick swap – which saw the two sides exchange 2019 first-round selections to allow Carlton to nab Liam Stocker last November – looked like a disaster for the Blues.
Stocker managed five games in his debut season. Picture: AFL Photos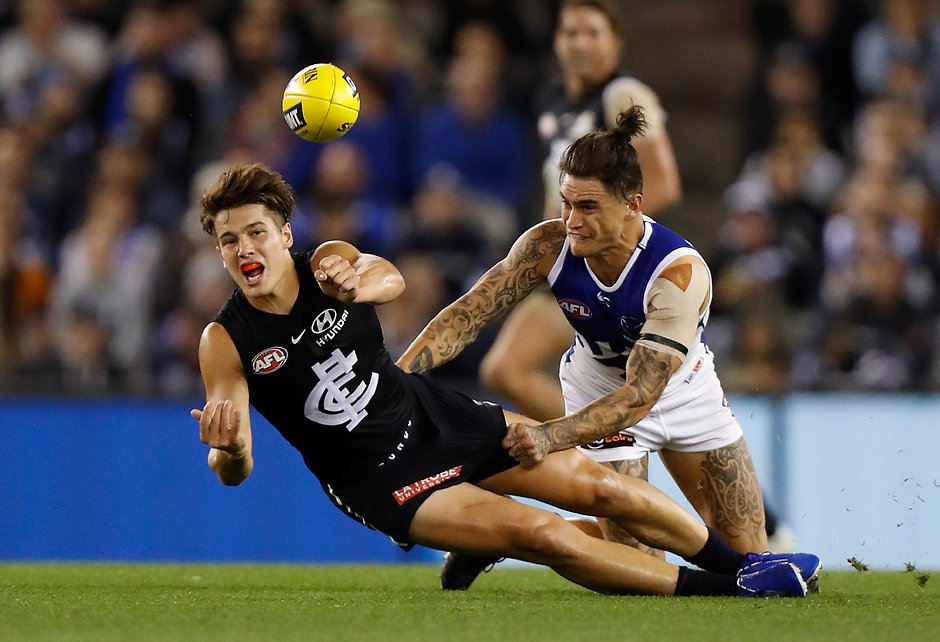 However, from there, it has been anything but.
Adelaide dramatically lost seven of its last nine games to drop seven spots on the ladder, while Carlton won five of its last nine matches to move up two spots on the table.
It has made their controversial trade all the more fascinating.
While determining the 'winner' of the trade remains purely subjective, the Blues got the upper hand in the deal according to the AFL's Draft Value Index (DVI) – which provides arguably the most objective way of predicting the worth of each draft pick.
Find Road to the Draft on Apple Podcasts, Google Podcasts and Spotify.
Carlton, having secured pick No.8 in this year's NAB AFL Draft and pick No.19 last year to secure Stocker, amassed a total of 2499 DVI points from the trade. Adelaide, having acquired pick No.3, got 2234 DVI points – a total of 265 fewer than the Blues.
However, another factor to consider will be whether Gold Coast gets a priority pick.
If it does, it would push Adelaide's selection back to No.4 and Carlton's back to No.9, which would equate to even fewer DVI points for the Crows (383 fewer than the Blues).
Perhaps it's why Adelaide will be vocal in opposing such a move ahead of November.
It's been an intriguing few months following this trade. Maybe the drama isn't over yet.
How the trade panned out
Adelaide: Pick 3 (2234 DVI Points)
Carlton: Pick 8 and Liam Stocker (2499 DVI Points)
Difference: Carlton +265 DVI Points
And what if the suns get a priority pick?
Adelaide: Pick 4 (2034 DVI Points)
Carlton: Pick 9 and Liam Stocker (2417 DVI Points)
Difference: Carlton +383 DVI Points
Indicative draft order after round 23
ROUND ONE

GCFC

1. Gold Coast

MELB

2. Melbourne

ADEL

3. Adelaide (tied to Carlton)

SYD

4. Sydney

STK

5. St Kilda

FRE

6. Fremantle

NMFC

7. North Melbourne

CARL

8. Carlton (tied to Adelaide)

PORT

9. Port Adelaide

HAW

10. Hawthorn

GWS

11. Greater Western Sydney (tied to Essendon)

WB

12. Western Bulldogs

GWS

13. Greater Western Sydney

WCE

14. West Coast

BL

15. Brisbane (tied to Collingwood)

RICH

16. Richmond

GCFC

17. Gold Coast (tied to Brisbane)

GEEL

18. Geelong
ROUND TWO

BL

19. Brisbane (tied to Gold Coast)

MELB

20. Melbourne

ADEL

21. Adelaide (tied to Carlton)

WCE

22. West Coast (tied to Sydney)

SYD

23. Sydney (tied to St Kilda)

FRE

24. Fremantle

NMFC

25. North Melbourne

ADEL

26. Adelaide

PORT

27. Port Adelaide

HAW

28. Hawthorn

ESS

29. Essendon

WB

30. Western Bulldogs

ESS

31. Essendon (tied to Greater Western Sydney)

WCE

32. West Coast

COLL

33. Collingwood

RICH

34. Richmond

BL

35. Brisbane

GEEL

36. Geelong
ROUND THREE

RICH

37. Richmond (tied to Gold Coast)

MELB

38. Melbourne

CARL

39. Carlton

SYD

40. Sydney

WB

41. Western Bulldogs (tied to St Kilda)

BL

42. Brisbane (tied to Fremantle)

NMFC

43. North Melbourne

CARL

44. Carlton (tied to Adelaide)

HAW

45. Hawthorn (tied to Port Adelaide)

WB

46. Western Bulldogs (tied to Hawthorn)

ESS

47. Essendon

WB

48. Western Bulldogs

GWS

49. Greater Western Sydney

SYD

50. Sydney (tied to West Coast)

COLL

51. Collingwood

GCFC

52. Gold Coast (tied to Richmond)

BL

53. Brisbane

GEEL

54. Geelong
ROUND FOUR

STK

55. St Kilda (tied to Gold Coast)

MELB

56. Melbourne

SYD

57. Sydney (tied to Carlton)

SYD

58. Sydney

WCE

59. West Coast (tied to St Kilda)

ESS

60. Essendon (tied to Fremantle)

PORT

61. Port Adelaide (tied to North Melbourne)

PORT

62. Port Adelaide (tied to Adelaide)

PORT

63. Port Adelaide

COLL

64. Collingwood (tied to Hawthorn)

ESS

65. Essendon

PORT

66. Port Adelaide (tied to Western Bulldogs)

CARL

67. Carlton (tied to Greater Western Sydney)

STK

68. St Kilda (tied to West Coast)

COLL

69. Collingwood

RICH

70. Richmond

NMFC

71. North Melbourne

RICH

72. Richmond (tied to Geelong)
ROUND FIVE

GCFC

73. Gold Coast

MELB

74. Melbourne

GWS

75. Greater Western Sydney (tied to Carlton)

SYD

76. Sydney

STK

77. St Kilda

FRE

78. Fremantle

NMFC

79. North Melbourne

CARL

80.Carlton (tied to Adelaide)

PORT

81. Port Adelaide

HAW

82. Hawthorn

ESS

83. Essendon

WB

84. Western Bulldogs

GWS

85. Greater Western Sydney

GCFC

86. Gold Coast (tied to West Coast)

HAW

87. Hawthorn (tied to Collingwood)

RICH

88. Richmond

BL

89. Brisbane

GEEL

90. Geelong
AFL DRAFT VALUE INDEX
| ROUND ONE | ROUND TWO | ROUND THREE | ROUND FOUR | ROUND FIVE |
| --- | --- | --- | --- | --- |
| Pick/Pts | Pick/Pts | Pick/Pts | Pick/Pts | Pick/Pts |
| 1. 3000 | 19. 948 | 37. 483 | 55. 207 | 73. 9 |
| 2. 2517 | 20. 912 | 38. 465 | 56. 194 | 74. - |
| 3. 2234 | 21. 878 | 39. 446 | 57. 182 | |
| 4. 2034 | 22. 845 | 40. 429 | 58. 170 | |
| 5. 1878 | 23. 815 | 41. 412 | 59. 158 | |
| 6. 1751 | 24. 785 | 42. 395 | 60. 146 | |
| 7. 1644 | 25. 756 | 43. 378 | 61. 135 | |
| 8. 1551 | 26. 729 | 44. 362 | 62. 123 | |
| 9. 1469 | 27. 703 | 45. 347 | 63. 112 | |
| 10. 1395 | 28. 677 | 46. 331 | 64. 101 | |
| 11. 1329 | 29. 653 | 47. 316 | 65. 90 | |
| 12. 1268 | 30. 629 | 48. 302 | 66. 80 | |
| 13. 1212 | 31. 606 | 49. 287 | 67. 69 | |
| 14. 1161 | 32. 584 | 50. 273 | 68. 59 | |
| 15. 1112 | 33. 563 | 51. 259 | 69. 49 | |
| 16. 1067 | 34. 542 | 52. 246 | 70. 39 | |
| 17. 1025 | 35. 522 | 53. 233 | 71. 29 | |
| 18. 985 | 36. 502 | 54. 220 | 72. 19 | |