ON THIS round 95 years ago, a one-eyed, bung-kneed World War I veteran blazed the trail for Dane Rampe and other post-shakers to come.
It turns out Swans co-captain Rampe was the seventh player caught and punished for shaking a goalpost as an opponent had a shot at goal, and the first since Essendon great Dustin Fletcher transgressed in 2001.
The very first rose to notoriety almost a century ago, and the story of his eventful life – which was brought to our attention by footy historian Robert Allen – is nothing short of astonishing.
Arthur Hando, a star defender for South Melbourne (the Swans' original guise), became known as 'The Pole Wobbler' after some questionable conduct during a tense home clash with Geelong at the Lake Oval in round nine, 1924.
EXCESSIVE FINE AFLPA's concern on Rampe
However, it's a wonder World War I veteran Hando had the strength to shake a goalpost, let alone play football.
One of 12 siblings from the tiny farming community of Buckrabanyule in north-central Victoria, the strapping Hando was a 23-year-old labourer when he enlisted for service in the Australian Army early in December 1914.
A private in the 5th Battalion, Hando was sent to Gallipoli where, on May 9, 1915 – just two weeks after the disastrous landings at Anzac Cove – he suffered gunshot wounds in both knees in the Battle of Lone Pine.
A cheerful character, Hando later joked that while his mates were shot in the belly, he copped it in the knees because he was a big fella – he stood 189cms, which was tall for the time.
A month after being patched up in hospital in Egypt, Hando was back in action at Gallipoli.
A month after that, he was struck by a bullet fragment that caused him to lose the sight in his left eye. For a time he also had double vision in his right eye.
The incapacitated soldier was sent back to Australia and was discharged in June 1916 after being deemed permanently unfit for service. It was feared he might also be permanently disabled.
Arthur Hando's official service record from World War I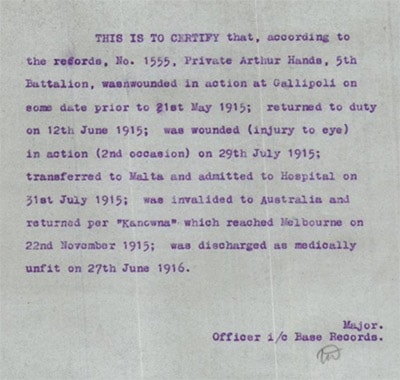 A world away from the conflict, Hando still managed to almost come to grief in June 1918. Wearing an eye guard while working on a farm in his home district, he was stabbed several times in the side and back by a fellow worker who had threatened to kill him.
Hando fought back fiercely to make a citizen's arrest, and the offender subsequently received a six-month jail sentence.
Despite his hardships, Hando was regarded as a genial giant with an ever-present smile that was about to become even broader.
Before the war, Hando had been a champion footballer for his local Charlton team, but few could have held genuine hopes that he would return to the field given he had two bung knees and sight in only one eye.
So it was astounding that he not only played footy again but he somehow retained much of his high leap and became an even better player, initially for strong VFA clubs Port Melbourne (1920-21) and Brunswick (in the first three rounds of 1922) before joining South Melbourne.
"A free kick shall be awarded against a player or official who intentionally shakes a goal or behind post either before or after a player has disposed of the football."

Jimmy Bartel noticed this from Dane Rampe in the final moments of the game.

: @7afl pic.twitter.com/EEieCM03Ku

— AFL.com.au (@AFLcomau) May 10, 2019
Hando made his League debut in round five, 1922, three days before his 31st birthday, and quickly became a prominent centre half-back, with his courage and high-marking making him a crowd favourite.
He soon became mates with South's legendary captain-coach Roy Cazaly, with whom he worked on the docks and also played together in the wharfies' team, the Watersiders, in the strong Wednesday Football League.
"Cazaly was amazed that Hando could play football at all after his war injuries. It's amazing he could even walk," said Allen, the author of 2017 book Cazaly: The Legend.
The seemingly indestructible Hando had just turned 33 and was at the top of his game when South hosted Geelong on that fateful June day in 1924.
It was an important clash – the teams were level on four wins, with South just inside the top four and Geelong fifth.
South led narrowly in the second quarter when Geelong rover Arthur Pink had a set shot from about 40m. Hando shook the post so vigorously, it was reported, that "the top wagged like a dog's tail", rocking almost a metre "from the perpendicular". As fate would have it, the ball hit the swaying post.
How cartoonist Sam Wells depicted the saga in The Herald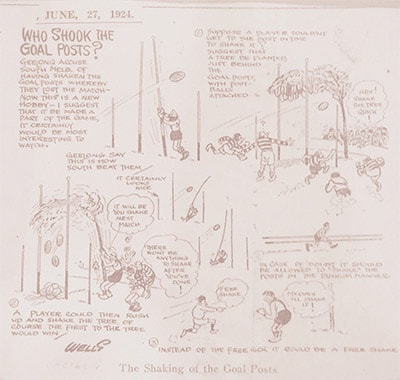 Cazaly described Hando's actions as "just exuberance of spirits; pure devilment". Geelong officials didn't share this casual view. Their team had lost by three points so they lodged an official protest claiming Hando's unsporting interference had cost them a goal and, consequently, the game.
A hearing was held 12 days later, during which it was alleged that Hando had also "violently" shaken a goalpost in the third term when Geelong star Cliff Rankin's shot went through for a goal.
Hando denied wrongdoing in both instances, insisting he knew nothing about the initial incident and adding that in the third quarter he had been bumped and grabbed hold of the goalpost and swung on it simply to keep himself upright.
However, evidence from umpires and players contradicted his defence and he was found guilty.
League chairman Dr William McClelland, The Argus reported, declared "it was a pity that a player with such a fine record as Hando should descend to such tactics". However, it was felt that a reprimand would suffice "in view of his past good sportsmanship".
League chairman Dr William McClelland, who deemed a reprimand sufficient for the offence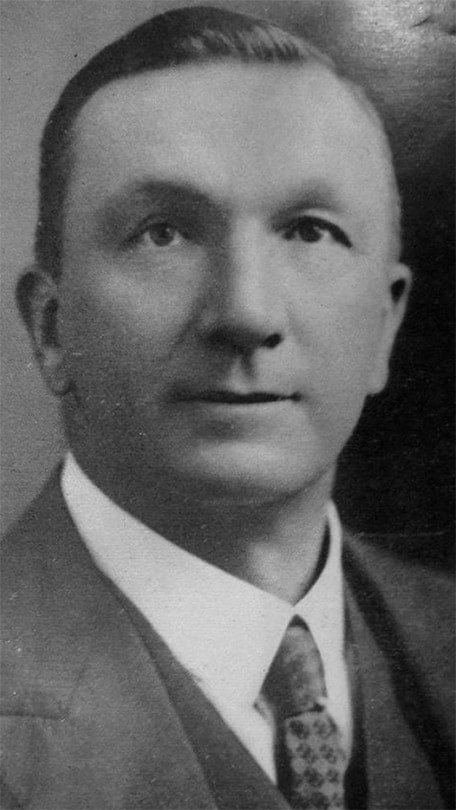 Remarkably, another post-shaking charge was heard the same night, from a game at the same ground just seven days after the Hando episode, also involving South Melbourne and, remarkably, the same goal umpire, G.H. Fox.
There was a sense of karma when Hando's Southerners were the victims when Richmond's Jim Spain deliberately shook a goalpost as South spearhead Ted Johnson place-kicked a behind. (South won by 18 points.)
Spain claimed he had shaken the post as a joke after some spectators talked him into it. He also received a reprimand, but the League made it clear that other such offenders would face stiffer penalties.
The controversy didn't affect Hando's status or relationship with officialdom, given that later that 1924 season he made his only two appearances for Victoria.
Among South's best players in both of its finals that season, he retired from League football after 45 games in three seasons. He then captain-coached South Bendigo to the 1925 premiership.
Hando The Pole Wobbler died suddenly in Glen Innes, in the northern tablelands of New South Wales, in 1949. He was only 57.
Hando's gravestone in the Glen Innes cemetery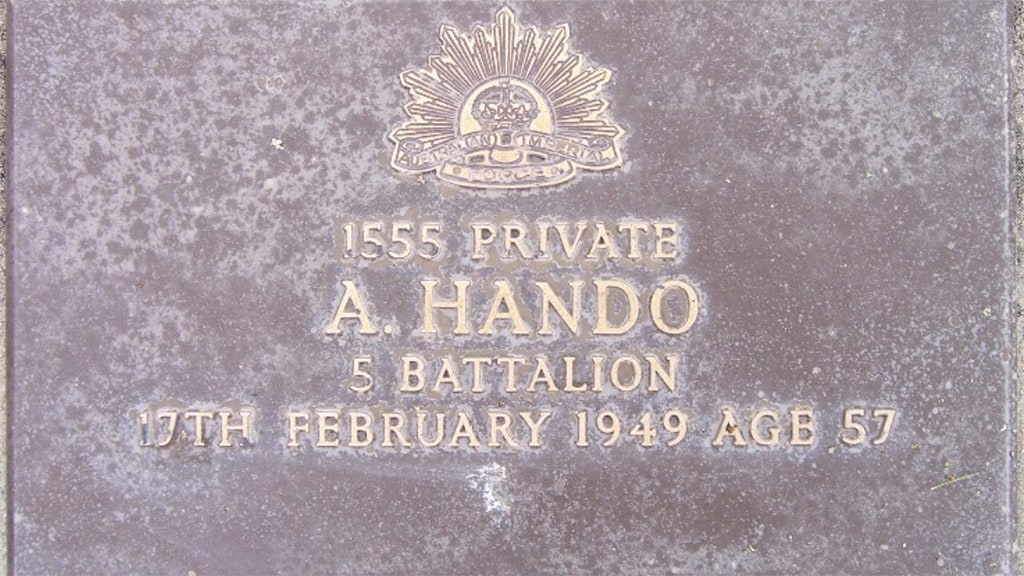 His only child, a son named Boyd, is set to turn 95 this year. Yes, Boyd Hando was born the same year his father achieved his unflattering distinction.
VFL/AFL players reported for shaking/climbing a goalpost
| | | | | |
| --- | --- | --- | --- | --- |
| Player | When | Where | Verdict | Penalty |
| Arthur Hando (Sth Melb) | Rd 9, 1924, v Geel | Lake Oval | Guilty | Reprimand |
| Jim Spain (Rich) | Rd 10, 1924, v Sth Melb | Lake Oval | Guilty | Reprimand |
| Stewart Loewe (StK) | Rd 3, 1988, v Nth Melb | Moorabbin | Guilty | $1000 fine |
| Michael Gibson (Bris) | Rd 2, 1990, v Fitz | Princes Park | Guilty | $1000 fine |
| Darren Wheildon (Fitz) | Rd 22, 1993, v Melb | MCG | Guilty | $750 fine |
| Dustin Fletcher (Ess) | Rd 16, 2001, v Nth Melb | MCG | Guilty | $600 fine |
| Dane Rampe (Syd) | Rd 8, 2019, v Ess | SCG | Guilty | $1000 fine (suspended) |