THERE are plenty of similarities in the game styles of Hamish Brayshaw and his older brother, Melbourne young star, Angus.
Both are tough inside midfielders who can win contested ball and clearances in tight spaces.
But Hamish, a likely AFL draftee from the Sandringham Dragons in the TAC Cup, wants it known that he is not just a clone of the Melbourne ball winner, who was selected with pick No.3 in the 2014 NAB AFL Draft.
"I've been compared to Angus quite a bit over the last couple of years," Brayshaw told AFL.com.au.
"It is handy because you get the name out there but you also want to prove you're not just Angus 2.0.
"I've really made it a big focus point of mine to show that I'm a different player, so that people don't just pigeonhole me into being another Angus."
• NAB AFL Draft Hub: Get to know your club's future stars
Brayshaw found it difficult to change the perception when he hurt the Lisfranc ligament in his right foot in an intraclub practice match in March. His time on the sidelines extended into May, where he was eased to back into the Sandringham side.
The 18-year-old was picked to play one match of the NAB AFL Under-18 Championships for Vic Metro against Vic Country in June. He had 11 disposals but didn't quite have the impact on the game he was looking for, given his limited preparation.
Brayshaw went back to Sandringham and has been in fine form in the second half of this season, spending time in the midfield and up forward where he kicked four goals against the Bendigo Pioneers a fortnight ago.
The Dragons finished fifth on the TAC Cup ladder and will face the Eastern Ranges in an elimination final at Ikon Park on Sunday.
"That injury set me back mentally but I was really motivated to get back and have a good second half of the year," Brayshaw said.
He didn't have to look far for someone to guide him through the rehabilitation process, with Angus having his own troubles on the injury front this season.
Angus Brayshaw has impressed in his two seasons at Melbourne. Picture: AFL Photos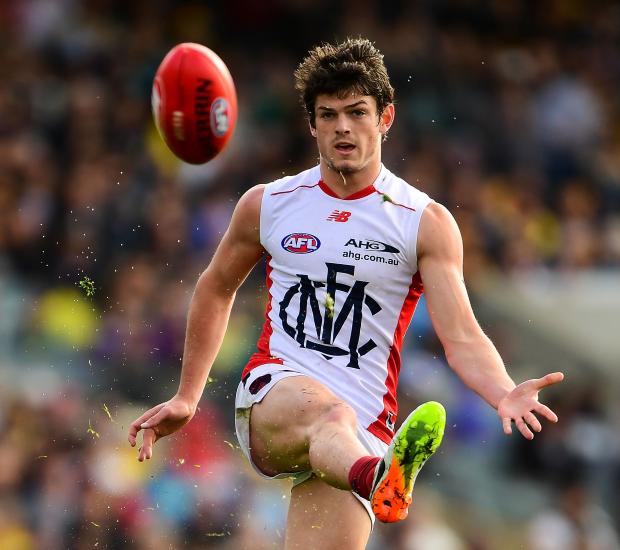 The Demons midfielder injured the medial ligament in his left knee in the opening NAB Challenge game of the season, before suffering two concussions in three weeks during May, leading to an extended period on the sidelines.
"It (Angus' injuries) makes you realise that the game can change pretty quickly – one minute you can be going all right and the next minute you can be sitting on the sidelines for six weeks," Brayshaw said.
"It makes you value each game that little bit more and every time you're out on the field, you've got to make the most of it."
Hamish also leaned on Angus' expertise during the pre-season when the brothers trained together. With recruiters telling him he needed to improve his athleticism, Brayshaw asked Dragons high performance manager Nathan Rogers whether there would be any issue with him following Melbourne's training program.
"The volume and intensity was a big step up and I did a lot of fitness work and athletic work over the pre-season and I think that's translated over to me playing a lot better football," Brayshaw said.
"I was flying on the first day back after Christmas so I think that gave me a leg up on everyone at the Dragons and the rest of the competition."
Although he is highly regarded for his footy smarts, Brayshaw is hoping the athletic enhancements he has made this season translate into his testing at the NAB AFL Draft Combine in October.
Brayshaw is one of five Dragons to be invited to national testing, with teammates Andrew McGrath, Oliver Florent, Jack Scrimshaw and Tim Taranto also getting the call-up.
"I want to show people that I have improved and I'm not the non-athletic player some people have seen me as over the past couple of years," Brayshaw said.
Hamish Brayshaw kicks for Vic Metro at the U18 titles. Picture: AFL Photos