- Player movement: the current state of play
- How the northern football academies work
- 2015's free agency list as it stands
PLAYER power, player empowerment, call it what you like. The ability of players to change clubs is an issue that is now front and centre of the football landscape.
Free agency was brought in to free up the movement of players between clubs. But while opinion remains sharply divided within football circles as to the merits of free agency, the AFL Players' Association is already floating the idea of easing the eligibility criteria for free agency as part of the next collective bargaining agreement negotiations.
There are a myriad of other list management issues bubbling beneath the surface. List sizes, draft eligibility, father-son qualification and the contentious academies are the source of much discussion when football types get together, as is the efficacy of the trade period.
Over the last few weeks, senior coaches have been passing through the doors of AFL Media to help us preview the season. And the shape and structure of their playing list, how and when they find players and more to the point, how they keep them, were major talking points.
Their opinions are as divergent as the style of football they coach. Some coaches only want enough players on their list to see them through a season, others want players to be developing under their watch.
There are coaches who like their playing lists finalised before Christmas, others who only want them finalised before the start of the season.
And so it goes.
AFL coaches cop a bad rap at times for being only concerned with the four points on offer every weekend. But before the games commence, they did offer a series of well-considered and cogent views on list management and player acquisition, retention and movement.
Trade period starts about a week after the Grand Final and lasts for nearly three weeks. What do you think about the timing?
Brad Scott (North Melbourne): This is a bit radical, and this is predicated on it taking place at the end of October, but I'd like to see it coincide with the end of the draft. If there was a player in demand at the top end of the draft, then clubs could trade up to get access to him. It would give clubs more flexibility.
Ross Lyon (Fremantle): It is hard for the Grand Final teams, but you'd get on with it. But do you think we just turn up at trade week and start talking for the first time? Let's get real.
Nathan Buckley (Collingwood): Most clubs are already aware of where they want go with their trading, so things can be done as soon as the season finishes. The earlier you finish trading, the better an understanding you will have of your draft needs.
Ken Hinkley (Port Adelaide): The trade period needs to take place more quickly. It would be better if there was a way to go to mediation during trade week and make a ruling. Each club wants to give less and get more, because we're mindful of losing on the deal.
Leon Cameron (Greater Western Sydney): As a club that has an academy, my bigger concern is the timing of the bidding, which takes place before the trade period. It's not ideal because we don't know who we've traded out yet.
The Lions were active traders last year and landed Allen Christensen from Geelong. Picture: AFL Media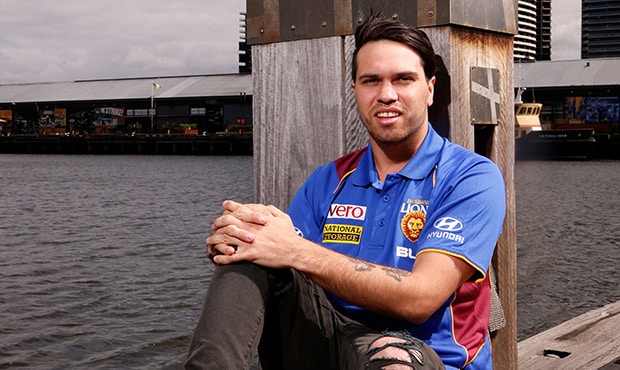 Should players have a say in where they go?
Scott: Players' rights and the obligations of clubs to fulfil those rights need to be protected at all costs, but there needs to be a balance because what we have now is not sustainable. Players under contract have all the power to leave clubs but the reverse isn't true. I don't have the answer, but the system isn't right.
Paul Roos (Melbourne): We saw in the last off-season (in late 2014) that everyone is a free agent in practice because players got to go the clubs they wanted. What I'd like to know is whether the trade period just gone was a one-off in that respect or is the way of the future.
Lyon: Regulations are in place to supposedly create equality. If you want to have the EPL system where only one or two teams can ever win it, let players go wherever they want, whenever they want.
Buckley: They already do.
Hinkley: That's already the rule isn't it? The clubs already trade players to where they want to go.
Should there be a mid-season draft?
Scott: We spend massive amounts of time at list management meetings to prepare for all sorts of contingencies. You might then be unlucky but you shouldn't reward clubs for taking an undue risk and then reward them for a mistake with your list structure halfway through the year.
Roos: I think so. With injuries, form concerns and the like, there is some merit to it. But only for clubs that aren't happy with their list.
Lyon: I see the merit, but I'm not convinced.
Buckley: I like it. If there is a player in a league outside the AFL that is doing something special, you can say, 'I like him and I want him at my club'. The right person at the right time for the right club could come through the mid-season draft and for the public to see that and feel that, it adds to the game.
Hinkley: I like it, but it needs to be for players who haven't played much senior footy and have been kept out of a side for a reason. If you're short of stock of a particular type of player, you should be able to get access to someone who you think can help you.
Cameron: It would be worthwhile because every club has some sort of issue, be it a lost ruckman or an inside mid, or someone just not getting a game. I think it is worth exploring.