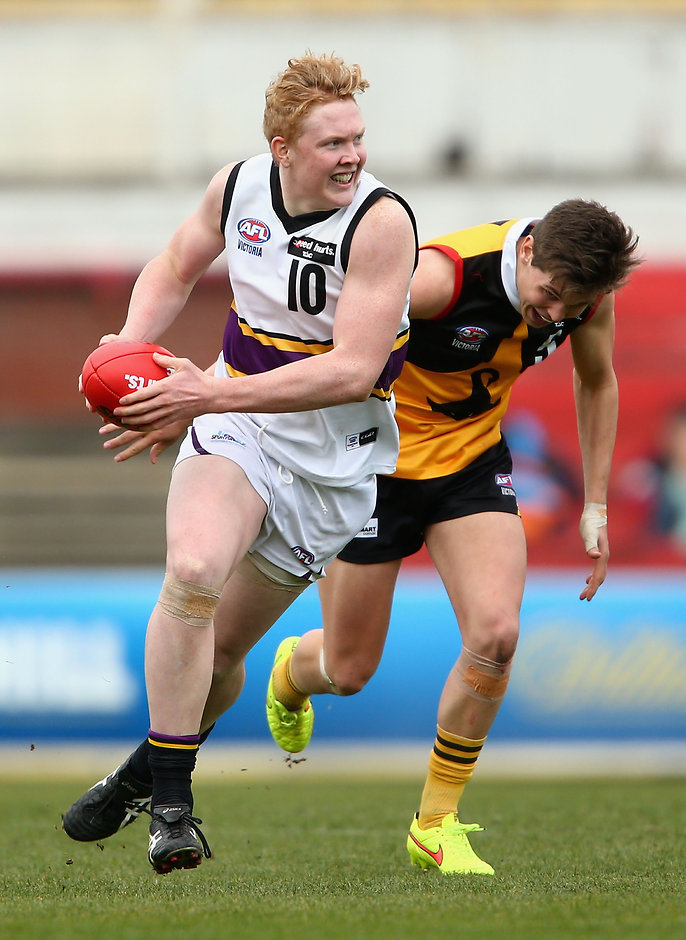 • NAB AFL Under-18s: video, stats and more
• NAB AFL Draft Combine: latest news and video
DRAFT bolter Clayton Oliver has capped a brilliant second half of the season by winning the Morrish Medal as the TAC Cup's best and fairest player this season.
The 18-year-old midfielder, who has surged into top-20 draft calculations despite not playing in the mid-year under-18 championships, claimed the win with a best afield game in the final round.
The Murray Bushrangers prospect pipped Eastern Ranges forward Darcy Crocker by two votes by polling three votes for his 27-disposal and six-goal game in his team's win over the Bendigo Pioneers.


Oliver finished on 15 votes, ahead of Crocker and Northern Knights skipper Jade Gresham on 14 votes.


The stocky but explosive midfielder missed out on selection for Vic Country in its national carnival win but enjoyed a consistent second half of the season, which was reflected by polling 14 votes in the last nine rounds of the year.
He averaged 24 disposals in 14 games for the Bushrangers and kicked 18 goals, showing a dynamic streak up forward.
He was prolific again on Sunday as the Bushrangers' season came to an end in their semi-final loss to Oakleigh, gathering 21 disposals and seven clearances.


Gresham, a classy midfielder also in contention for the first round at November's NAB AFL Draft, polled in the most matches of any player (eight) but could manage just two three-vote games.
The 18-year-old captain of the Northern Knights did, however, claim the TAC Cup Coaches' Award, which is based on a 5-4-3-2-1 voting system by both coaches after each game.
Gresham polled 39 votes to be eight-clear of the second-placed Oliver. 

Morrish Medal leaderboard

Clayton Oliver (Murray Bushrangers) 15 votes
Darcy Crocker (Eastern Ranges) 14
Jade Gresham (Northern Knights) 14
Blake Hardwick (Eastern Ranges) 13
Ryan Clarke (Eastern Ranges) 12