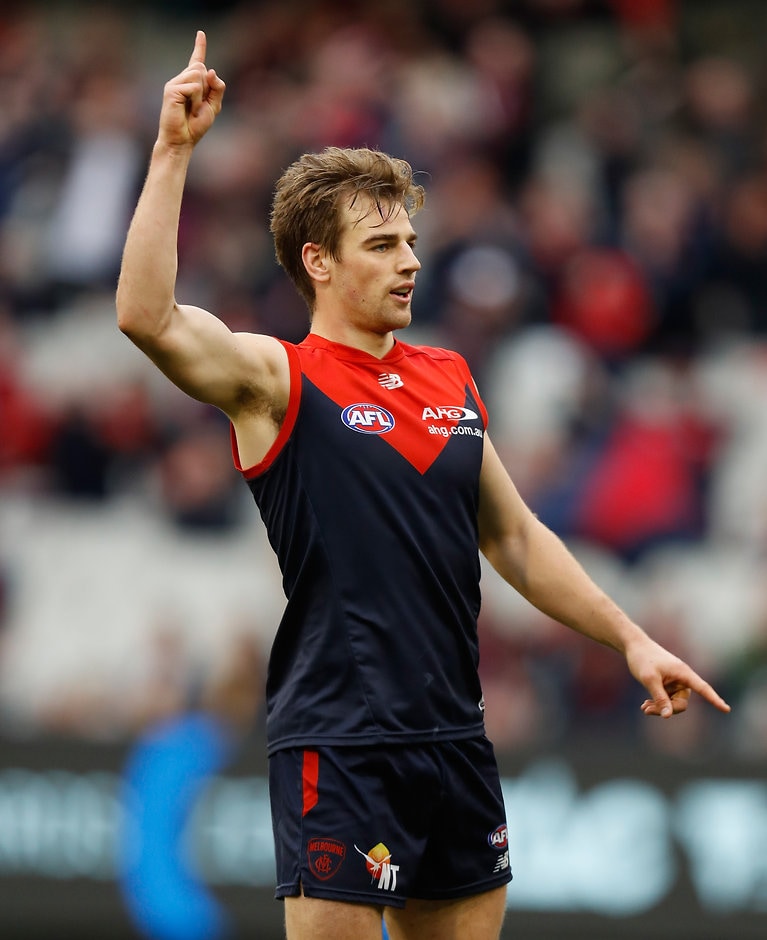 A COMPOSED Dom Tyson slotted back-to-back goals to ice Melbourne's giant-killing win over Hawthorn, but was just content to play his part in the biggest victory of his career.
In a performance that Demons coach Paul Roos lauded as "elite" by the midfielder, Tyson amassed 30 possessions (13 contested) and was particularly influential when the game was on the line.
At the 21-minute mark, with under five minutes of actual game time remaining, Tyson nailed a clever snap that extended Melbourne's lead to an impregnable 23 points.
Three minutes later, he drilled a second goal with his trusty left foot to the roar of delirious Demons fans.
"As a midfielder, it's good to get a couple of goals on the board, particularly important ones towards the end," Tyson told AFL.com.au in the victors' rooms post-match.
"I've felt my form has been good and I've been contributing well to the side.
"It's good to play well in a great win against great opposition, so that's what I'm most proud of at the moment."
The 23-year-old was one of a bevy of Demons runners who attacked the contest, created opportunities with their run and daring ball use, and applied fierce pressure to the Hawks, forcing them into uncharacteristic mistakes.
"Individually and collectively, we feel like we've got a great mix – inside and outside," he said.
Tyson was also excited by the debut of young key forward Sam Weideman, who kicked two goals and provided a terrific target, particularly in the first half.
"I heard (assistant coach) Brendan McCartney say he hasn't seen a youngster launch at the ball like that before," he said.
"We've got super-confidence in him and he's only going to get better. He's an athletic, agile forward and he already looks strong in the air.
"It'll be great going on the journey with him as he gets more confident, and we kick the ball to him more as we realise how good he can be."
Tyson, 23, said the victory over Hawthorn was a sign of growing maturity for a team on the rise.
"We learnt a lot from our loss to them (in round 11), when they were too good for us in the last quarter," he said.
"This time we won the ball in the last quarter and took a few marks and showed real composure.
"There's a real buzz in the changerooms.
"It would be great to win three in a row, so we'll give Port Adelaide a red-hot crack too."