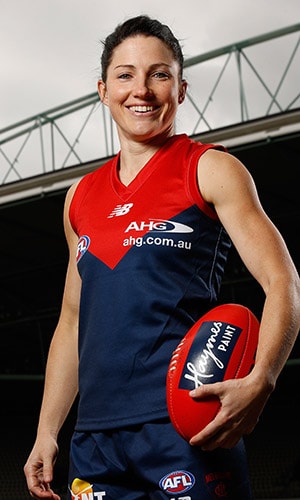 I had a really big summer and that put me in a good position for what is the longest season the women have ever played
Melissa Hickey
CHRISTMAS Day wasn't the traditional chill out for key defender Melissa Hickey on the family farm outside Mildura in Victoria's far north.
She had work to do. Not the normal rural chores, instead a series of breath-sapping interval sprints on a well-worn track before tucking into a long lunch.
That type of single-minded dedication was the cornerstone of her campaign to eventually earn selection as one of Melbourne's two marquee players for next season's AFL women's league.
Hickey will be one of the players to keep an eye on during Saturday night's AFL women's All-Stars match at Whitten Oval.
"I probably did my biggest pre-season ever to build up my strength and conditioning and to help my running," she said.
"I had a really big summer and that put me in a good position for what is the longest season the women have ever played, with 18 (home and away) games, plus the AFL exhibition games."
Hickey was an ultra-early pre-season training starter last October, working twice a week with one of Melbourne's strength and conditioning coaches.
"I really committed to wanting to get the best out of myself this year and I really wanted to be a marquee player. That was my goal and it has been a lot of hard work," she said.
Hickey grew up playing netball around the Sunraysia area until a chance meeting in a café after she moved to Melbourne to study health science at university.
"I used to go to a café owned by Daisy Pearce's mum near Eltham and I got chatting to Daisy who was a waitress there," she said.
Pearce convinced the netball-playing customer to join her at VFL women's club Darebin Falcons. And, aside from being teammates in four Falcons premiership teams, the pair became the Demons' marquee picks to head the player list for next season.
"I was 24 when I first started playing footy. I had been in Melbourne for a few years, but didn't know a league existed. And it was probably five years before I found footy," Hickey said.
A fractured rib that laid her up for three games has been the only hiccup in a stellar season for the two-time All-Australian defender, who has taken turns in the midfield.
"I've really enjoyed the new challenge. Across half-back, you're reacting when the ball is coming down on top of you and it's so different to being in a stoppage situation," she said.
"It's something I've worked on over the last few years, (trying to find) the versatility to go forward every now and then.
"You'll find the girls who go higher in the draft (in October) are those who are a bit more versatile, rather than being one-position players."
An aggressive, rebounding defender, the 31-year-old has footy in her bloodlines. Her grandfather's cousin was Geelong legend Reg Hickey, a captain and coach of premiership teams in the 1930s and 1950s. Her great great uncle was Pat Hickey, a member of Fitzroy's 1898 and 1899 premiership teams.
"They were both centre half-backs too, which is quite extraordinary," she said.