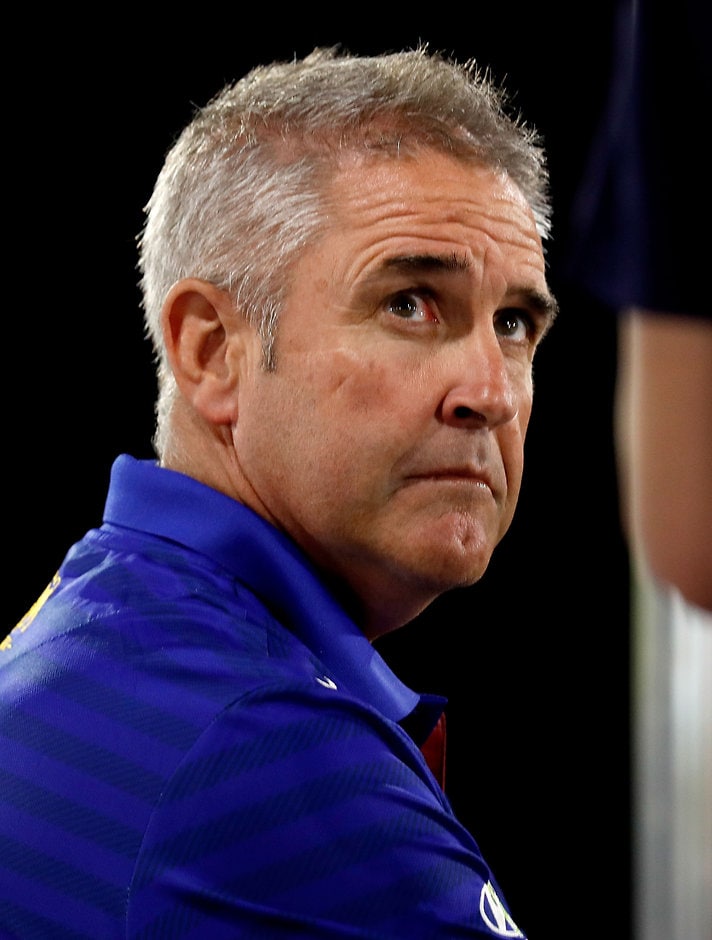 In some ways it's the ultimate test, to put all the theories you've got about managing people and getting the best out of people into operation and see if they work
Chris Fagan
CHRIS Fagan is all about empowering his players, and the new Brisbane Lions coach says he could not have asked for more in his first month in the job.
In trying to turn around the Lions' fortunes, Fagan has undertaken arguably the most difficult job in the game, but the 55-year-old says it's the type of challenge he lives for.
Fresh out of a highly successful nine years at Hawthorn, Fagan has kept things simple in his early days at the Gabba.
Although stocked with some young talent from recent drafts, he is inheriting a team low on confidence, coming off four and three wins in the past two seasons respectively.
"I think the ultimate challenge in football is to go and work with a group that is struggling and try to improve them and help them rise up the ladder," Fagan told AFL.com.au.
"There's a lot of enjoyment and satisfaction in achieving that, if that's what you get to do.
"In some ways it's the ultimate test, to put all the theories you've got about managing people and getting the best out of people into operation and see if they work.
"What gets me out of bed in the morning is improving people and getting people to work together as a team – that's where I get all my enjoyment."
The one thing Fagan is most keen to change is the team's depth of leadership.
While the playing list has a number of holes and needs developing, it's the lack of leaders that is most glaring.
Tom Rockliff is not guaranteed of continuing as captain in 2017, and beneath him, midfielders Dayne Zorko and Dayne Beams appear the only genuine options.
So Fagan has quickly introduced consultancy firm Leading Teams – which has had great success at the Hawks – to help the process.
In his first month, Fagan has introduced a policy where four different players are elected leaders each week.
By the end of pre-season, every player will have led the team.
"I think it's all about giving people the opportunity, and the way we speak to them, and the questions we ask and responsibilities we give them," he said.
"Once you hand those things over to players, it's amazing how they grow. It's all about the environment you create.
"It won't just happen in a blink, but you've got to trust your players to develop those skills.
"Josh Schache was a leader last week and there was a real change in his behaviour on the track.
"I said to him, 'You don't have to have the responsibility of being a leader to be like that, that's your benchmark now'.
"That's good learning for those guys. He came out of himself a little bit.
"There's a real appetite to improve."
Fagan said although he was still learning about his group, he was all about empowering and trusting them.
"This generation of people do better by creating the rules for themselves and living them out," he said.
"It's no good if some old bloke like me comes in and says, 'You have to be home by 10 and in bed by 11', it just doesn't work, it's not the real world.
"They need to supervise each other and challenge each other and always ask themselves the question – is what I'm doing now going to help me be the best footballer I can be?
"Ultimately it's what you do when no-one's looking that says it all about yourself.
"I'm trusting our guys to take that responsibility."
But what about on-field?
The Lions have, seemingly, drafted well in recent seasons, giving Fagan some raw talent to work with.
The game-plan will be delivered to the players during their pre-season camp in Tasmania – starting on Saturday – but the new coach has a simple baseline.
"The one that sticks out is we conceded 130 points a game last year, and we'd very much like to get that down to double digits," he said.
"The way you move the ball and the way you work at stoppages is very much connected to that, it's not just in isolation.
"We've worked on skills and skills under pressure in the first four weeks.
"When you've got a young group you've got to be patient, because they're going to make mistakes.
"The main thing is they learn from those mistakes and you see over the course of a few months is there's improvement."