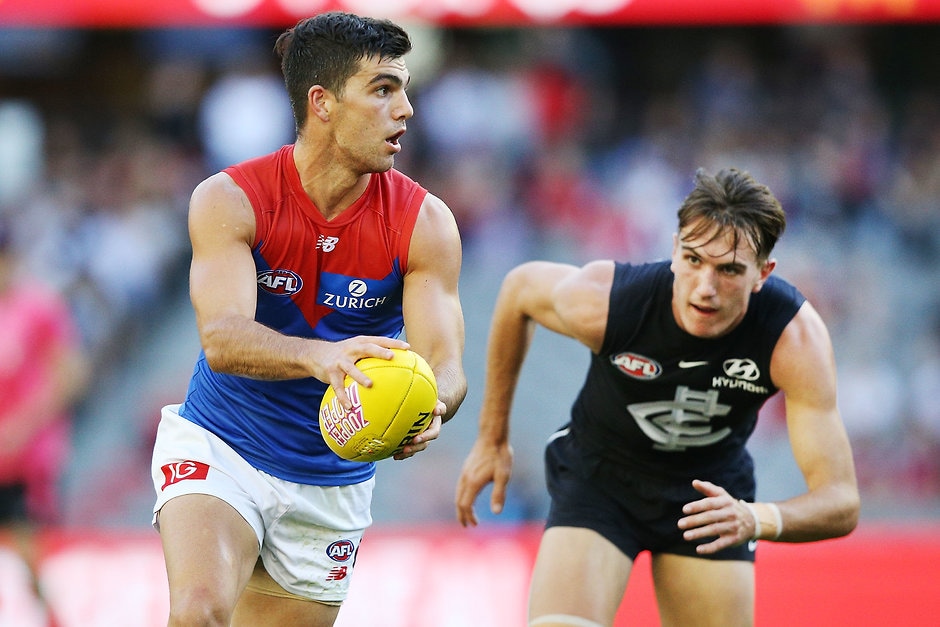 FORMER basketballer Corey Maynard has been promoted to Melbourne's senior list.
Picked up as a Category B rookie in 2016 via the three-year non-registered rule – which allows people to be placed on a list if they haven't been registered in any Australian football competition in the previous three years – he has played two career games, one of which was this year.
Hip surgery in June ended his season.
WHO'S LEAVING YOUR CLUB? All the latest retirements and delistings
"Corey deserves his upgrade to our senior list. Although he had an injury-interrupted season, Corey displays all the characteristics that we want in a Melbourne player," football manager Josh Mahoney told melbournefc.com.au.
"We're really happy with the way that Corey has been developing (and) to play in round one this season was a reward for the pre-season which he had.
"The injury this year hampered that development, but we think that his attitude and competitiveness, that he will get back on track, and we see a lot of development left in Corey.
"He's been in rehab since his hip operations midway through the year. He's recovering really well.
"With this change to our list, it provides us the opportunity to have a rookie list position available as we get towards this year's national draft."
The 27-year-old is the brother of Collingwood defender Brayden.
Maynard has played for the Cairns Taipans and Townsville Crocodiles in the National Basketball League.