Dusty, Cotch, Rance and Jack are Richmond's on-field stars, but AFL.com.au spent the last quarter of Saturday's AFL Grand Final getting to know the people behind the Tiger Army. Meet Pedro, Hillsy, Raymond, Jake and Lindsay.
THERE are only two South Australians in Richmond's cheersquad. One of them was given four weeks to live … four weeks ago.
As premiership fever stirred the Tiger Army into action on Saturday, a calmness swept over 62-year-old Lindsay as he gazed into the distance from his seat behind the goals at the MCG's Punt Road end.
"I'm just taking it all in," he explained to AFL.com.au.
"To look around and see all the supporters here, it's just amazing. They've waited a long time, as we have, and to be living in Adelaide with the Port Power and Crows mobs is bloody hard."
Jack Riewoldt brings the cup to the fans at the MCG. Picture: AFL Photos

Lindsay is not even a month separated from hearing the worst news of his life, that a rare blood disease will almost certainly get the better of him. And soon.
He is preparing to start an alternative Chinese treatment next week, desperately hoping the football miracle he witnessed on Saturday afternoon can carry over to his own health.
Lindsay is a true-blue Tiger despite growing up in Adelaide, where he lives at Lockleys, about 20 houses down from Crows superstar Eddie Betts.
He flies to Melbourne for matches about eight times a season – and makes sure he is noticed when he does.
Lindsay dons a Tiger-themed bathrobe at every game, with a miniature Trent Cotchin figurine hanging from his left ear and extravagant pants to round out the look. His partner, Tina, wears the bathrobe's tie as a tail.
"This is called my Hugh Hefner smoking jacket … and he's passed away now," he said of the late Playboy founder.
For this match only, Lindsay's eyebrows and hair also turned black and yellow, with TIGERS painted on the back of his head. He was all-in.
Lindsay, with his partner Tina, soaks up the Grand Final atmosphere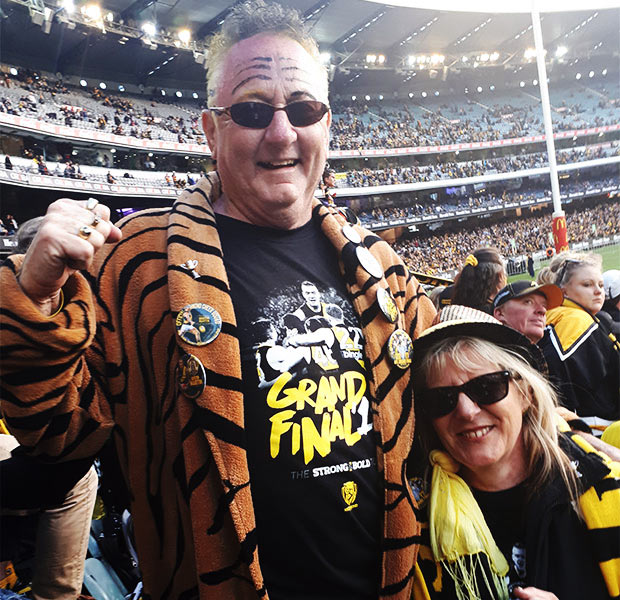 Pedro, a 50-year-old Narre Warren resident, was also once part of the Richmond cheersquad, cheering home the Tigers when they last saluted in 1980.
He now stands at matches, at the back of the bay of seats, as one of four generals in the Richmond Grog Squad. No second guess for what they do plenty of during matches.
On a big day, the squad numbers about 300.
Trent Cotchin cops a kiss from a proud Tiger after the Grand Final. Picture: AFL Photos

A silver star on his jacket, which reads 'I've been Cotched' on the back, recognises Pedro's 20-plus years of service. His long, fluffy dark beard, which seems to go on forever, is a reminder of how long the Tigers' flag drought was.
"I was 13 years old last time. I was just growing hair under my arm then. I have a lot more hair than that now," Pedro said with a chuckle.
"The Tigers are my life. I travel interstate, I go everywhere. These guys are all my mates; this is my brotherhood, this is my life. I have a wife and children, but on the weekends, it's all Tigers."
Pedro wasn't lying. As the beer began hitting the ground more often than their mouths, the hugs became more regular and more vigorous.
Hard men, men you wouldn't want to encounter down a dark alley, shed tears as they did so.
The people's hero, Dustin Martin, helps out with the selfies. Picture: AFL Photos

Not two metres away was Raymond. Raymond is a diehard and, at this moment, was struggling to come to terms with what he was seeing as he bounced around on his own.
The 51-year-old North Fitzroy man watched Richmond win Grand Finals in 1973, 1974 and 1980, then the 1982 loss. Then nothing for 35 years.
"I never thought it would come," Raymond said, choking back tears.
"My daughter is the best thing that's ever happened to me, and that was 20 years ago. This just tops it right off.
"There's passion everywhere at Tiger Town – that's what we're all about. We are the best supporters of all-time. We get a bit rowdy, but we stick with them all the way."
The mighty Grand Final attendance of 100,021 flashed onto the big screen, prompting Hillsy to suggest "only we could do that". It was the biggest since 1986.

Hillsy barely missed out on being at the 1980 Grand Final, when her husband, a member of the air force, was posted to Adelaide a month earlier. They were in Perth two years later when Richmond made it again.
The 64-year-old wasn't missing this one, and brought her Trent Cotchin and Ben Cousins badges along for the ride.
"Look at the passion – we're better than Collingwood," Hillsy told AFL.com.au, as the Tiger Army launched into song. Again.
They generally traded between the Richmond theme song and "Let's go have a disco, let's go f------ mental". Go mental, they did.
It was about that time a Richmond fanatic ripped his shirt off and began swinging it above his head like a Teenage Mutant Ninja Turtle with nunchucks. The rest of us had to ignore his hairy back.
"We have this amazing lot of people, and they are just such believers," continued Hillsy, a Queenslander who now lives in Melbourne suburb Hurstbridge.
"We have hope every week and we can be s—t, and we have been. It's been so long coming."
That winning feeling. #AFLGF pic.twitter.com/DtUTo3v3E3

— AFL (@AFL) September 30, 2017
Jake wasn't the only Tigers supporter who moulded his hair into something like what Dustin Martin roams the MCG with. But he sure was the most devoted.
The 23-year-old has sported the look all season, but the Brownlow and Norm Smith medallist will have a more lasting place on another part of Jake's body.
Martin made an appearance at Werribee Plaza this year and Jake convinced him to sign his left leg. The next stop was the local tattoo parlour, so no shower could remove this memory.
"Dusty's unbelievable – he's changed this club, and I love him," Jake said.

"It's been 23 years of just copping it; week after week, year after year, finishing ninth – it's just unbelievable. To come from where we were last year, it's just incredible."
On Saturday, Lindsay, Pedro, Hillsy, Raymond and Jake were the faces of the Tiger Army, a group of people that have energised a team no-one rated on season's eve.
Their pain, their joy and everything in between overflowed as Richmond put the Crows to the sword in a win for the ages.
Lindsay's diagnosis was a reminder that football is not life and death, but it ain't just a game for this motley crew.
Want more Grand Final coverage?
• RECAP: the Tigers' rampaging win as it happened
• 10 things we learned: the Tiger cub who was born for finals
• Match report: Terrific Tigers end 37-year wait
• Norm Smith: Dusty completes historic treble
• The moment: When Dusty fired up the Tiger train
• Every Crow rated from the Grand Final