AFL PLAYERS will be named publicly, fined and suspended for four matches if they record a second strike by testing positive to illicit drugs under the League's new illicit drugs policy.
Under the new policy - which AFL football operations boss Mark Evans on Wednesday branded as tougher - players will receive a $5000 suspended fine for their first strike but will remain anonymous while receiving counselling and target testing.
Their name will be made public on the second strike, as they serve a four-match suspension.
A third strike will incur a 12-match suspension.
However, to achieve a transition from the existing policy to the new one, players already on strikes will be granted some leeway if they incur a strike under the new policy.
Players who have not incurred a strike for two years or longer will have a clean slate under the new policy.
A player who is already on one strike incurred in the past two years will receive a penalty equivalent to one strike under the new policy if they record another strike.
A player already on two strikes will be named publicly and receive a four-match suspension and the fine if they return a positive detection.
Evans said the AFL and the AFL Players Association would continue to work together on the illicit drugs policy to ensure it kept pace with what was occurring.

"Drug use in society, and that includes AFL footballers, is an incredibly complex issue. There is no silver bullet that just makes this go away," Evans said.

"Even though drug use in the playing group is below levels that exist in the broader community of the same demographic, we also believe the privilege of playing AFL football comes with the responsibility to the clubs and the game."
AFLPA CEO Paul Marsh said players retained the opportunity to modify their behaviour if they recorded a strike, but a balance had been found that also provided clubs with information to support players if the behaviour was repeated.
"We want to deter players from using illicit drugs, but when players do use them … the AFL Players' Association is there to support them and the long-term aim is to try to change their behaviour in the future," Marsh said.
AFLPA CEO Paul Marsh and AFL footy operations boss Mark Evans on Wednesday. Picture: AFL Media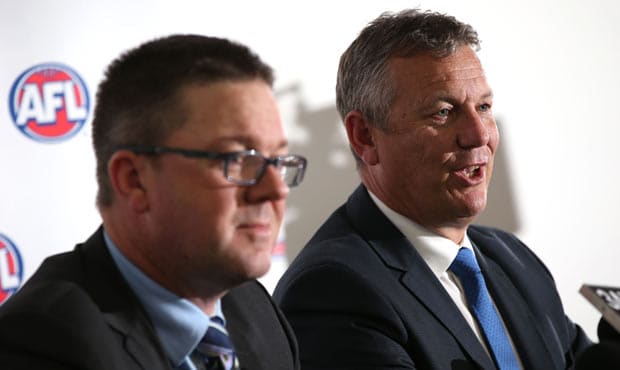 The major components of the evolved policy include:
-Enhanced player education and counselling programs – to help players with meaningful and lasting behavioural changes.
-Appropriate system of medical interventions as required – delivered by the AFL medical officer, AFL doctors and medical experts.
-Opportunity for players to modify behaviour at first detection – interventions at this stage do not involve a playing or financial sanction but will trigger education and counselling programs, along with target testing.
-Stricter set of consequences for players who fail to modify their behaviour – public suspension and fine after second detection.
-Increased club involvement – clubs informed earlier and greater involvement in education and counselling programs.
-Urine testing and year-round hair testing – urine testing to determine consequences, hair testing to monitor behaviour and direct target testing and education programs.
-No public release of results – the AFL will no longer release the results of illicit drug testing.
-Self-notification – Players will be permitted one self-notification, allowed only if they have not previously been identified under the illicit drugs policy.
-Players in the AFL's talent pathway programs will also undergo testing with detections of an illicit substance to be communicated to the respective club doctor once drafted.
Interventions and consequences are as follows:
First detection: $5,000 financial sanction (suspended) and compulsory counselling and education programs.
Second detection: Four-match suspension and $5,000 sanction imposed. Club notified and the suspension confirmed publically.
Third detection: 12-match suspension.