DO YOU think the great Nicky Winmar realised he would be creating a nation-building moment when he lifted his jumper after being shamefully vilified – along with Gilbert McAdam – on April 17, 1993, against Collingwood at Victoria Park?
His 'blackness is beautiful' statement triggered and challenged more than the AFL industry – it confronted the nation's racial filters at a level that very few other moments had or ever will.
In many ways, it was a moment that only sport can deliver and, in my view, there has never been another moment that has challenged it, inspiring a nation without a word being spoken.
As a young Aboriginal player just drafted to St Kilda in March 1993, Gilbert McAdam and Nicky Winmar were significant influences on me. They were the first two players to welcome me at the club and immediately became my new 'Uncles'.
Like Uncles do, they encouraged and supported me and provided me with the cultural support I needed after shifting from my own country and community, Gunditjmara.
The anticipation of the Collingwood game was immense. St Kilda had not won at Victoria Park in 30 years, so it was built up to be a landmark day - and it was.
We started the 1993 season brilliantly and Winmar was in career-best form. A more seamless player you could not find.
He was poised, balanced and deadly dangerous in the air and on the ground. His kicking skills were exquisite. He played in another dimension.
I played in the reserves game that day and you could sense the crowd building faster than earlier weeks. They were certainly more aggressive than in the other reserves games. Instinct told me that this was not going to be a normal day at the footy.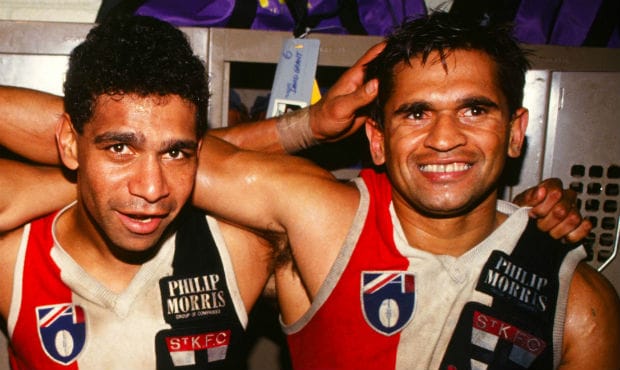 Gilbert McAdam and Nicky Winmar in 1992 at Waverley. Picture: AFL Media

As we walked off the ground at half-time, the Collingwood cheer squad was very vocal, and, let's say, colourful. Some of this was directed at us as we exited the ground, but most of it was at the senior players who would walk onto the oval at half-time of the reserves for the obligatory look at the surface.
The commentary from the fans had gone to another level after half-time and by three-quarter time the ground was full.
The seniors started very well, with McAdam and Winmar on fire. Dancing and dazzling their way around the Collingwood players, they were dominating.
I am sure it was the scoreboard deficit that was infuriating the Collingwood fans, however it was far more personal when the Arrernte (McAdam) and Noongar (Winmar) men had the ball. The abuse continued to escalate the longer the game went, however it seemed to inspire Gilbert and Nicky to greater deeds.
The moment of courage occurred when the final siren sounded and victory had been won.
The moment where Nicky Winmar stood – boldly – in front of the sporting world and declared 'I am black, and I am proud'.
Imagine what would have been made of that moment if Wayne Ludbey had not so skilfully and powerfully captured it?
History has been unkind to our people, and many have attempted to rewrite the past. Would that have been true after this moment if it wasn't photographed?
As I reflect on this historic event, I do so as an Aboriginal person. It always concerns me that the cultural burden and expectation has weighed heavily on Nicky.
We should all remember that we are the beneficiaries of his leadership and courage, and for that he is rightfully held in sacred recognition.
Jason Mifsud is the AFL's community engagement manager. He was born in Warrnambool and is a proud Gunditjmara man.