- 2015's free agency list as it stands
- Patrick Dangerfield: the free agency poster boy
- Player movement: the current state of play
THE FOOTY world is divided on the merit of the northern academies. Some love them. Some hate them.
Eddie McGuire can't stand them. He says the Sydney Swans' Academy will "destroy the game". Since moving north, Brisbane Lions CEO Greg Swann has become their biggest fan and been happy to joust with his old mate Eddie.
From coaches to CEOs to everyday footy fans, everyone is debating what the AFL should do with them.
But how many of us know how the academies are set up?
How do they find their talent? Is every one of the academies – the Swans, Lions, Suns and Giants all have them – the same?
How much money goes into them? How much time? Where, when and how often do these kids train? At what age do they start? And what type of talent do they get?
AFL.com.au provides some answers.
BRISBANE LIONS
The Lions take in a good chunk of the south-east corner of Queensland, scouting talent from just south of Brisbane (Logan), west to Toowoomba and 400km north to Bundaberg.
They employ three full-time staff and up to another 25 part-time staff to take care of the 220 kids in their academy.
It's by no means the biggest.
The youngest players they recruit are 12 years old, but the time spent with them is limited.
Players are broken into three tiers, with the youngest group (12-14 year-olds) doing one weekly training session of two hours.
If you live outside Brisbane – the country areas, including the Sunshine Coast – you get the same amount of contact time.
Liam Dawson was drafted by the Lions last year after being a member of their academy. Picture: AFL Media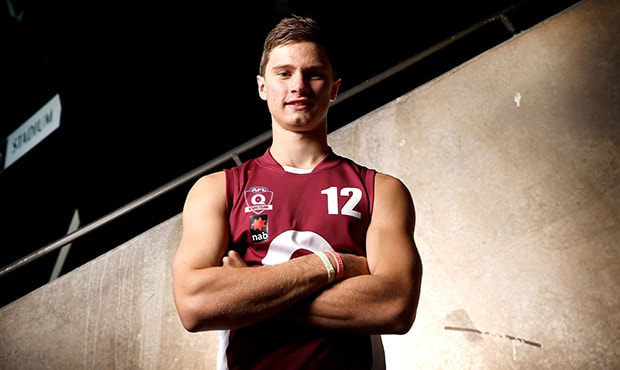 The two older age groups (15-16 years and 17-18 years) have more access to coaching. Over summer they do two or three sessions per week, but once the season starts this is reduced to a single weekly session (often an individual game review or off-field education) as club and school sport takes over.
Lions Academy manager Luke Curran says the biggest challenge is not only finding the talent, but convincing them to play AFL in Queensland's competitive sporting environment. It's a sentiment echoed by all four club academies.
"You're competing against other successful football codes and they're quite active," Curran says. "The (Queensland) Reds, the (Brisbane) Broncos, the (Brisbane) Roar … basketball is big in south-east Queensland, and they're all running similar development programs for talent.
And there's also the private schooling system – which offers scholarships to the best talent from any sport – that largely has Australian Rules at the bottom of its pecking order.
GOLD COAST
There's little doubt the Suns face the biggest geographic challenge of the four clubs, taking in not only the Gold Coast and northern NSW, but everywhere north of Bundaberg to Cape York.
That region alone is almost 2000km of non-traditional AFL land and a relatively small population base.
The Suns have regional centres in Capricornia (Rockhampton), Mackay, Townsville and Cairns and identify players from 12 years and up.
Like the Lions, they work very closely with AFL Queensland and split the costs of the Academy, which totals close to $500,000 a year.
They have two full-time staff, headed by Academy manager and former Richmond and Adelaide player Jason Torney.
Training is twice a week for the older ages, and the Suns have relocated a couple of their more promising prospects from far north Queensland to the Gold Coast.
This usually happens in their final year of school and is a huge logistical task.
"We have to be able to give pathways to walk into our footy club because that's what our competitors can do," list and strategy manager Scott Clayton says.
"This needs to be done at club level … no-one barracks for the AFL."
The Suns' Academy take on their Lions counterparts in both under-16 and under-18 age groups, which forms the basis of selection for the Queensland underage and TAC Cup teams.
Clayton says the Suns have an enormous task but must continue being more proactive.
"The whole market we're convincing to come to another sport. In more cases than not, whomever we get … we won't be the chosen sport. We want an excess of Queenslanders in the draft pool."
GREATER WESTERN SYDNEY
The Giants have had great early success with their academy and it's not hard to see why.
Headed up by former Sydney Swans and Carlton player Jason Saddington, the Giants have 700 kids and 70 coaches across 12 locations in their zone.
Belconnen midfielder Jack Steele is one of the Giants' stand-out academy talents. Picture: AFL Media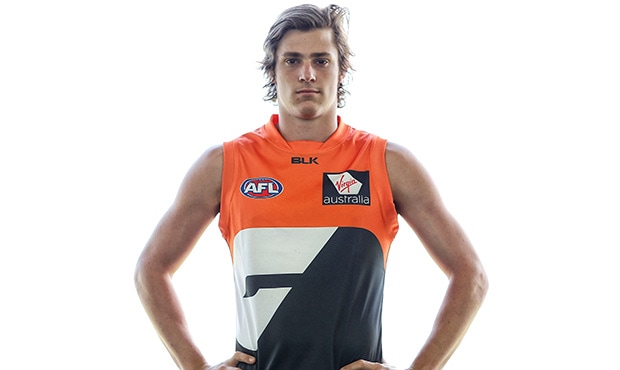 Like the Queenslanders, they work closely with the state body (AFL NSW) and have two full-time staff of their own.
The Giants identify talent from the age of 13, and from then until the kids reach 15, they run one 90-minute development session each week in the different locations (including Blacktown, Canberra, Wagga Wagga, Albury and Broken Hill).
As they progress to the 16-18 year bracket, academy players train twice a week through the pre-season, giving them four contact hours a week with coaches, and begin to undertake AFL combine-style testing days to assess athletic ability and performance.
They have internal matches to pick teams at under-16 and under-18 level to play the Swans Academy. This makes up the NSW underage and TAC Cup teams.
Saddington says aside from competing with other sports, training kids up from a non-AFL background is again the biggest hurdle.
He says they are generally starting from a long way back.
"Kids in these areas don't kick footys in school or outside school," he says.
"In Melbourne at lunch time you kick a footy with your mates, the same after school. In the school systems, AFL is growing, but they're big on rugby league, rugby union or soccer - that's where kids get pulled a lot of the time."
SYDNEY SWANS
This is undoubtedly the academy that has got tongues wagging after unearthing Isaac Heeney, even before the talented Swan plays a senior game.
Talent and operations manager Chris Smith believes the Swans are at only 50 per cent capacity of what they could be.
"Our brief is to increase the talent pool and I think we've only just started," Smith says.
Swans academy player Jack Hiscox tested well at last year's draft combine. Picture: AFL Media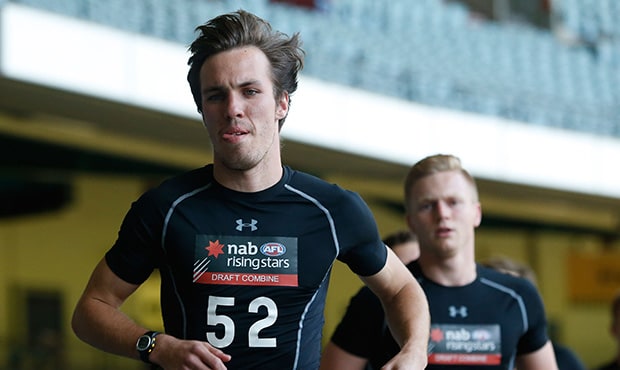 The Swans invest $1.2 million a year into their academy, which is more than double any other club.
They have a staff of 72 spread across nine facilities, that includes three major hubs in and around Sydney.
The Swans have 550 players in their program that also covers Illawarra in the south, and north from the Central Coast, through Newcastle, Port Macquarie and Coffs Harbour, up to Yamba.
They have trials for kids as young as 10 and are primarily looking at athletic abilities, rather than football ability.
The 11-15 age bracket trains twice a week (three hours in total), before the squad is culled from 100 to around 40 as they enter the 16 to 18-year-old age group.
Like Queensland, NSW has a team in the TAC Cup, which Smith says is crucial to exposing the players to competition from the rest of the country.
Smith also says it is a battle to get talent from other sports. He likens it to picking out the best first 18 players from school teams in Victoria, South Australia or Western Australia, and getting them to change sports.
"There's 20 Isaac Heeneys out there … we got him by chance," he says.
"There's kids lining up for the (NSW) Waratahs. Soccer is a real worry. We want these kids to get on AFL lists. We're not hiding kids. Success will be determined when we have players we've groomed playing against us. We genuinely want that."