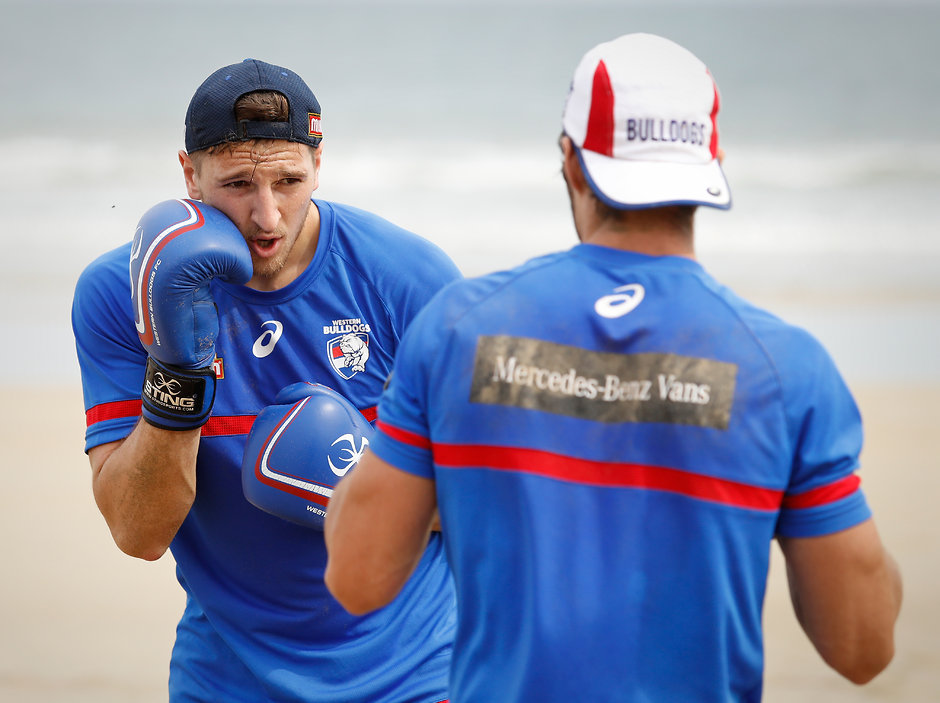 WESTERN Bulldogs fans are confident the Dogs will shake off last year's premiership hangover and return to the finals in 2018.
Giving their take on their side in AFL.com.au's pre-season survey, 97 per cent of fans tip the Bulldogs to finish in the top eight.
An inexperienced backline is fans' biggest concern, following the retirements last season of club champions Bob Murphy and Matthew Boyd.
Fans expect traded-in recruit Jackson Trengove to help plug the hole in defence and perhaps switch-hit in attack, rating the versatile former Port tall the new arrival likely to make the biggest impact.
Meanwhile there are mixed views on prize recruit Josh Schache. While fans' dream scenarios see Schache and Tom Boyd striking terror into opposition defences, they also fear their attacking line may now be too tall in an era favouring mobile smaller forwards.
Here are the survey results, plus a selection of Bulldogs fans' responses.
What's the Bulldogs' weakest spot on the park?
The half-back line is not strong and is very inexperienced. They will develop as the season goes on. The other problem is delivery of ball to forwards. That would need to improve by 75 per cent, and forwards need to make themselves available.
- John Sanford, Nanango Qld
With the departure of Bob and Matthew Boyd, the backline will struggle. Lewis Young needs time to develop under Easton and Dale, but I don't think they're a solid unit yet.
- Nick Irving, Collingwood Vic
The recruitment of Trengove and a fit Marcus Adams solidifies the backline, but there's concerns about our scoring power. Plenty rests on the Boyd/Schache combination.
- Ben Fraser, Essendon Vic
The forwards have a question mark over them. Are they too tall?
- Mark Lovett, Moree NSW
It'll be a great year if ...
... Boyd and Schache can both realise their potential and the forwards can kick enough goals to return us to finals football.
- Andrew Dow, Phnom Penh Cambodia
... Tom Liberatore can return to his match-winning form of 2016.
- Archie Kaye, Melbourne Vic
... Marcus Adams plays a full season and Tom Boyd gets back to the form he showed in the 2016 Grand Final.
- Louis Fullagar, Greensboro, North Carolina USA
... Big Red, Schache and Boyd gel up front, with a fit and firing Dicko at their feet. Bailey Dale continues to improve and can team up with Bont along the wings for impeccable delivery into the forward 50. Look out!
- Hayley Scott, Melbourne Vic
What's your dream headline in 2018?
'All strung up: Morris shuts down Stringer in Dogs v Dons Clash'
- Aaron Sims, Canberra ACT
'Boyd and Schache are the next great forward duo'
- Ty Weinert, Brisbane Qld
'Lin Jong makes brilliant return from heartbreaking injury'
- Jenny Taylor, Ringwood East Vic
'Dogs put hangover to bed with third premiership'
- Peter Phillpott, Darwin NT
What's the headline you secretly dread?
'Stringer kills it for Essendon'
- Rose Marsh, St Leonards Vic
'Boyd and Schache: are they worth their millions?'
- Bill Toskovski, Caroline Springs Vic
'Bulldogs out of finals race'
- Andrew Roze, Upper Coomera Qld
Read more fans' season previews
• Adelaide: Bryce is nice, but backline the worry
• Brisbane: 50 goals for Eric and no spoon, please
• Collingwood: From 13th to a premiership?
• Essendon: Are the bolstered Bombers the complete Package?
• Fremantle: Forward line, forward line, forward line
• Geelong: Grand designs for Gaz's return
• Gold Coast: Key Sun is also fans' biggest dread
• GWS: Time for one Giant leap
• Melbourne: Just make the finals. And beat North
• North Melbourne: Hope for improvement, fear the worst
• Port Adelaide: One sure way to avoid elimination final heartbreak
• Richmond: The No.1 threat to a Tiger repeat
• St Kilda: If there's no KO for Paddy, we'll be OK
• Sydney: Slow start could be a recurring nightmare