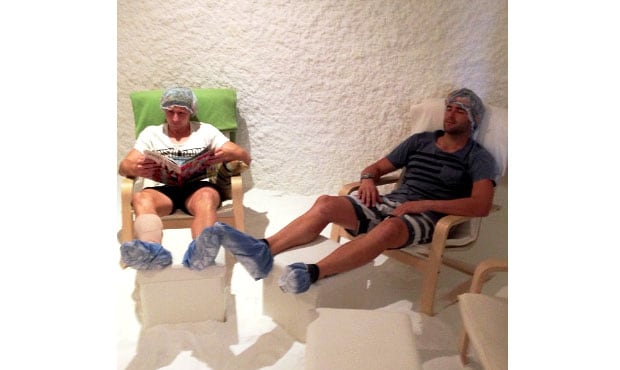 Hawks Liam Shiels and Jordan Lewis undergoing salt therapy on Monday, in a picture posted by teammate Luke Breust on Instagram
HAWTHORN has gone to radical lengths to aid its recovery in the lead-up to Sunday's big clash with Collingwood, sending seven of its players to trial a little-known treatment called salt therapy on Monday.
Skipper Luke Hodge, defender Josh Gibson and midfielder Jordan Lewis were among those to take part in the therapy, which is said to help in the relief of respiratory inflammation, leading to better recovery.
It was the first time the Hawks had used the treatment, at the suggestion of fitness boss Andrew Russell, although it is not a first for the AFL: St Kilda has been using salt therapy regularly as part of its recovery routine.
Sports scientist Simon Kearney introduced the practice at the Saints, after using it successfully with his previous employer, NRL team the Melbourne Storm, last year.
Carlton forward Andrew Walker, who suffers from sports-induced asthma, has also spruiked the benefits of inhaling salt.
Hawthorn has endured a gruelling start to the season, facing Geelong on Easter Monday before flying to Perth to take on West Coast six days later.
The club now has a seven-day turnaround before facing another challenging assignment in the Magpies.
However, Hawks head of coaching and development Chris Fagan stressed the use of salt therapy was a trial, and not a direct response to a taxing past fortnight.
"Andrew Russell is always looking to find something new that might help," Fagan told
AFL.com.au
.
"We don't know what the results will be. It's alleged that it assists with recovery, but it's quite a new thing.
"We would've trialled it whether we had a seven-day break or a 10-day break.
"It just so happens that it's happened at the same time that we've played the game in Perth on a hot day.
"But it was only a trial with seven players, and everyone else is doing normal recovery."
Salt therapy takes place in a sealed, ventilated room whose walls and floor are covered in salt, mimicking a salt cave environment.
Users of the salt room inhale fine particles of salt, which are said to help relieve congestion and inflammation of the airways, aiding oxygen supply.
Its knock-on effects are claimed to include quicker recovery, increased energy and relief from the symptoms of respiratory conditions. It has been common in Eastern Europe for hundreds of years.
Fagan said Hawthorn would have a strong recovery focus with a light training load this week in preparation for Sunday's clash.
"We're probably not going to train overly hard this week; we'll let the game do the conditioning for us," he said.
"We've had two terrific games where that's been able to occur, so that's the main thing.
"I don't think this (salt therapy) and the timing of the game in Perth are connected."