A VERY good thing happened to Brett Allen when he first made it as an AFL senior umpire in 1992.
The League decided umpiring was becoming too difficult for two men in the middle and from 1993 they added an extra umpire.
As he reflected on his stellar 347-game 16-year career that included 37 finals and seven Grand Finals, Allen said the introduction of that third umpire was a key driver.
"I did one year (under the one-umpire system) and I was getting a bit silly," he told the AFL Record, recalling one early season game at Princes Park played in blazing heat. "I had a pretty good run until three-quarter time and then I missed eight or nine frees in the final quarter purely because I was tired. It couldn't continue on like that."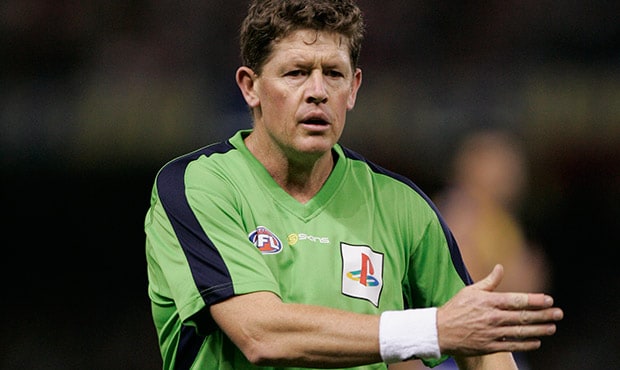 Allen found his umpiring groove at a time when football was, to a large degree, 18 man-on-man battles around the ground.
"When I first came in, there were the big key forwards like Gary Ablett, Tony Lockett, Jason Dunstall and a few others, leading into Wayne Carey, and there was a lot of kicking it to the key forward one-on-one."
By the time he finished at the end of 2007, the game had transformed remarkably.
"Lots of flooding and all the players in one part of the ground," he recalled. "I can vividly remember what a challenge that was, even to find the ball in a pack of 15 or 16 players. Certainly, a different approach and a different mindset to umpiring was needed."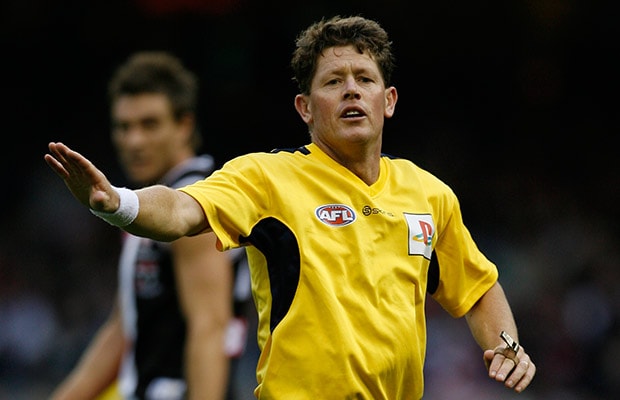 Allen believes his approach to umpiring reflected the philosophy of the time.
"It's what the game was looking for. What I mean by that was that I was very much a believer in paying the obvious free kicks and letting the other ones go.
"That was considered good umpiring at the time and I never got carried away and caught up in the emotion of it all, so I think I had a pretty good ability to assess a situation pretty quickly."
Allen rated the 2005 and 2006 Sydney-West Coast Grand Finals as the best premiership deciders he officiated in, but said his most memorable game of all was the 1999 preliminary final when Carlton stunned the heavily-favoured Essendon.
"An amazing game," he said. "I'd been called the previous Thursday to be told I would be umpiring the Grand Final as long as I kept everything under control and had a good preliminary final.
"But it was such a close game. Dean Wallis had the chance to kick the ball deep into the Essendon forward line and I was down there thinking 'I've had a good game, but this is a high-pressure situation and if I stuff this up, I might miss the Grand Final.'
"Then Fraser Brown ran him down and I was probably as happy as all the Carlton fans when the ball went down the other end."
Allen said being named the All-Australian umpire on four occasions was terrific, as was taking part in two International Rules Series. But his induction into the Australian Football Hall of Fame tops all of that.
"It was a fantastic surprise and to see the people in that group that you're now a part of, is a bit surreal. In all honesty, I feel like I'm not entitled to be there. It's wonderful they think I'm a worthy inclusion."
FACTFILE: BRETT ALLEN
AFL umpiring career
1992-2007
Officiated
347 games
Honours
37 finals; 7 Grand Finals; 4 International Rules Tests; 2 State of Origin matches; All-Australian umpire 1999, 2000, 2002, 2006; awarded Australian Sports Medal in 2000 for contribution to Australian Football
• Who is in the Australian Football Hall of Fame? Find out more about the Hall of Fame legends, players, coaches, umpires, administrators and media personalities