• Get to know your club's future stars at the NAB AFL Draft Hub• Draft Machine: Search 180+ draft profiles and predict the top 20• Going places: Four incredible draft stories• Draft trumps: Insider access to this year's gun prospects• Who were the top performers at this year's NAB AFL Draft Combine?
TOBY McLean knew nobody when he first arrived at Oakleigh Chargers training in January, and nobody knew him.
There was more than 100 players training to make the club's under-18 squad, and McLean struggled to remember their names, calling everyone 'mate' on the few occasions he spoke.
He made the first summer cut, and then the next. And when the group kept getting trimmed, he kept wondering.
"Every time, I'd think 'Am I going to make it?'" McLean said. He kept training, kept quiet and kept focused. And made the Chargers' TAC Cup squad of 60 for the season.
At that point, he started again.
"I was relieved for a few days. Then, I set my mind to play round one. That became my short-term dream, but I wouldn't say it was my wildest dream."
The wildest dream might have to wait another week, with McLean a chance to have his name called at the NAB AFL Draft next Thursday night when clubs meet at the Gold Coast. But the small forward won't mind waiting a bit longer, having taken the long route to this point, surprising at every turn.
McLean lives in Narre Warren, a suburb in Melbourne's southeast in the region of TAC Cup club, the Dandenong Stingrays. At the end of 2012, McLean tried out for the Stingrays but, after an average 3km time trial, was cut from their 60-player squad and told to improve his fitness. The Stingrays were also unsure if they had a role for him, and suggested he played local footy in 2013.
McLean was disappointed, but thought if he could have a good season for Narre Warren, he might get another shot ahead of this season, his draft year. McLean won the club's senior best and fairest, kicked 50 goals for the season, and came seventh in the League's best and fairest, but still didn't get invited to the Stingrays' training squad heading into 2014.
"I didn't get a recall, and I was shattered about that," McLean said. "I thought I had a pretty good year."
A mentor at Narre Warren, Greg Doyle, and McLean's junior coach Dean Urwin, encouraged him to look outside his zone, and call Oakleigh's region manager Mark Smart to ask if he could train there. Smart welcomed him down, but offered no promises.
"It was quite a daunting thing for a young man to put himself in. Having not done much training over Christmas he was, by his own admission behind the eight-ball a bit," Smart said. "But he came and involved himself and travelled to the various training venues by himself. He didn't stand out too much, but it wasn't until the games that we were really able to see his ability."
McLean reached his first aim – to play round one for the Chargers – and was among the best players with 17 disposals and two goals. He played another game, and another, and another. After a month, he felt surer of himself.
"It was a bit confronting at the start, and I was out of my comfort zone in getting to know people. I'm a pretty shy and quiet guy," McLean said. "I didn't know if I could play in the TAC Cup. But I found out I could, and I got more and more confident."
McLean played 20 games for the Chargers this season, including the Grand Final win over the Calder Cannons. In no surprise to anyone (apart from perhaps himself), McLean was named best afield, capping a remarkable run in the premiership victory.
He was upgraded to the national list of invitees to the NAB AFL Draft Combine, and tested alongside some of the best prospects in the country at Etihad Stadium.
Toby McLean in action at the AFL Draft Combine. Picture: AFL Media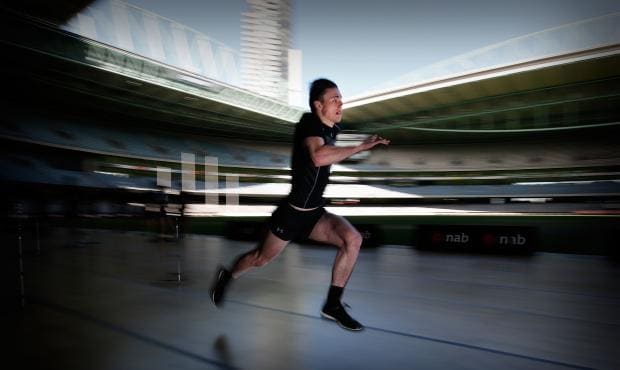 "This is the best year of footy I've had by far. Looking back at last year, I wouldn't have thought I'd be where I am now. For all the likely top-10 picks and those guys, going to the combine was normal to them. But it was big for me," he said.
What was bigger was McLean's mark late in the season for the Chargers, which the 18-year-old thinks kick-started his rise as a potential draftee. McLean, at 179cm, plays with some spark. He twists and turns in the forward line, and is elusive near goal, kicking 32 for the season.
He's crafty, brave and clever, and took those talents to the midfield later in the season. McLean impressed there too with his game nous and skill and averaged 22 disposals, but he believes it's his marking that has given him a shot at being drafted. And, one mark in particular.
McLean's huge grab in July – he took a few steps, hung on an opponent's shoulders for seconds and cleanly took the ball – went viral. Social media lapped it up, it was uploaded on websites, played on television and talked about by everyone in the under-18 system.
"I'm not sure if people were taking notice of me before that, but they definitely were after it," he said.
"It got my name out there. Well, sort of. When they showed it on The Footy Show they called me Troy instead of Toby. But people have gotten sick of it; it's been shown so many times. The reaction the week it happened was pretty huge."
Smart saw the mark, the attention and McLean's subsequent response as an example of his maturation during the year.
"It all hit him pretty quickly and I probably had some concerns about how he'd deal with that, and spoke to him a number of times about continuing to just be himself," Smart said.
"To his credit, he never changed the way he was. It's been a terrific year for him for his personal growth as a young man."
McLean thinks his leap comes from his mum Heather, a former netballer. His eye for the play comes from his dad, Ian.
Ian used to teach Toby the importance of being dual-sided, telling him to kick on both feet, handball with both hands and bounce on either side of his body. Ian was also a talented footballer, playing for a number of clubs in Melbourne's southeast.
However, like McLean's emerging football career, life hasn't been easy off the field either.
Ian died from melanoma six years ago, when Toby was 12. He watched his dad's health deteriorate for some time, and took even longer to make sense of it all.
"I didn't really believe it was happening at first. He was getting sicker and sicker every day, not going to work, and laying in bed. It was hard," McLean said.
"I was in year seven when he passed away so I didn't really know how to react. It was the worst thing to happen to me in my life and it took me a while to get over it.
"Seeing everyone's dads there watching them play footy and mine not being there was tough. But I just want to make him proud. If I make it onto an AFL list I think he'd definitely be proud."
McLean has wondered how different he'd be had his dad not gotten sick, and had he enjoyed his presence through his teenage years. Gradually it's gotten easier to understand and cope with, and when Heather found a new partner (who she married last month), Toby knew he didn't have to worry about his mum any more, which made him feel better too.
"I definitely wouldn't say that he replaced dad, but he's been there to help mum, which has made it easier for me if mum is happy," he said.
Everyone in the McLean family is proud of Toby's progress this season, and he has shot into draft contention despite being off the radar a year ago. His transition hasn't been seamless or straightforward, but every draft there's a player who comes from nowhere who puts his name forward and gets picked. This year, McLean hopes it's him.
"Nobody knew who I was at the start of the year and now a lot of people do, so hopefully I get a chance," McLean said.