The NAB AFL Academy is in the middle of a training camp in America at the IMG Academy.
Throughout the tour, highly rated 2016 draft prospect Jy Simpkin will be writing a daily diary for AFL.com.au.
He will also shine the spotlight on a teammate once a day across the 12-day trip. This is the first of three diary entries from Simpkin.
Day one, Tuesday, January 12
In transit from Melbourne to Orlando, Florida
We started the tour with a 33-hour journey from Melbourne to Orlando, via Brisbane and Los Angeles. Along with the other Victorian players in the NAB AFL Academy, we met the night before as a group in Melbourne to prepare for the long trip.
I was excited to head over to America, having never been there. I had spoken to some of the Vic Country players who went on last year's tour who enjoyed it, so when I was included in this year's Academy squad for the first time the US camp was one of the main things I was looking forward to.
On all three flights I sat next to Will Brodie, who I've known since early primary school. Back then we were rivals – everyone knew about him back in Shepparton where he's from – but since last year when I moved to Scotch College where he also studies we've become close mates.
On the plane I tried to do some homework and read a book that we are studying at school but found myself mostly entertained by watching Will talk to other random passengers on the plane via the group chat.
We arrived in Orlando late in the night and had a quick meal before heading straight to our rooms. The tour is going to be a good opportunity to start the year well, especially for me given I haven't been running for the last month or so due to patella tendinitis, so I'm looking forward to it getting underway.
Day two, Wednesday, January 13
Bradenton, Florida
Clearly the long flight over got to a couple of the boys, who slept through their alarms and wake-up calls this morning, which saw the team punished with an early dip in a freezing pool that would come later in the week.
As well as the important footy side of the tour, seeing a different side of America is another great thing about the trip and today we went to the Kennedy Space Centre in Orlando. It was interesting – you don't see too many rockets in Melbourne – and spending a couple of hours there was good fun.
Jy Simpkin, Alex Witherden and Ben Ainsworth at the Kennedy Space Centre in Orlando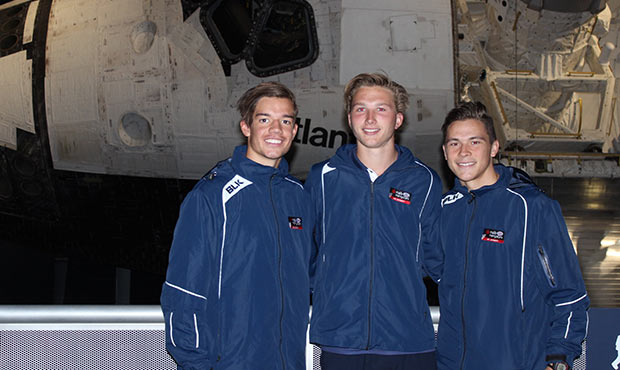 Inside the famous Atlantis aircraft was a take-off simulation ride, and after many on-screen warnings my teammate Alex Witherden was a little concerned it was going to be too scary for him. Luckily, he managed to get through it.
Another three-hour bus trip followed, before we finally got to the IMG Academy in Bradenton, where we'll be training for the next eight days. Normally we stay in hotel rooms when we're together for the Academy camps, but we were divided into apartments where we'll have to cook our own food and stay organised.
I found it crazy how big the IMG Academy is – there is a huge tennis court area, a golf course, heaps of soccer training fields, a high quality athletics track and they seem to be building more facilities for the future, too.
We had our first session shortly after arriving, which was just half an hour of 'touch' work to wake us up a bit after making the long trip over.
Spotlight on: I haven't played with Jordan Gallucci yet, but his leadership has already stood out on tour. At today's session we were pretty quiet and tired, but he was really vocal and helped get us through it.
The entire Academy squad at the Kennedy Space Centre in Orlando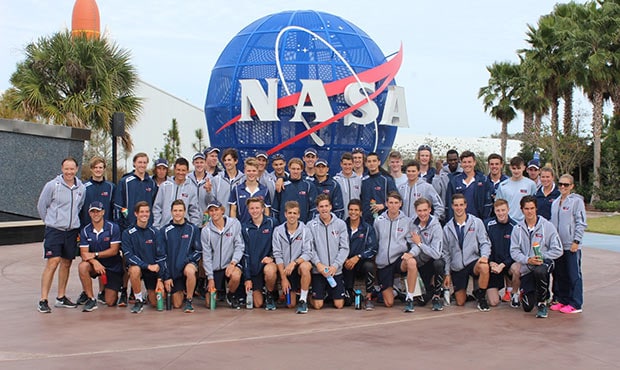 Day three, Thursday, January 14
Bradenton, Florida
When we got our itineraries before the tour, the Thursday morning session caught my attention. It was the first major training run of the trip and it looked like a hard one. That's the way it turned out.
It started with a 3km time trail, then once the last player had finished we had an eight-minute break before moving into a body weights circuit (push-ups, squats, dips, step-ups, sit-ups and planks).
After that we changed to another field and did some repeat sprints over different distances, and we needed another eight-minute break before finishing with hill sprints.
I was happy with my time of 10:20 for the time trial after not being able to train much recently, and I see endurance as one of my strengths.
Josh Battle (10:02) ran really well and won the time trial, beating out Jarrod Berry and Jack Rolls. Will Setterfield impressed me in the repeat sprints, but Will Brodie might not be doing any hill runs for a while after cramping badly at the top of the hill and struggling to make it back down.
In the afternoon we headed into a different part of the IMG Academy, doing some vision, depth perception, memory and reaction testing at their facility.
I found a couple of them really hard, but one of their key messages was that the eyes are like any other part of your body that you can train to improve.
We also used an application that helps you relax and block out distractions by measuring your breathing. This year is obviously going to be a busy year for me as I aim to get drafted, so hopefully I can use a couple of these techniques throughout the season and at school to help me stay calm and relaxed.
Spotlight on: Josh Battle was definitely a standout on the track today, and it was obvious how hard he was working by the amount he spewed out at the end of the hill runs. It amused a few of us, but when he looked up he wasn't overly amused with us.
Day four, Friday, January 15, 2016
Bradenton, Florida
A 5.30am wake-up was the result of the guys who were late in Orlando, and we had to be in the pool by 6am today. Nobody was allowed to talk or move, and we had to have our whole bodies submerged in the water for 12 minutes.
Our chins had to be touching the water otherwise our time would start again, which Steven Slimming learned the hard way.
Mick Ablett, the AFL's talent development manager, was there and reminded us to not take anything for granted on this trip and this year so hopefully we won't have any more slip-ups over the next week or so.
Before our next training session I did my testing at the Gatorade Sports Science institution, which is on-campus at the IMG. I did the V02 sub-max, which tests the fuels I use when I'm running.
My test was done over 18 minutes, and every three minutes the speed of the machine increases. By the end I was puffing a fair bit, and drooling out of my bottom lip where the testing equipment was in my mouth.
I'll get the results back later in the tour but it will hopefully tell me what sort of foods to eat before games of footy and what I should be eating more to get the most out of my body.
The rain continued as we hit the track for an hour craft session – well, it was meant to be an hour but it was cut short halfway through. The IMG Academy has a rule where if there is lightning in the local area then everyone out on the fields must stop training for 30 minutes and head inside after a siren is rung.
Jy Simpkin in action during the conditioning session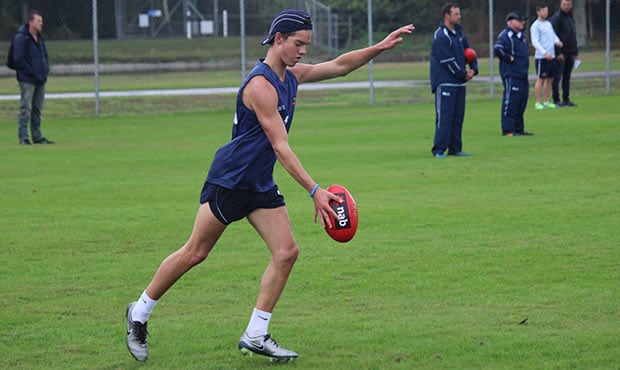 The severe weather warning meant we had an earlier ice bath than expected for recovery, before heading to the Tampa Bay Buccaneers' NFL club for a tour.
Our timing couldn't have been much better, as we were sitting two doors down from where there was about to be a press conference where the Buccaneers' new head coach was about to be announced.
As we were addressed by one of the club's scouting team, Dirk Koetter, the new coach, popped his head into our room and said hello to the group. He seemed pretty excited, and mentioned he had been waiting 34 years for his opportunity.
The facilities were awesome – they were huge, but also neat and tidy and the locker room for the players was unbelievable.
Each player had air vents in his locker to make sure the room didn't smell, and it was in extremely good condition. Everything at the club and everywhere you looked carried Buccaneers logo, and they were very proud of their home.
Spotlight on: Tony Olango was very excited to get out on the track today, as he didn't want to do any more pool sessions. It's fair to say he's not a keen swimmer and isn't used to the cold water, so he was pretty pumped to get out there and especially excited to get out of the pool.