SHAUN McKernan's time at Adelaide is over – but don't try telling him the curtains on his AFL career have been drawn too.
Speaking to AFL.com.au at his local cafe in the beachside suburb of Glenelg, the 25-year-old bristled at the suggestion.
He's aware the Crows lost their patience in him; the club grew weary chasing a carrot that remained just out of reach.
But the carrot can be caught – there are countless examples of players testing clubs' tolerances – sometimes to breaking point – before emerging through themselves.
McKernan needs only look to Port Adelaide for a prime example in Matthew Lobbe.
It took Lobbe until his sixth season to establish himself at senior level and just another to become one of the game's most damaging ruckmen.
Jonathan Giles was sent packing by the Power without an AFL debut, only to make a name for himself at Greater Western Sydney.
Then there's McKernan's latest mentor in James Podsiadly, who was drafted to Essendon and Collingwood before finding his feet as a Cat.
Fresh from a boxing session with several Crows players, McKernan said he was determined to join their likes as a player who would take a little longer than usual to bloom.
"I know I've got my best footy in front of me," he said.
"I'll go anywhere, I just want to get my foot in the door because from there anything can happen.
"Even though I wasn't able to play to the level I know I'm capable of, I feel I learned so much and added a lot to my game over the past six years.
"I'm a much smarter footballer today."
Of course, any player let go by his long-term club was done so for a reason.
On paper McKernan was a perfect fit for Adelaide's needs: a tall, athletic forward who was most at home when splitting his time 50-50 in the ruck.
His lack of consistency hurt his game and he's also faced constant questions over his on-field aggression.
He acknowledged both deficiencies, though, and added his defensive transition to the mix as well.
After a year learning from Podsiadly at West Lakes, McKernan believed he was well placed to right his wrongs.
"I think I've learned more in the last 12 months next to 'Pods' than in any other season before," he said.
"He's been so good in teaching me little tricks about body work and looking for triggers at training to make sure my aggression and attack at the ball stays where it needs to.
"Even under Sando – I would have liked to have played more – but he taught me more about the defensive art to my game than any other coach.
"I'm really thankful for that."
Shaun McKernan booted 21 goals in 34 games for the Crows. Picture: AFL Media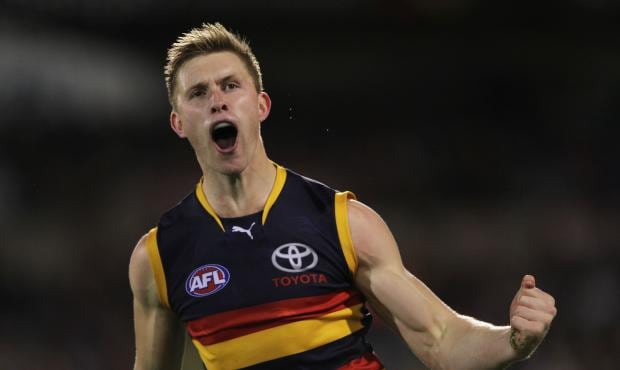 McKernan's delisting could well prove a blessing in disguise.
He had asked to be traded from the Crows late last year in the hope of cleaning his slate at a new club.
Yet when push came to shove and he was left with no choice, it still hurt.
"It wasn't that I was unhappy last year, I just felt like I needed to refresh myself," he said of his 2013 trade request.
"So on one hand it's good that I've been forced into this position but on the other I was pretty devastated – I'll be leaving a heap of good mates and a place where I've played footy for the past six years."
With the hamstring he pulled late in the year healed, McKernan is training as though he'll be back at West Lakes for the first day of pre-season.
He's maintaining his habits so that if he is offered another shot, he'll be ready to roll.
Several clubs have already registered early interest but are inevitably playing their cards close to their chest as the draft looms.
He just hopes there's no bluffing.