DUSTIN Martin has another admirer.
Stefan Okunbor, who joined fellow Irishman Cillian McDaid at this week's NAB AFL Draft Combine, had his first look at Australian football from one of those 'Biggest hits' videos.
That was five years ago, prompted by former Swan and Saint Tommy Walsh's visit to his old school, CBS The Green, which just so happened to also be Okunbor's. Walsh helped him prepare for this trip.
Okunbor, now 19, couldn't remember the other player in this one particular YouTube clip, but that player "bounced" off Martin, who "didn't react at all".
"I knew this was a sport that suits me," Okunbor told AFL.com.au.
"It was always in the back of my head, but I'd never really thought much more of it, then Tadhg Kennelly sent me a text to trial (last year) when I started college and I couldn't believe it.
"Now that it's a reality, it's surreal – I'm absolutely loving it."
McDaid and Okunbor hope to follow 63 of their countrymen onto an AFL list, although only 21 of those ever played a senior game. There were 13 Irish players in the competition in 2017.
They have outlasted others just to make it to this point, but have no guarantees.
Carlton, Essendon and St Kilda, which all have Irish-listed footballers, auditioned them before the combine, but they could end up elsewhere, or nowhere.
McDaid, 20, knows that all too well.
He joined the NAB AFL Academy members for a training camp in Florida the past two years, but was overlooked in 2016 as Ireland's Ray Connellan and Darragh Joyce signed with the Saints.
McDaid, who stands 185cm, persisted and even skipped a Gaelic football semi-final to pursue his dream.
"I've loved it and really want to get out here," McDaid said.
"It's been two long years and disappointments along the way, but I'm still hoping something comes out of it."
McDaid's skills are naturally more advanced than Okunbor's, because he has been training with a Sherrin for longer. He scored 24 to Okunbor's 22 out of 30 in the kicking test.
"I reckon it's the ball drop (that is most challenging)," said Okunbor, who is of Nigerian descent.
"I scored a left-leg snap shot, where you turn around the corner, which is very similar (to kicking a Gaelic ball).
"But you see Tadhg's a great kicker, Mark O'Connor's a great kicker – all the Irish boys coming through, once they've been taught from the very start with someone beside them, they've improved. Hopefully that happens to me."

Stefan Okunbor shows his kicking prowess at the NAB AFL Draft Combine. Picture: AFL Photos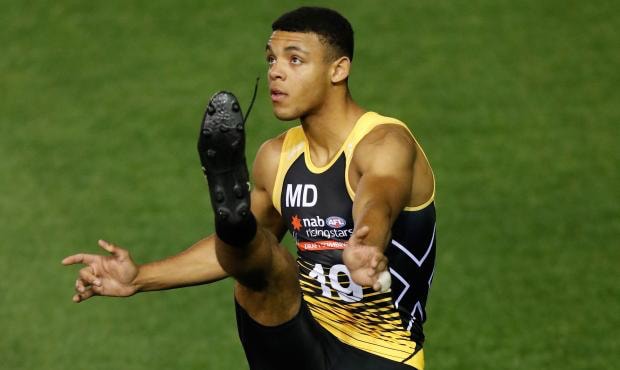 McDaid placed equal ninth in the new Yo-Yo test – modified from the beep test to better suit football requirements – while Okunbor, at 190cm, was top 10 in agility and the 20m sprint.
They both say they have received nothing but support about their bid to become professional sportsmen in a country roughly 20 hours away by plane.
"I probably did think I was ready last year, but in hindsight I probably wasn't," McDaid said.
"The last year back at home I've played good football and to a high standard as well, and I've lived away from home and I just feel like I've matured.
"I have a bigger body now, and I'm a bit heavier and a bit stronger."