In a new weekly series leading up to round one, AFL.com.au writers will debate the best moments, players and teams since the turn of the century. From the pick of the Brownlow and Norm Smith medallists to the finest wooden spooners, non-finalists and premiership teams, a rotating panel will turn their minds to footy's big moments since 2000.
Today, Ashley Browne, Michael Whiting, Travis King and Peter Ryan lock horns over this century's best team to miss the finals and there is no shortage of candidates.
Since 2000, four teams have finished with 12 wins during the season but missed out on September action.
St Kilda had an impressive percentage of 123 in 2012 but ultimately missed the eight, two games behind North Melbourne.
While in 2002, Geelong fell just two per cent behind eighth-placed West Coast.
NOTE: The Essendon team banned from the finals in 2013 was not considered.
2002: Geelong
A tough assignment this one, but the lingering memory is that Geelong was a pretty good team in 2002 and one very stiff not to play finals. It was Mark Thompson's third year in charge of the Cats and a scan at the team list shows a team in transition. Holdovers from the Gary Ayres era and even Malcolm Blight before him included Steven King (22 games for the year), Ben Graham (22), Peter Riccardi (22), Ronnie Burns (18) and Brad Sholl (17). But the likes of Cameron Ling (21), Joel Corey (20), James Kelly (15), Corey Enright (16), Paul Chapman (16), Gary Ablett (12), Steve Johnson (12) and Jimmy Bartel (11) also had serious exposure at AFL level. Geelong sat in the top eight from rounds 13 to 21, but its finals hopes were flickering after losing by 18 points to Hawthorn in round 22 on the Friday night. The Cats needed West Coast to lose to North Melbourne in Canberra on the Sunday to stay in the eight, but the Eagles prevailed by 17 points to leapfrog them and claim the last remaining finals berth. The Cats went 11-11 in 2002 and missed the finals by two percentage points. But only two games separated the 13-9 Collingwood in fourth and the 10th-placed Hawks, who also finished 11-11. Any of the top 10 that year were worthy finalists. - Ashley Browne
The experienced Ronnie Burns with a baby-faced Gary Ablett and Jimmy Bartel. Picture: AFL Photos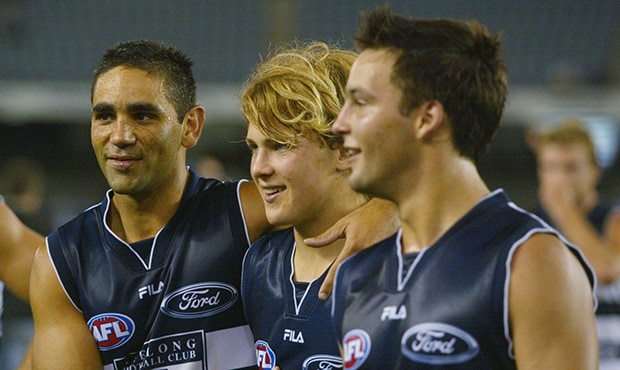 2001: Collingwood
Like Ash said, this was a tough one, particularly trying to split "best" from "most unlucky" team to miss the finals. There's a litany of teams that have missed a top-eight spot in the final round of the season, and while the 2002 Cats is a good call, I've settled on the Magpies from the year before. It was the second season under Mick Malthouse, and after narrowly avoiding the wooden spoon in 2000, Collingwood made a huge leap the following year. They finished 11-11 with a percentage of 106.9. Their best was probably good enough to make the finals, with wins over top-eight teams Carlton, Port Adelaide and Adelaide, but inconsistency bit the young Magpies in the end. A prime Nathan Buckley led the team, while Copeland Trophy winner Paul Licuria, Shane O'Bree, Scott Burns, and Chris Tarrant with 56 goals were all influential. It took a narrow round 20 loss to rampant minor premiers Essendon to knock them out of the eight, with Adelaide sneaking the last finals spot in round 21 with a strong win over Hawthorn. As history showed, largely the same Collingwood team would return in 2002 and 2003 to lose Grand Finals to the Brisbane Lions. - Michael Whiting
The Magpies surged up the ladder after just missing out on the wooden spoon in 2000. Picture: AFL Photos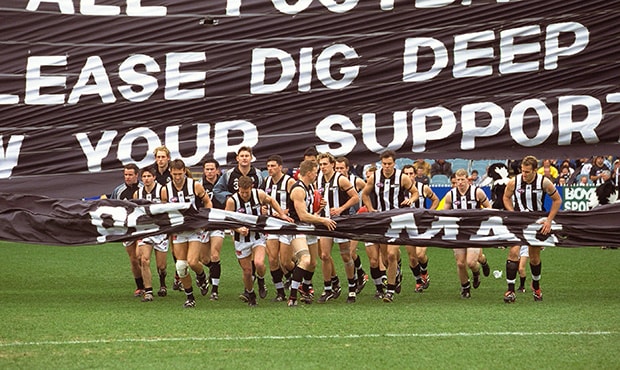 2004: Fremantle
Hard to argue with those calls, guys, but I can't overlook Fremantle's 2004 outfit, which blew a golden opportunity to feature in September. The Dockers were coming off their maiden finals appearance the previous year and had top-end talent like Matthew Pavlich, Paul Hasleby, Des Headland, Jeff Farmer, Luke McPharlin and a young Aaron Sandilands around experienced core players including Peter Bell, Shaun McManus, Shane Parker and Justin Longmuir. It seemed like Freo was on the way up under Chris Connolly, and things were going swimmingly at 11-7 in '04. The Dockers were entrenched in sixth spot – two wins clear of ninth – with a healthy percentage of 111.6. Then the wheels fell off. The Dockers lost their last four matches and slipped out of the eight after a final round loss to St Kilda on the road. It was a bitterly disappointing finish considering Freo sat inside the eight for 20 of the 22 rounds and was good enough to beat top-four teams Geelong and the Brisbane Lions. - Travis King
An end of season capitulation cost Freo making it back-to-back finals appearances. Picture: AFL Photos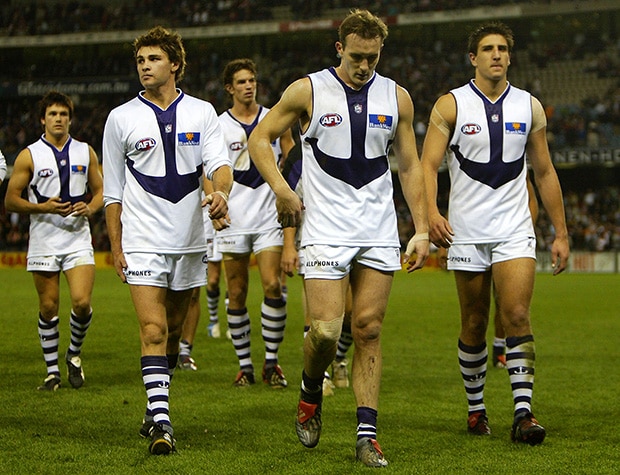 2006: Geelong
The best non-finalists are the teams everyone knows are capable but for whatever reason they can't pull the elements together. That's why the Cats of 2006 top my table. In no way did Geelong deserve to make finals in 2006 but this season has become the modern benchmark for clubs wanting to turn underperformance into dominance. After its devastating loss in the previous year's semi-final, the Cats won their first two games to take top spot for the first time under Mark Thompson. They then lost the plot, winning just one of their next eight games to tumble to 13th place and out of finals contention. Such was the talent on the list (as Ash pointed out in assessing 2002), the frustration of supporters overflowed and a rigorous review was held to expose the factors holding the Cats back. In the end the Cats decided to stick with Thompson as coach, provided him with the right support, and the Cats embarked on an unprecedented run of success, snagging three premierships in the next five years. It's a turnaround Collingwood, Richmond and Port Adelaide supporters are desperately hoping can be replicated. - Peter Ryan
Sticking with coach Mark Thompson paid off for the Cats with three flags in five years. Picture: AFL Photos