DAVID Astbury says he has full confidence in his body and is determined to capitalise on the form that made him Richmond's most improved player before he suffered a season-ending knee injury in May this year.
The Tiger defender dislocated his left kneecap against Melbourne in round nine, almost three years after suffering the same injury on his right side.
The dislocation came after he lunged to change direction and tackle young Demon Jack Viney.
Before the injury, he was running second in the Tigers' best and fairest.
He didn't play at AFL level again this season but did get back for part of a VFL game late in the year, which was designed to give him the confidence to launch into a full summer program.
"I feel every bit as good as I did pre-surgery," Astbury said on Friday.
"I had a different procedure than I did the last time, so it's put me in good stead, and so far I'm moving around freely and really enjoying being back out on the track.
"My rehab progression was absolutely flawless and that set me up to have a big pre-season, and so far that's been very good also."
Astbury has also battled foot, hamstring and leg injuries since his debut in round four 2010, and has played just 37 games.
But he believes his injury concerns are behind him and is motivated to ensure he doesn't miss the chance to play finals next year after being injured for the Tigers' past two September campaigns.
The Tigers faced a tough training session on Friday for their final hit-out before the Christmas break.
Chris Newman (groin) was in the rehab group but is expected to be back after the break, while Sam Lloyd is in a moon boot after suffering a minor ankle injury at training.
Matt Thomas remains out of the main group after knee surgery late in the season.
Astbury said the players had responded well to a solid training block ahead of Christmas and the results had already been clear.
Tigers on the run at training. Picture: AFL Media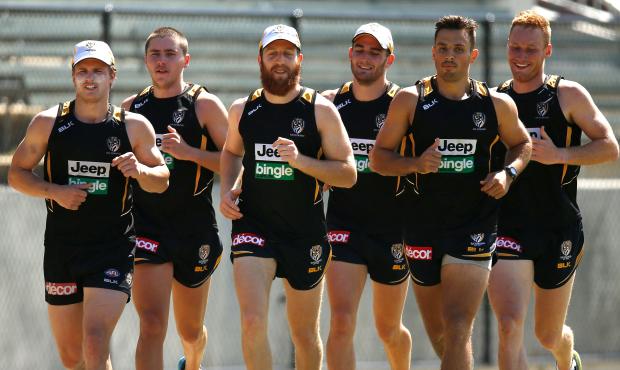 "It's about gritting your teeth and getting some real improvement – we've seen some real improvement and it's been really positive," he said.
"Everyone has just come back in extraordinary shape. We're looking really good and I think we've simplified things a little bit and the boys are really excited about what 2015 brings for us.
"It's a really enthusiastic environment and we're really looking forward to the home-and-away season.
"We're all meeting our goals and we've got some return targets after the Christmas break, but so far there's probably no one I can't say that about, which is a really good sign."
The Tigers have fallen at the first hurdle in the finals the past two seasons and need to find something from within to improve, after acquiring just one experienced player in the off-season, Geelong's Taylor Hunt.
Astbury said he believed the middle-tier players had the ability to stand up next season.
"It's been documented we weren't really active in the trade period, but we're sort of relying on natural progression and we had a clear strategy to go to the draft and bring some youth through," he said.
"I think we've got a really solid base of players between the four and seven years who definitely have a lot more improvement – we started to see that towards the back end of the year with guys like Ben Griffiths, Jake Batchelor and Dylan Grimes.
"They're the guys who are really going to take the next step and they're going to drive us deeper into September."
Development coach Mark Williams was involved in Friday's session and has been in and around the club since being diagnosed with lymphoma last month.