2018 LEADERS: Luke Brown (100 kick-ins - 39% of team), David Mackay (29 kick-ins - 11.4% of team)
The reliable Brown was the clearly the No.1 option for the Crows in kick-ins, with his 100 ranked sixth in the League despite missing two games. He was a long way ahead of utility David Mackay, who split his time between wing and half-back. Brown's numbers were higher than usual due to defender Brodie Smith missing all but two games of the season with a knee injury. The Crows only played on 20.8 per cent of the time – 13th in the AFL.
WILL IT BE THE SAME IN 2019?
The change in the play-on rule should benefit the Crows, with the booming kick of Brodie Smith able to get them on the attack in no time. Smith takes the game on and gets the ball moving quickly to the Crows' forwards as they lead up the ground. Brown's pin-point kicking means he will still take some kick-outs and aim to hit short targets, especially Rory Laird, who led the club in kick-in marks last year. - Lee Gaskin

2018 LEADERS: Alex Witherden (126 kick-ins - 48.1% of team), Daniel Rich (56 kick-ins - 21.4% of team)
Only Sydney's Jake Lloyd and West Coast's Shannon Hurn took more kick-ins than Witherden in 2018. The clever Lions half-back took the responsibility just under 50 per cent of the time following a behind. Although very adept at kicking the ball back across his body into the corridor, Witherden became more circumspect as the season wore on and often took safer option. He also played on more than 40 per cent of the time. Brisbane was also happy for its most penetrating kick, Daniel Rich, to start its chain of possession.
WILL IT BE THE SAME IN 2019?
No reason to change things up significantly. Witherden, Rich and Luke Hodge (who took 42 kick-ins last season) should be regular fixtures in the backline again and are three of the most accurate kicks the Lions have. If Brisbane can find a quicker half-back – think Zac Bailey or Cedric Cox – they may be tempted to let them have a dash with the new kick-in rules, but there's no evidence of that at training at this stage. - Michael Whiting
Young gun Alex Witherden took almost half the Lions' kick-ins. Picture: AFL Photos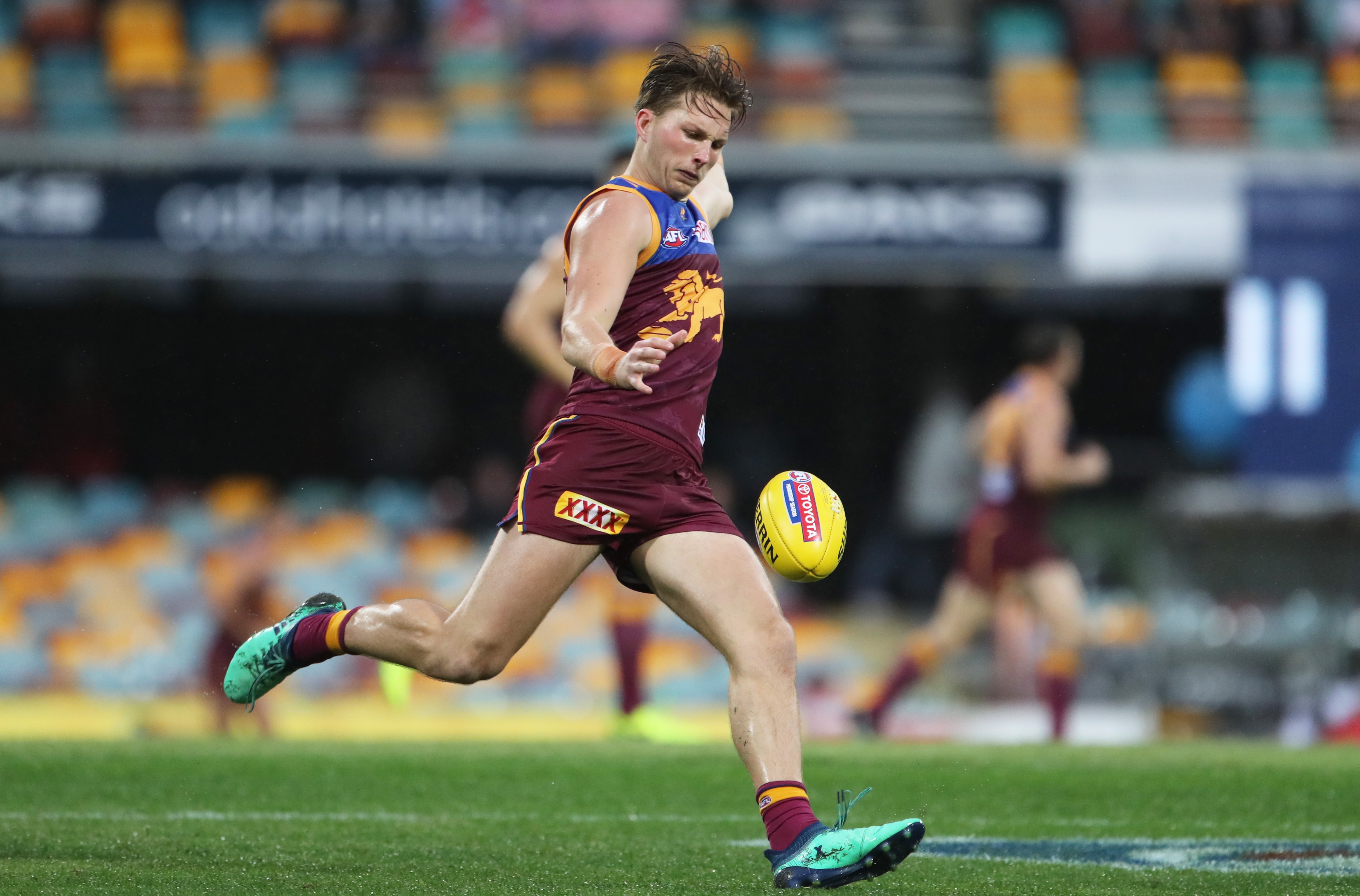 2018 LEADERS: Kade Simpson (98 kick-ins - 36.6% of team), Lachie Plowman (54 kick-ins - 20.1% of team)
Kade Simpson has long been Carlton's preferred defender to bring the ball back into play, with his 'Kade Fade' brought to prominence last season. That sees Simpson feign to kick to the right, before quickly shifting the ball to his dominant left side where a fellow defender normally blocks the man on the mark. The Blues went short almost double the amount they went long last year, mostly wide to a pocket. Lachie Plowman was behind Simpson as Carlton's most prolific from kick-ins, given more responsibility due to Sam Docherty's ACL injury.
WILL IT BE THE SAME IN 2019?
New kick-in rules will probably reduce the need for the 'Kade Fade', given the Blues won't have to create as much space for Simpson with the man on the mark a further five metres back. Simpson's reliability will likely mean he's again the man given the most responsibility at Carlton, though the expectation that quicker players will become the designated kick-in takers could see the Blues experiment. Regardless, expect Carlton to go longer and take the game on from the last line of defence far more than they did last season. – Riley Beveridge

2018 LEADERS: Lynden Dunn (59 kick-ins - 31.2% of team), Jeremy Howe (46 kick-ins - 24.3% of team)
Veteran full-back Lynden Dunn would have held a virtual monopoly on Magpie kick-ins had he not suffered a season-ending knee injury that restricted him to just 14 of a possible 26 games. The vast majority of Dunn's efforts were made to order, either hitting a target or landing well outside scoring range. In his absence, fellow defenders Jeremy Howe and Brayden Maynard also proved good options with their decision-making, precision and power, with two-thirds of the Pies' overall kick-ins rated effective. They tended to go short to the left back pocket.
WILL IT BE THE SAME IN 2019?
If he maintains his current fitness and track form, Darcy Moore could become a key part of the Pies' plan to exploit the new kick-in rules, which would seemingly suit speedy types who can burst clear of the goalsquare and hit a long kick to position. Star ruckman Brodie Grundy is a terrific target with his aerial and ground skills, and former Bulldogs big man Jordan Roughead could also emerge as another viable option. - Ben Collins
Lynden Dunn was the Pies' leading kick-in taker despite playing only 14 games. Picture: AFL Photos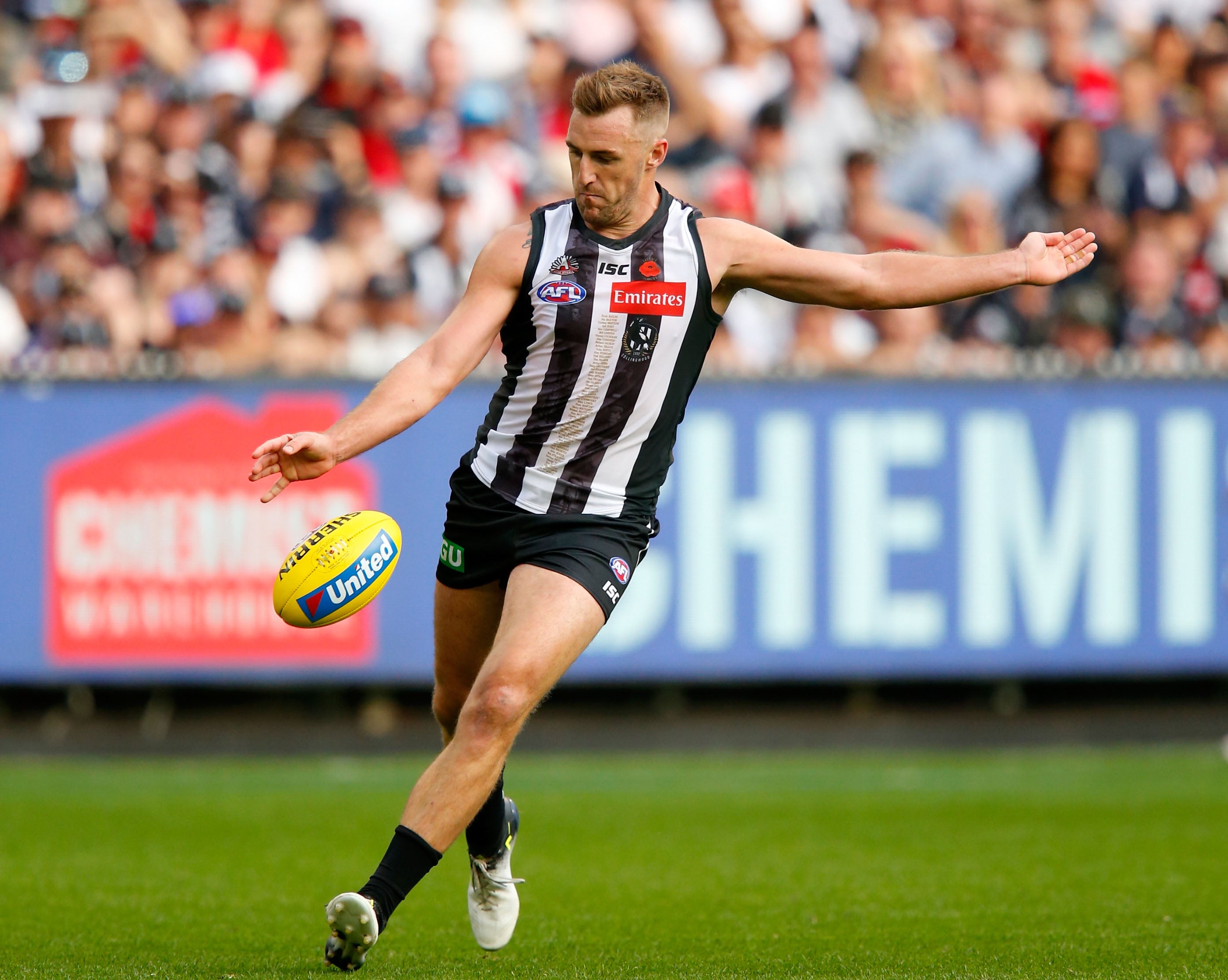 2018 LEADERS: Conor McKenna (79 kick-ins - 31.5% of team), Brendon Goddard (65 kick-ins - 25.9% of team)
Conor McKenna led the Bombers for kick-ins last year, getting the ball back into play on 79 occasions after a behind. Essendon is happy to give the Irishman that responsibility, and he largely shared it with Brendon Goddard last season, who is now retired. McKenna took the ball out of the goalsquare and kicked to himself 47 per cent of the time he took the kick-ins last season.
WILL IT BE THE SAME IN 2019?
The Bombers haven't yet locked in their kick-ins strategy, but McKenna shapes as an obvious option again given his pace and long kicking. Another one in the same bracket is Adam Saad, who could take off with the extra space and not be caught, while Michael Hurley, as a tall back with a booming kick, is another possibility to take control in this area. - Callum Twomey

2018 LEADERS: Luke Ryan (107 kick-ins - 39.5% of team), Nathan Wilson (105 kick-ins - 38.7% of team)
Fremantle coach Ross Lyon trusted second-year backman Luke Ryan to split the bulk of kick-in duties with superboot Nathan Wilson last season, and they usually searched for a short target to hit. The Dockers rarely played on from a kick-in, when more often than not the plan is to take territory and look for a big man outside defensive 50. Freo wasn't exactly oversupplied with reliable marking targets last year, so it was an understandable approach.
WILL IT BE THE SAME IN 2019?
Freo could change tactics after the arrivals of Jesse Hogan and, in particular, Rory Lobb, who stands at 207cm and is one of the AFL's better contested marks when he is up and going. Wilson's combination of speed and long kicking could easily see him deposit the ball close to the wing and look for Hogan or Lobb – not to mention Matt Taberner or ruckmen Aaron Sandilands and Sean Darcy – after taking off from the goalsquare. The Dockers haven't done a lot of work on kick-ins during open training sessions to date, although in limited match sim there hasn't been a noticeable change from 2018. - Travis King
Luke Ryan led the way for the Dockers. But could 2019 see a change of kick-in personnel? Picture: AFL Photos


2018 LEADERS: Zach Tuohy (88 kick-ins - 34.6% of team), Tom Stewart (75 kick-ins - 29.5% of team)
Tuohy was the predominant kick-in taker for Geelong, ranked 11th in the AFL in that category. His reputation as a powerful, long kick tended to translate into the way he approached kick-ins. In the second half of the season, the Cats made an adjustment to the way they played and that meant targeting the corridor more often. Between rounds 15 and 23, the Cats used the corridor from rebound 50 26.6 percent of the time (No.1 in the AFL). Tom Stewart often played on from the goalsquare and kicked long to tall targets – sometimes Mark Blicavs isolated against a smaller opponent.
WILL IT BE THE SAME IN 2019?
Tuohy (knee) has been in rehab for the whole of pre-season to date so hasn't yet had the chance to practice any kick-ins. The Cats have worked on kick-in setups sparingly so far, although they have had AFL umpires down at training to explain the restrictions and specifications across January. Stewart played on to himself from kick-ins 56 per cent of the time (the most among the AFL's top 30), so expect that figure to rise even further with the new rules in 2019. - Ben Guthrie

2018 LEADERS: Steven May (94 kick-ins - 30.3% of team), Jarrod Harbrow (77 kick-ins - 24.8% of team)
It was pretty simple for the Suns last season – May kicked it long and Harbrow kicked it short. The two experienced defenders were responsible for more than 50 per cent of Gold Coast's kick-ins and statistics showed than Harbrow playing on, followed by a short kick was its most effective strategy to transition the ball from the defensive 50. May often took the safer route, pumping the ball long down the line to create a contest.
WILL IT BE THE SAME IN 2019?
With May gone, something has to change. Most defenders have tried kicking in at Suns training so far but you can expect Harbrow and Pearce Hanley to do a bulk of the kick-ins. Both men love to play-on – which will be aided by the new rules – and both are clever with their short kicks. When Hanley is further afield, Jesse Joyce is another strong candidate to take the responsibility. The young Queenslander is calm under pressure and is one of the most accurate kicks at the club. - Michael Whiting
Jarrod Harbrow is expected to do the bulk of kick-ins in the absence of Steven May. Picture: AFL Photos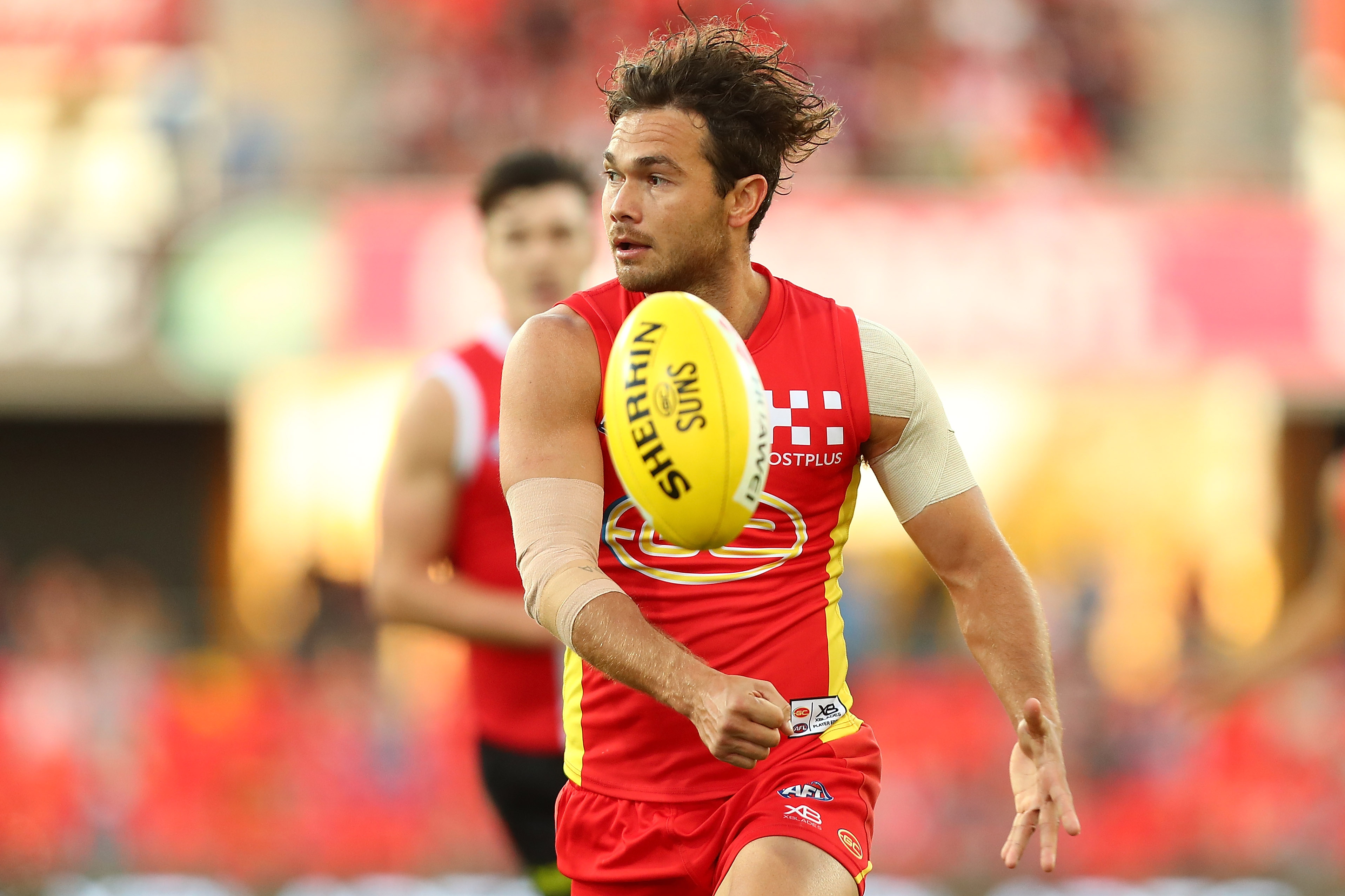 2018 LEADERS: Heath Shaw (84 kick-ins - 37.5% of team), Jeremy Finlayson (63 kick-ins - 28.1% of team)
Shaw and Finlayson, along with Lachie Whitfield (55), are three of the Giants' best kicks, so it was little surprise to see them lead the team last year. Shaw kicked to himself and played on 57 per cent of the time, mostly looking at long options, while Finlayson and Whitfield preferred to pinpoint their kicks in the corridor.
WILL IT BE THE SAME IN 2019?
The Giants will likely keep the same trio this year but if Whitfield heads back to the wing, and Finlayson can't re-establish himself in the side, Shaw will be the main man along with Zac Williams, who can play on and use his speed or hit up short targets. The new rules could see kick-focused Shaw become the first player to register 50 in a single game and there's little doubt he'll have his eyes on the record. - Adam Curley

2018 LEADERS: Ryan Burton (67 kick-ins - 30.2% of team), James Sicily (64 kick-ins - 28.8% of team)
Sicily was the Hawks' clear top choice when he played, but his six-match absence recovering from a broken wrist saw Burton overtake him, with 36 of the club's 61 kick-ins during that period. Burton generated the third-most scores (10) – behind Tiger Jayden Short (14) and Kangaroo Scott Thompson (11) – while Blake Hardwick (seven, equal 17th) and Sicily (five, equal 26th) were also prominent. Hawthorn, which typically went down the middle or to the right, was a strong-performing kick-in side overall, with the second-most goals (19) and scores (27) from kick-ins and the seventh-fewest scores conceded (42).
WILL IT BE THE SAME IN 2019?
Sicily will be the Hawks' kick-in specialist again – evidenced in match simulation – and it will be interesting to see how the Hawks attempt to maximise the new rules. The star defender boasts not only a long kick but a creative one and is willing to take opponents on, so he is the ideal man to launch from the last line. His backline partner-in-crime Hardwick, a noted accurate kick, is likely to be the other regular with Burton now at Port Adelaide. James Frawley and Shaun Burgoyne are other options. – Marc McGowan
The Hawks are expected to use the creative James Sicily for the majority of kick-ins. Picture: AFL Photos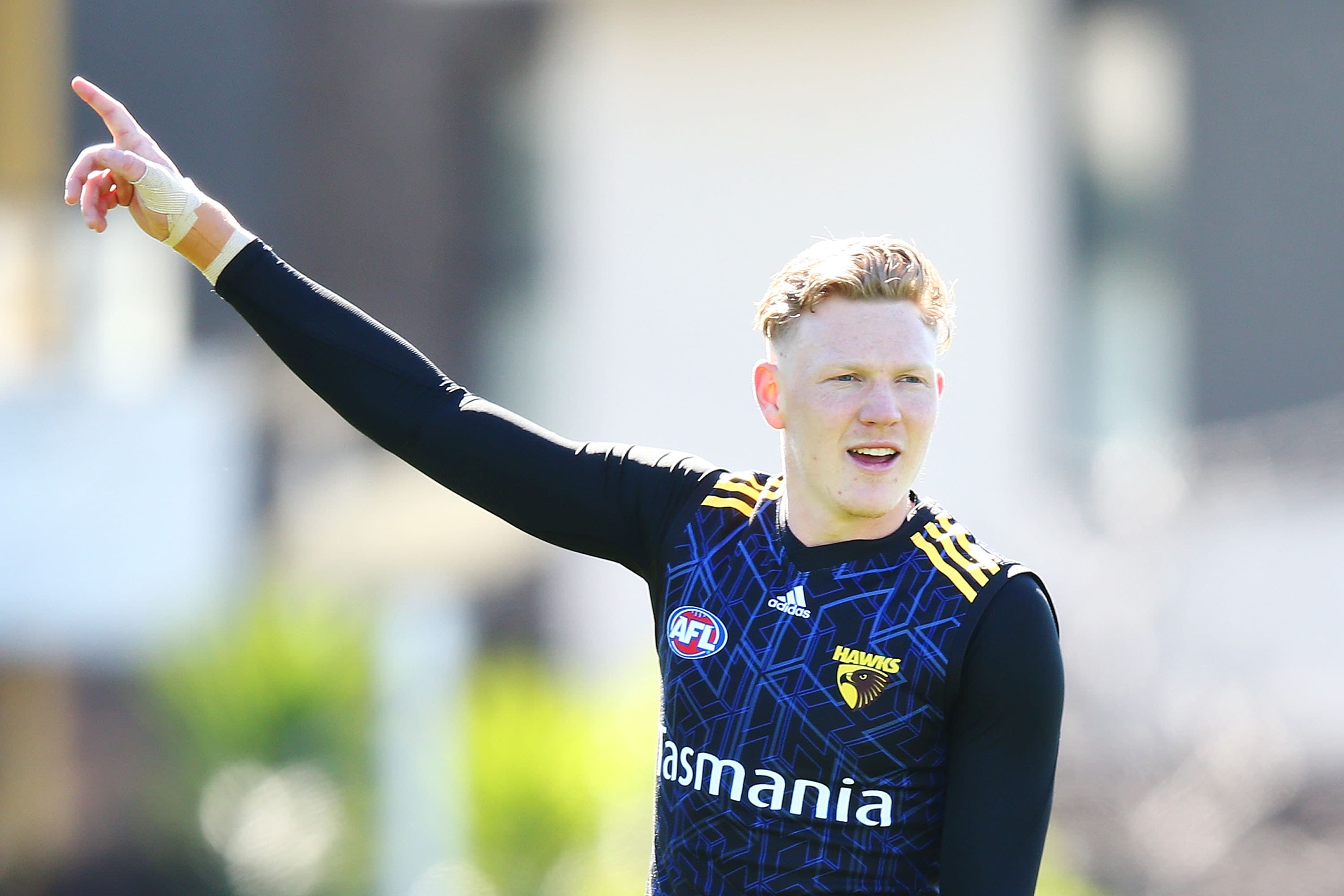 2018 LEADERS: Jordan Lewis (72 kick-ins - 34.4% of team), Bernie Vince (55 kick-ins - 26.3% of team)
The Demons tended to trust two of their most experienced players to bring the ball back into play in 2018. Lewis focused on hitting short targets, with 66 of his total 72 kick-ins classed as effective by Champion Data. The four-time premiership Hawk is one of the Demons' best users by foot, alongside Christian Salem and Bayley Fritsch, so it's little surprise he excelled in this area.
WILL IT BE THE SAME IN 2019?
With Vince retiring and Lewis no lock to retain his spot in the side throughout 2019, Christian Salem and Michael Hibberd are likely to assume more responsibility from kick-ins. Salem is a pinpoint passer who likes to retain the ball by foot, whereas Hibberd shines when running and carrying the ball and pumping the footy long out of the dangerous area. Melbourne is using part of its pre-season camp in Maroochydore this week to work on tactics and setups as it enters game mode. - Ben Guthrie

2018 LEADERS: Scott Thompson (79 kick-ins - 34.2% of team), Jamie Macmillan (73 kick-ins - 31.6% of team)
Thompson (equal 13th in the AFL) and Macmillan (18th) were clearly North's preferred options at kick-ins last season, but brought contrasting styles to the crucial role. While Thompson played on from only eight per cent of his kick-ins, Macmillan did so 27 per cent of the time. Thompson's kick-ins were extremely effective, however, starting scoring chains that resulted in a League-high nine goals, compared to two goals from Macmillan's kick-ins. As a team, North led the competition in effective long kick-ins and were ranked fourth for scores from kick-ins despite playing on from only 17 per cent of its kick-ins (16th).
WILL IT BE THE SAME IN 2019?
Thompson's experience and effectiveness mean he will again be one of North's primary kick-in exponents this season. Barring a move up the ground, Macmillan should also continue to be heavily utilised given he appears ideally suited to take advantage of the rule changes that will give players more scope to play on at kick-ins. Former Port defender Jasper Pittard also has the speed to exploit these changes and was regularly used at kick-ins by the Power in recent seasons. His delayed start to the pre-season, however, has meant he has been unable to take part in the Roos' kick-in drills. - Nick Bowen
Veteran defender Scott Thompson is the man for the Kangaroos. Picture: AFL Photos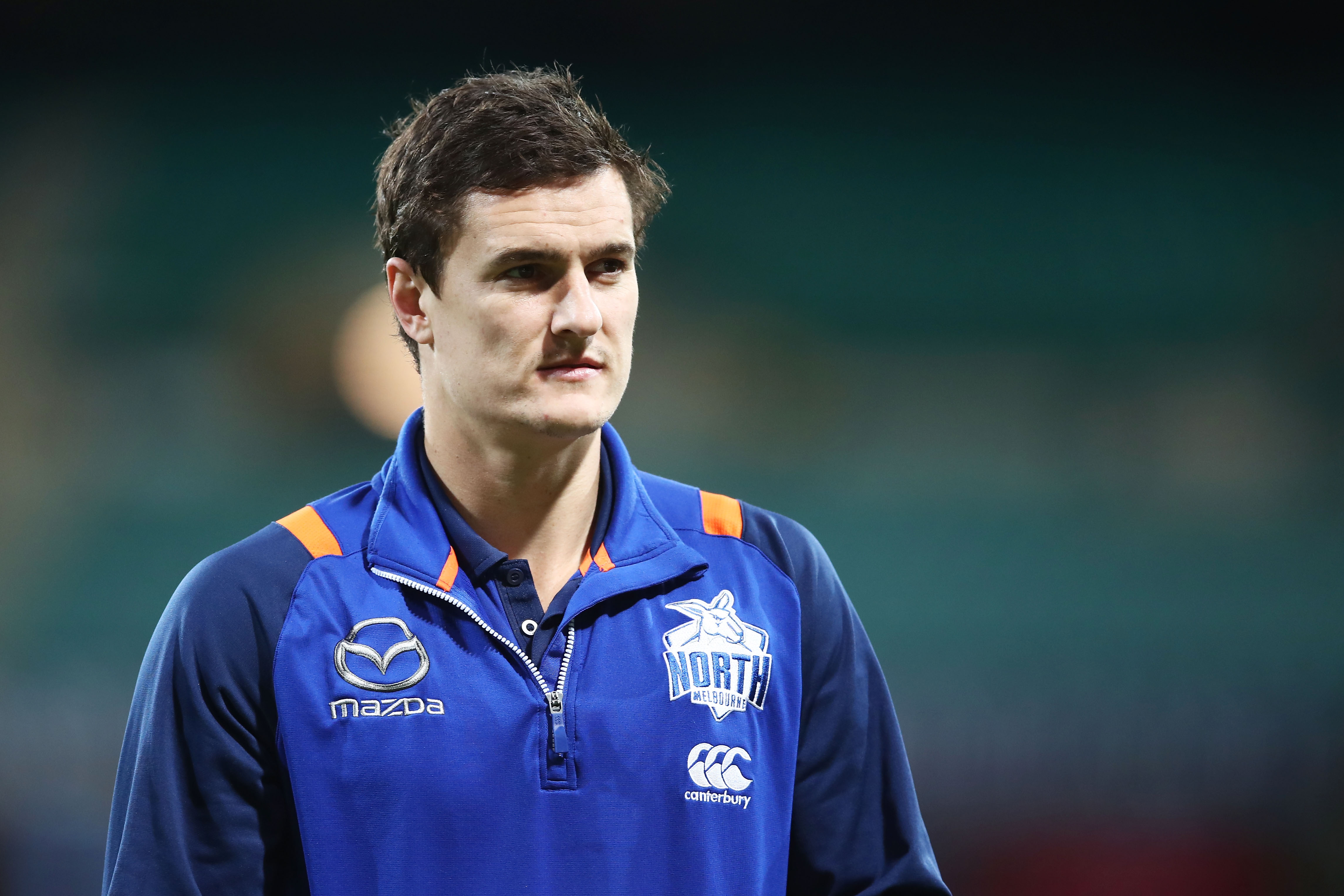 2018 LEADERS: Dan Houston (77 kick-ins - 37.4% of team), Riley Bonner (66 kick-ins - 32% of team)
The Power didn't have a designated player for their kick-ins. Defenders Dan Houston (77 in 22 games, 3.5 per game) and Riley Bonner (66 in 19 games, 3.47 per game) shared the duties. Houston ranked 16th overall while Bonner was 22nd. The Power were a middle of the road team when it came to playing-on from kick-ins, taking that option 25.4 per cent of the time. Houston did that more than most of his teammates, playing on with 32 per cent of his kick-ins.
WILL IT BE THE SAME IN 2019?
This could change substantially this season due to two factors – the return of Hamish Hartlett from a knee injury and the arrival of former Hawthorn defender Ryan Burton. Hartlett is one of the best ball users at the Power and has a booming kick. Burton took the most kick-ins at the Hawks last year – with 67 in 21 games – but only played on to himself 4 per cent of the time. Bonner might take fewer kick-ins if he moves to a wing to accommodate Burton and Hartlett. - Lee Gaskin

2018 LEADERS: Jayden Short (105 kick-ins - 53.4% of team), Nick Vlastuin (26 kick-ins - 13.5% of team)
It's not hard to see why Short was heavily used from kick-ins last year. His unexpected form surge and booming kick made him an obvious candidate to take the role. Among those closely behind Vlastuin in second on the list were Brandon Ellis and Bachar Houli. While the Tigers' backline is very sound defensively, Short is the obvious option to bring the football back into play, considering how accurately he delivers the football.
WILL IT BE THE SAME IN 2019?
Richmond will ramp up its preparation with the new rules in the coming weeks. There won't be much change when it comes to selecting its designated kicker – Short is likely to again shoulder the load. Houli and Vlastuin will again be obvious candidates, but Ellis will probably take fewer kick-ins. While he has spent time across half-back previously, the Tiger is looking to move into the midfield. - Dinny Navaratnam
Long-kicking Jayden Short is again likely to shoulder the load for the Tigers. Picture: AFL Photos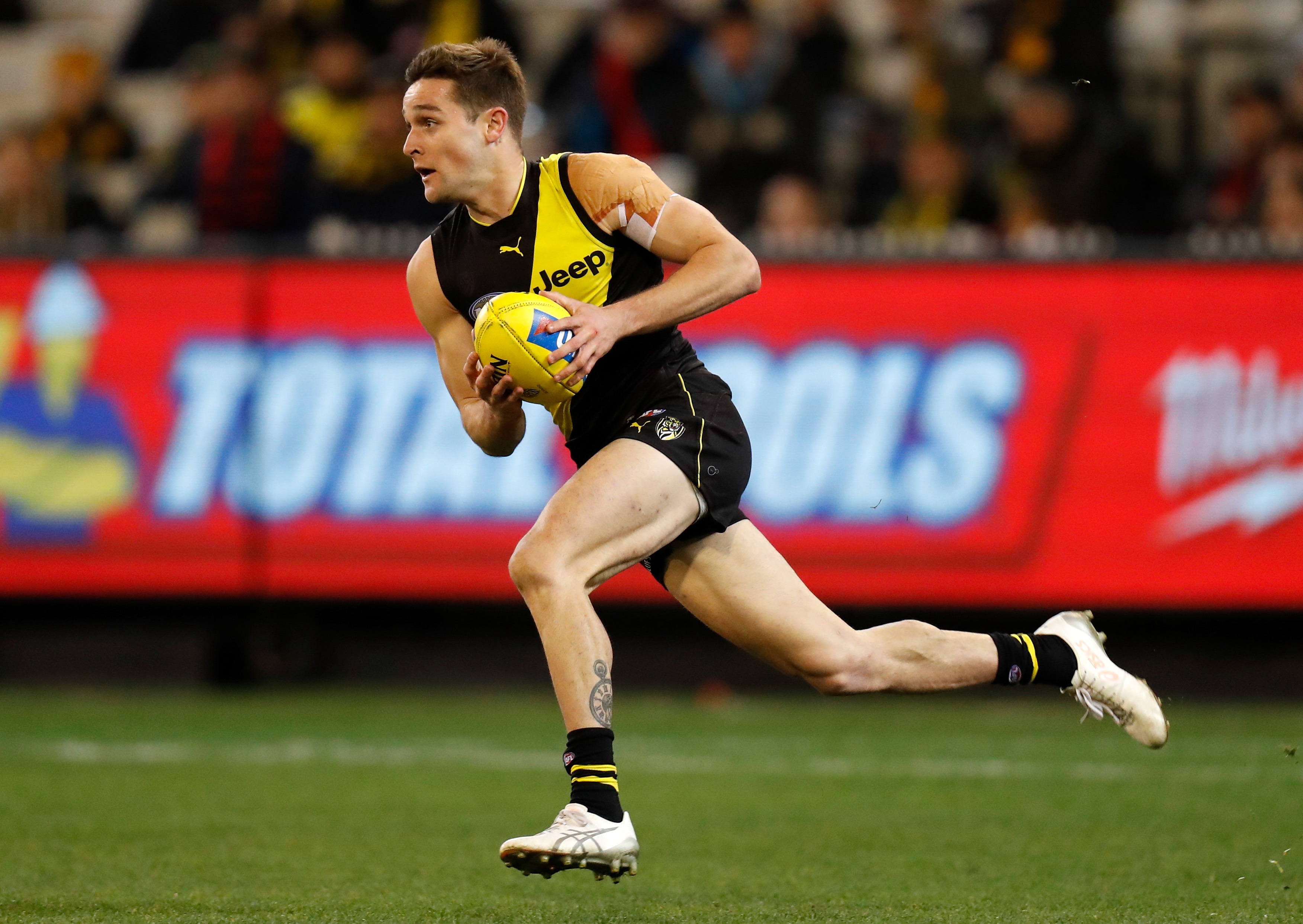 2018 LEADERS: Shane Savage (71 kick-ins - 27.8% of team), Jimmy Webster (55 kick-ins - 21.6% of team)
Injuries affected both of these players last year. A torn hamstring prematurely ended Savage's campaign while Webster was limited to 17 matches after dealing with groin problems. If Dylan Roberton hadn't suffered a heart issue in round four, he likely would have shared duties with Savage and Webster. The long kicking Savage offers and the accurate left boot on Webster means they took the bulk of the work after an opposition behind. Despite having reasonable pace, Savage played on from kick-ins just seven per cent of the time – the third-lowest of the top 30 in the competition.
WILL IT BE THE SAME IN 2019?
Expect Savage to take the majority of kick-ins – the new rules mean his speed and booming right boot should help St Kilda gain plenty of ground. Webster could spend some time on a wing, particularly if Nick Hind slots in at half-back, so that would reduce his role bringing the ball back into play. Kick-ins have been an issue for the club in recent seasons so they have been determined to improve in the pre-season. The return of Roberton will give coach Alan Richardson a cool head to take the role when momentum is against the Saints. - Dinny Navaratnam

2018 LEADERS: Jake Lloyd (151 kick-ins - 54.7% of team), Jarrad McVeigh (82 kick-ins - 29.7% of team)
Lloyd was ranked No.1 in the League last year where his cool head made him an effective kick-in taker for the Swans, with a short option his most preferred option, with fellow half-back McVeigh also a safe bet with his outstanding foot skills. Both players looked to hit up an option in the corridor if possible which caught Lloyd out on a few occasions if he missed the kick at the SCG.
WILL IT BE THE SAME IN 2019?
Lloyd and McVeigh will assume the kicking duties again this year, but the Swans have been using other options over the pre-season so far with both players yet to get involved in match simulation. Jackson Thurlow has played on and looked to get the footy long on most occasions but has also shown some touch in hitting short targets. - Adam Curley
Jake Lloyd was the leading kick-in taker in the AFL in 2018. Picture: AFL Photos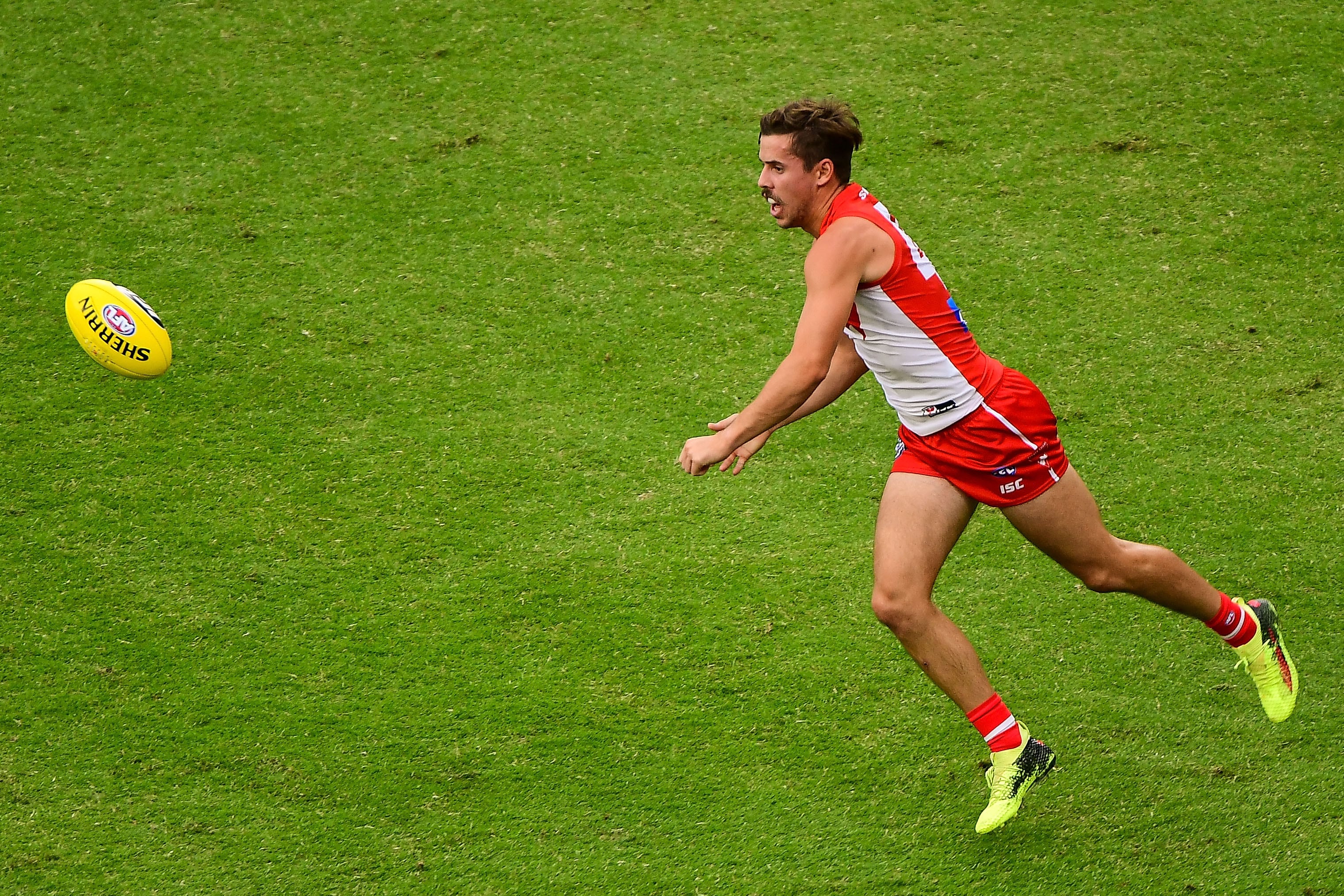 2018 LEADERS: Shannon Hurn (129 kick-ins - 62.3% of team), Lewis Jetta (55 kick-ins - 28% of team)
Premiership skipper Shannon Hurn loved to kick to himself (he played on from 41 per cent of kick-ins) before scurrying away – almost always to the right-hand side back pocket – and bombing the ball as far as he could from the danger zone. With a host of big men to aim at – think Nic Naitanui, Nathan Vardy, Scott Lycett, Jeremy McGovern, Josh Kennedy and Jack Darling – it was an effective ploy and helped stretch defensive zones to open gaps for shorter kicks, where the Eagles could retain possession and spread the field with their elite ball use.
WILL IT BE THE SAME IN 2019?
Coach Adam Simpson recently said the Eagles were zeroing in on rule changes and trialling a few tactics, but it's difficult to foresee how much will change in terms of the kick-ins. Hurn and Lewis Jetta are both beautiful kicks who can pump the ball well outside 50m, so the Eagles might look to put pressure on opposition defences by going longer, but that in turn could offer easier short targets to hit if rival clubs look to protect the wings. Opponents will have a few headaches figuring out ways to stop West Coast turning defence into attack in a flash. - Travis King

2018 LEADERS: Jason Johannisen (53 kick-ins - 22.9% of team), Bailey Williams (41 kick-ins - 17.7% of team)
Dashing defender Johannisen is an elite ball-user and led the total kick-ins for the Western Bulldogs in 2018, but his tally of 53 was the lowest number to top a club's list. Given second-placed Bailey Williams and third-placed Matthew Suckling both averaged more kick-ins per game in less appearances due to injury, a case of circumstance as much as tactics might have played a part in handing the responsibility to Johannisen. Sharing the role certainly didn't deter senior coach Luke Beveridge from attacking on the last line – the Bulldogs ranked first in going through the corridor.
WILL IT BE THE SAME IN 2019?
The Bulldogs were 16th for creating scoring opportunities from kick-ins last season so a new approach under the new rules should be embraced with open arms. An extra five metres to the man on the mark gives more space to wind up and that should be suited to the booming left boot of Suckling. Lachie Hunter took the most marks from effective kick-ins (11) but at 183cm that is both impressive and problematic. They need to find a stronger aerial outlet to maximise the kicking weapons available. - Paul Bastin
Will the Dogs use Jason Johannisen's elite kicking more in 2019? Picture: AFL Photos