COLLINGWOOD will name Brodie Grundy for Sunday's clash with Greater Western Sydney after a CT scan cleared the ruckman of neck damage from a frightening training incident on Friday morning.
Grundy was carried off the Pies' training ground after he was collected high while he had his head over the ball during a warm up drill.
He was later taken to hospital and left the club on a stretcher with a neck brace on.
Magpie football manager Neil Balme said while the club's doctors were confident at the time the ruckman hadn't sustained a serious injury, they took all the precautions necessary after Grundy said he "felt a bit of a crack there".
He will undergo an MRI on Friday afternoon to completely clear him but the Pies believe he will be fit to face the Giants at the MCG.
"He's had the CT scan, which has come back clear, which we're really pleased with," Balme told the club's website.
"It means there's nothing serious wrong with his neck, which we were pretty optimistic about.
WATCH: Neil Balme on Brodie Grundy's injury
"There's a little bit of soreness there so we're having an MRI just to check all the rest of his back, to make sure, but we're pretty confident that will be fine as well.
"Right now he'll remain in the side and we'll pick him and we expect him to play, but he's got a chance overnight to recover and we'll see how he is and look at him tomorrow before we make that final decision.
"But we certainly expect him to play."
Forward Jesse White, who didn't see the incident, admitted it had been a scary few moments for the players as Grundy lay prone on the field.
Balme said the contact wasn't substantial but warranted the medical staff going through the "standard procedure" when it came to neck issues.
"He's put his head down and bumped into one of his teammates," he said.
"It was in the warm up so it wasn't at high speed or high intensity particularly.
"It just shows how easy that can happen.
"We just laid him down, made sure we carried him off, put the neck brace on to make sure that there was nothing wrong.
"They've all seen the one in a thousand chance where something is badly wrong so it's worth taking the precautionary route."
Below: Brodie Grundy leaving training on a stretcher on Friday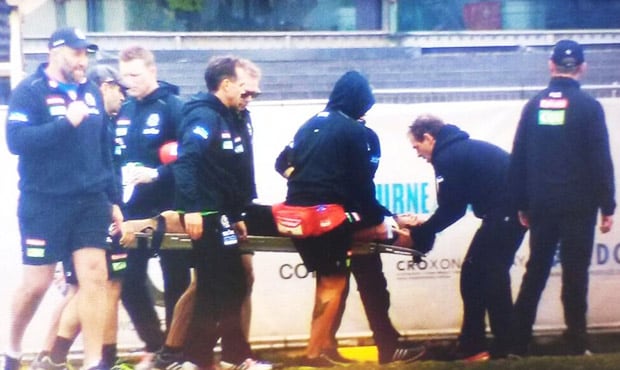 Grundy wasn't in any distress as he left through the front entrance of the Westpac Centre on a stretcher and was loaded into an ambulance.
The Pies were quick to confirm he was in a stable condition.
Balme had initially said Grundy was unlikely to play Sunday, leaving Jarrod Witts to ruck solo against the Giants' in-form big man Shane Mumford.
White, who plays his 100th game this Sunday, said he could help out Witts in the battle of the big men if Grundy failed to come up.

"He's a powerhouse ruckman ... I played a little bit of ruck on the weekend so I can come into the ruck as well and help Wittsy out," he said.


"His follow-up (work) is huge and if we can take that away from him it will go a long way to helping us win the game."
Grundy has been in brilliant form this season and has carried the lion's share of Collingwood's ruck work.
He is yet to miss a game in 2015.
Witts has managed just four games this year and missed last week's clash against Melbourne.
White said it had been a long road to 100 games, having not always been able to hold his spot at senior level at both the Sydney Swans and Collingwood.


But the 27-year-old believes the best was yet to come.

"It's felt like it's taken me a while. It's been nine years in the system and I've enjoyed every minute of it," he said.


"I've been in and of the side, especially in Sydney, so the thing for me has been to just try and cement a spot in the side and go from there.


"It is good to look back but I still feel like a lot of good footy is ahead of me. I'm looking forward to what's in front of me."