ABOUT three times this year Tom McDonald reached for the remote at home and flicked onto a footy chat show.
On each occasion, the Melbourne forward says, he ended up changing the channel quickly, after his form, or lack thereof, became the topic of discussion.
It's a scenario us mere mortals, the non-professional athletes, will never truly experience.
DEMONS DUMP DOCKERS Goodwin's men break losing streak
Journalist Mark Robinson and champion Hawk-turned-commentator Dermott Brereton were among the knockers who popped up on McDonald's television.
This was his existence for the past three months – apart, perhaps, from a few days following his three-goal cameo against Gold Coast in round eight – after he emerged as a competition star with 53 goals last year.
McDonald and his teammates after their Queen's Birthday loss to Collingwood. Picture: AFL Photos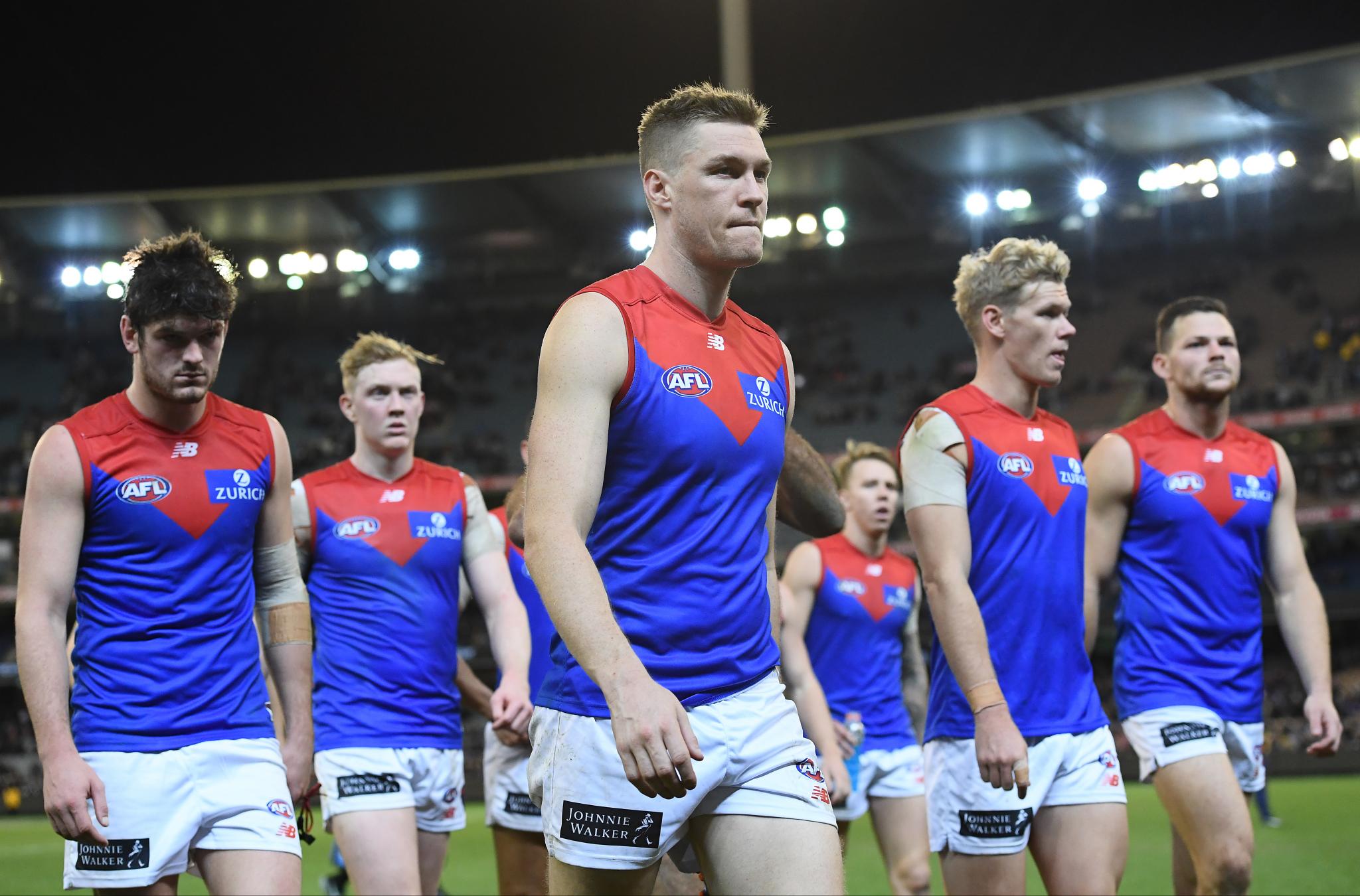 The 26-year-old followed that with only eight majors in his first 12 matches this season. Worth noting, too, were his 10 behinds, after he became a deadeye dick in 2018.
McDonald's struggles mirrored the Demons' on-field fortunes, with the reigning preliminary finalists lurching to a 3-9 win-loss record that effectively ended their post-season hopes.
Both were back in a big way at the MCG on Saturday against finals aspirant Fremantle, although not before a fittingly frustrating first half.
McDonald kicked consecutive brilliant goals in the final term to seal the 14-point victory – one from beyond 50m, and another an expert dribbling attempt – and finished with three, plus 28 disposals.
Tom McDonald with a dribbler from the boundary!

Have Melbourne done enough to get over the line?#AFLDeesFreo pic.twitter.com/3DaXDZmfM9

— AFL (@AFL) June 22, 2019
"I haven't really paid too much attention to (the criticism), but I know I haven't been playing well," he told AFL.com.au post-match.
"It's been incredibly frustrating … but today I felt like I was building at the start of the game and finally had a little bit of an impact.
"(The critics) aren't having a personal crack – they're just saying, 'You're not playing very well and you're not very good at the moment', which, whether you listen to it or not, maybe it helps you sort of build a bit of a grudge and forces you to play well.
"It's probably the longest patch I've been out of form, so you've got to find different ways to deal with it – and I've tried a few different things – but I think the bye week was really good … and I came back really excited to play this week."
McDonald celebrates a goal in the final term against the Dockers. Picture: AFL Photos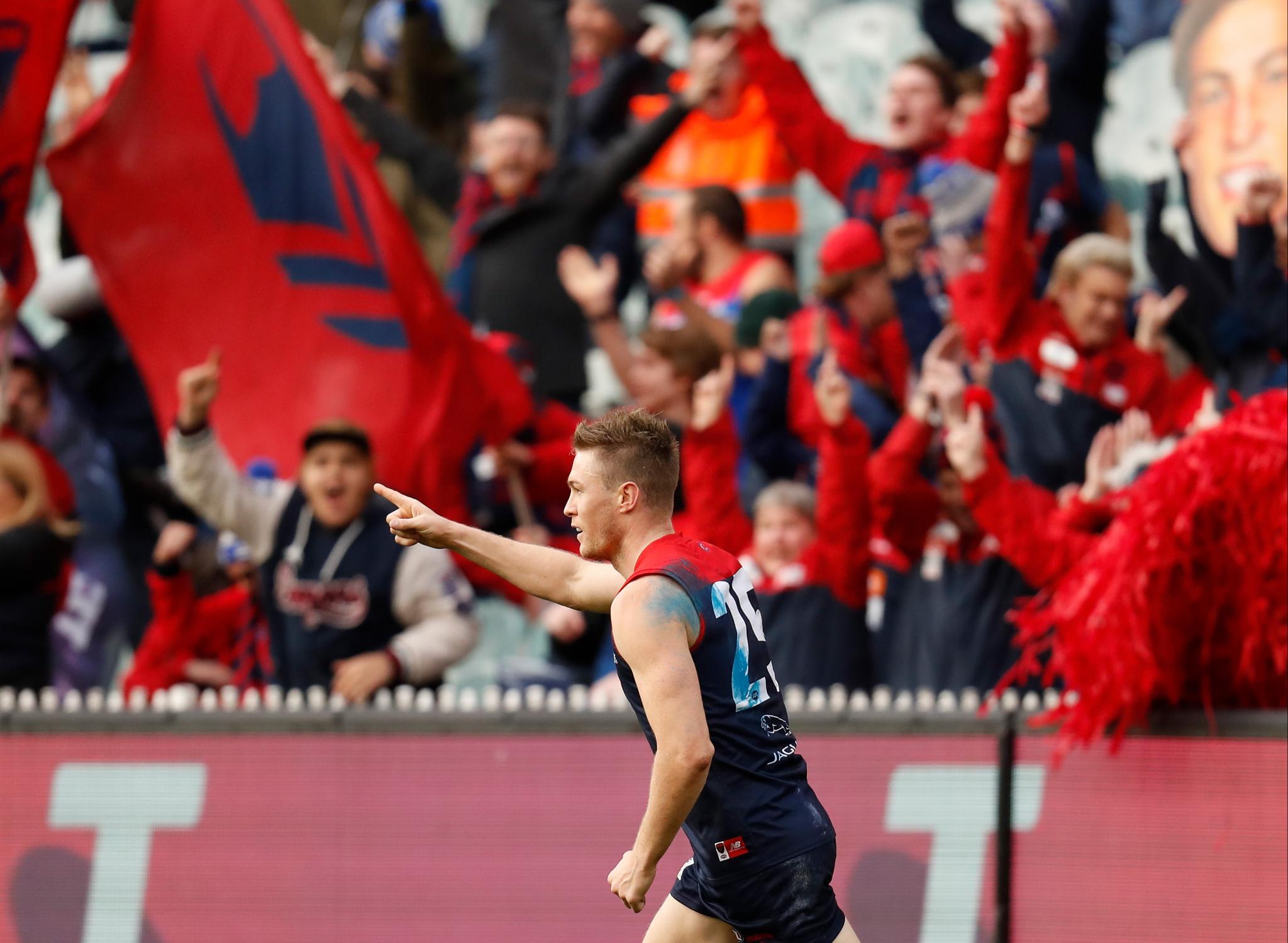 So impressive last year was former defender McDonald, along with top-10 draft pick Sam Weideman's late-season emergence, that Melbourne was comfortable enough to trade Jesse Hogan.
Weideman has also battled to live up to the lofty expectations the pair helped create and he's received his share of criticism, an experience he detailed this month after re-signing for two years.
'MASSIVE WEIGHT' Demon on the pressure of expectation
There was a certain symbolism in McDonald breaking out of his funk on the day the Dees faced Hogan for the first time.
Unfortunately for Hogan, he didn't play after quarter-time because of his latest right foot injury.
"You hope it's just a bit irritated maybe and it's not a fracture or anything, and that it's just a few weeks' rest," McDonald said of Hogan.
"He's had a tough run, so he doesn't deserve it."
Former Demon Jesse Hogan has gone down into the rooms for treatment at Quarter Time after this contest.#AFLDeesFreo pic.twitter.com/o2coUKqwUo

— AFL (@AFL) June 22, 2019
McDonald echoed what coach Simon Goodwin told the media soon after, saying there was still plenty to play for in the second half of the season.
But what went wrong this year?
"To be honest, we'll never know," McDonald said.
"We just didn't start very well, we lost some confidence, we had a few guys get injuries and everyone starts doubting themselves a little bit and it creeps into everyone.
"You've just got to find a way to fight out of it, so that's probably the answer, but no one knows, really."
McDonald handballs despite the attention of Michael Walters. Picture: AFL Photos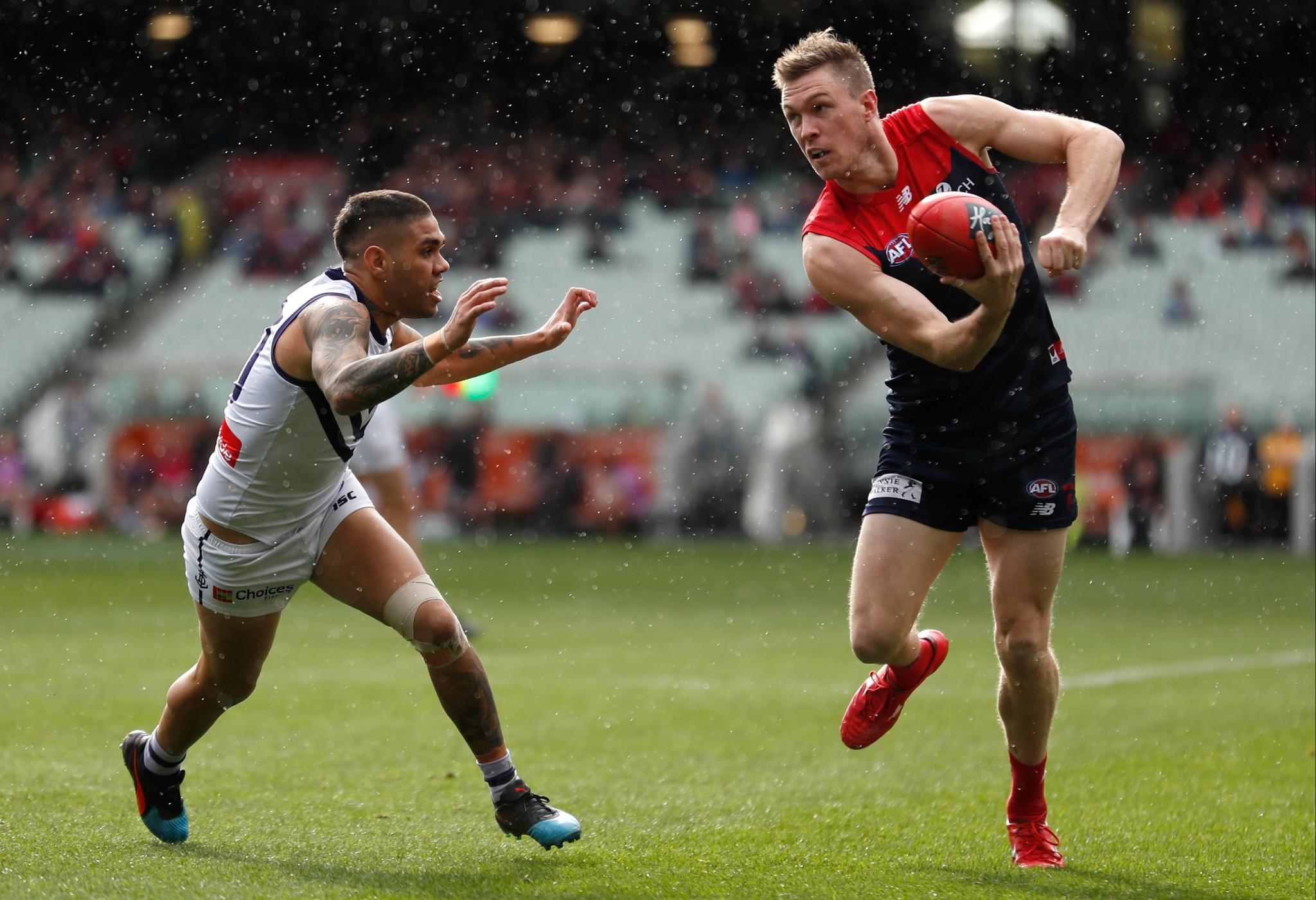 As for his own personal slump, McDonald went through phases of doing more of everything – training, gym work, recovery – as he tried to navigate his way back to his best.
That proved a lesson in itself, nine seasons into his AFL career.
"I've kind of just stripped it back to more quality now. I'm doing everything with purpose and quality," McDonald said.
"It's not about doing extra of everything but just doing what I know works well for me, and having other things in my life that I'm happy with and other parts of my life I can be successful in that makes footy fun again.
"When the fun goes away, it can be pretty average."
Find Trends on Apple Podcasts, Google Podcasts and Spotify